Mavenlink
Best suited for
SMBs / Enterprise
Introduction
Mavenlink first appeared in an attempt to connect business landscapes and optimize the technology used in service-based businesses.
Mavenlink is strictly a professional tool all about planning and analytics, without fun colors, unicorns, or supportive kudos you'd find in other platforms like Asana and Basecamp. That's why it appeals more to enterprise clients rather than startups and small companies.
Trial availability
10-day free trial for the basic plan - shortest ever tested so far. No credit card required.
If you sign up for an Enterprise, Premier, or Professional plan, you'll have to request access and wait 24 hours to enter it. Here's a little hack though: create a Teams trial and then upgrade it to a higher plan to save a day
Email frequency
After signing up, you won't receive any email, only an in-app welcome message in the live chat instead.
All of the following messages are notification emails of certain actions like adding new tasks or comments and changing priorities and statuses.
To control them, just go to your Email Settings and choose exactly which types of emails you need. A useful thing to do since there are no in-app notifications available.
How easy is it to add a new project?
Onboarding in Mavenlink is very limited and sort of inconsistent, due to the differences in onboarding experiences. I also tested a trial for their basic plan and was guided through Mavenlink's interface, creating my first project, and inviting other team members as soon as I logged in. For this review, I focused on the Premier plan where there was no onboarding process at all. Not even a welcome email for me to confirm the account.
To add your first project, do it straight from the Dashboard which also gives you a bird's-eye view of all your projects and tasks you need to take care of in the next 7 days. All of the settings you choose now including project rates and roles can be changed later.
Clients can create projects too. This way they have better control over how work should be structured. But be aware they could also bring chaos to your organization if they're not guided or use your policies when creating a new project.
What if I get stuck?
Getting used to Mavenlink's interface and structure can take a while. If you get stuck during your onboarding or first few days, reach out to their 24/7 support available through email and live chat. You can also get in touch with the sales team via phone at (800) 860-9544 or +1 (949) 336-7610.

Manage your projects with Mavenlink
Planning your tasks
The real action begins after you've created your first project. You'll probably find yourself with an empty list of tasks in your Task Tracker which acts as an activity list to organize and monitor your tasks.
You have 3 options:
Add all tasks manually.
Create a project template and reuse it when needed.
Import a CSV file of your tasks - the most convenient option if you're just testing the tool.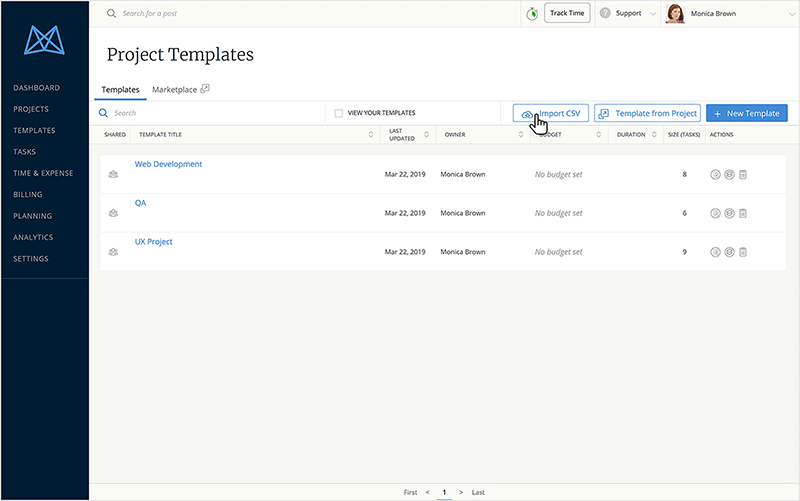 There are 4 types of tasks you can set in Mavenlink: tasks, deliverables, milestones, or issues. These help you differentiate between different kinds of activities and track your deliverables, milestones, and issues along with your other project tasks. From now on, I'm only going to refer to regular tasks when I write "tasks".
Organizing tasks into lists can seem complicated at first since there's nothing like a task list to group them. Only one list with different hierarchies. To set subtasks, try their nifty cascading tasks. You can even add a subtask to another subtask, although this might overcomplicate your lists. Here's an example of how your Task Tracker could look like: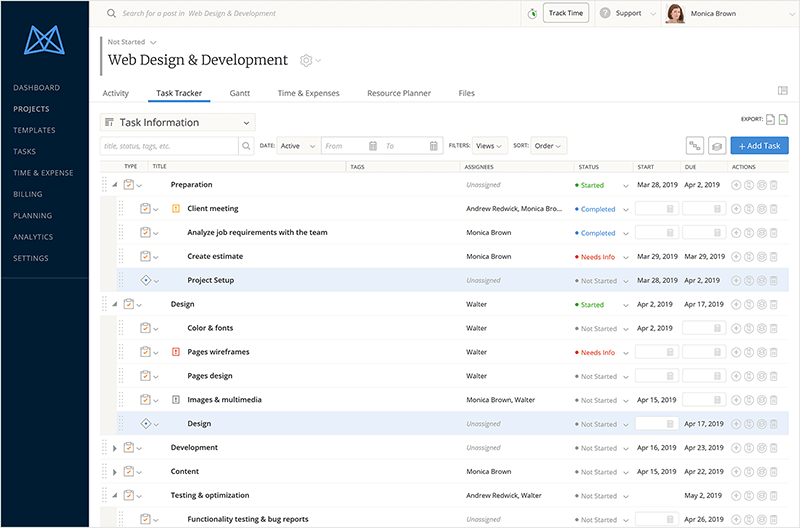 Their Checklist feature works as a workaround for subtasks to keep your main list clean: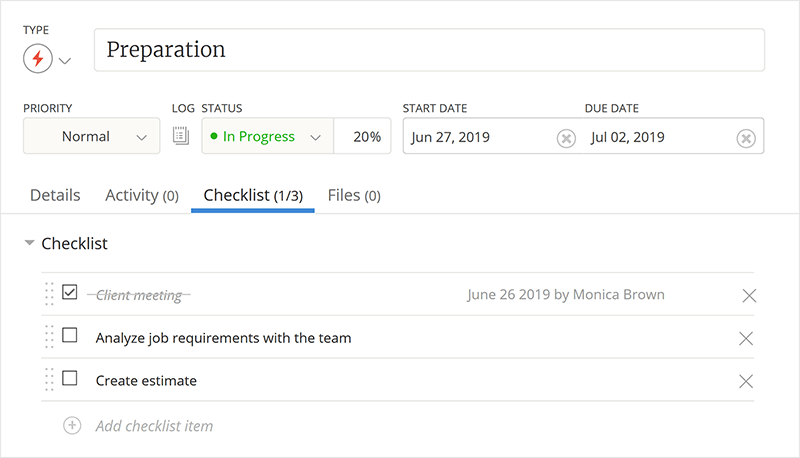 An option to help you identify tasks within overpopulated lists is to manually type in tags. For each task, set priorities and statuses to help project managers and admins identify the exact stage of a task or if a team member has been stuck on a task for too long. You can even choose from dozens of predefined project statuses in case you're not feeling creative: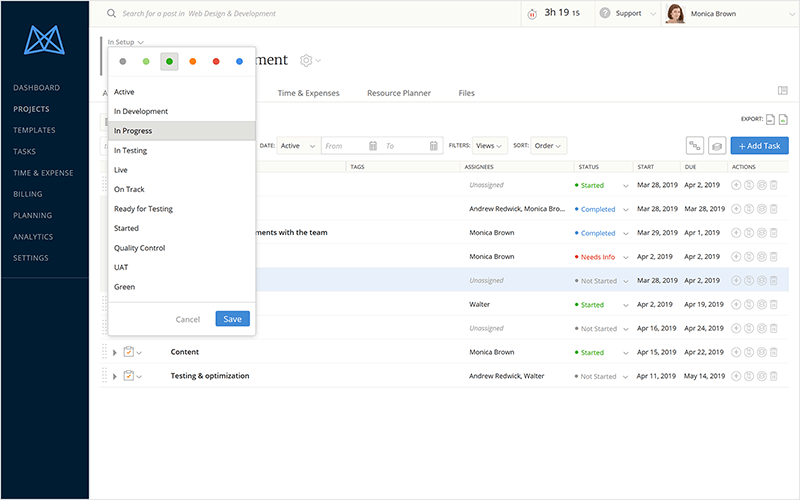 For easier access, each task comes with a link for sharing. Multi-user assigning is allowed in Mavenlink too.
If a task lists is not something you'd usually work with, try the Gantt Chart view. This one is best suited if you want to highlight dependencies between tasks. All types of dependencies are accepted but there's no undo button for these actions. Also, a task list might be a better choice if you want to see all your task as activities without set dates won't show up on the Gantt Chart until you add a time frame.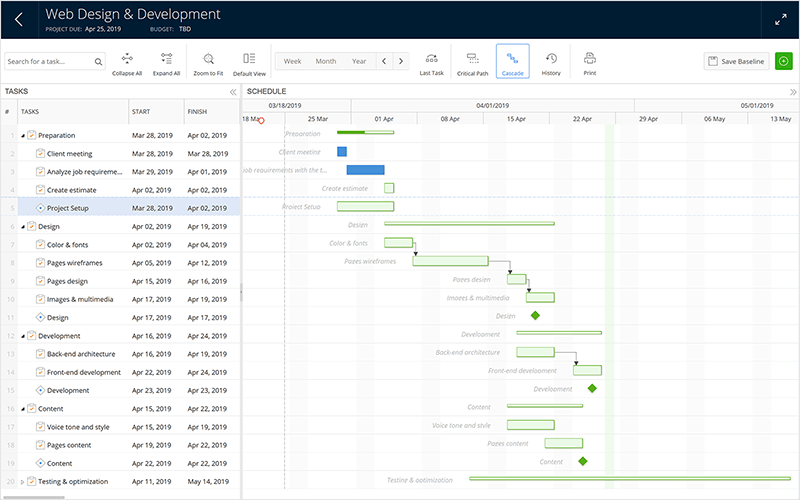 Other users have used review websites to report small bugs, but they're usually just related to speed and this commonly depends on the tech you're using. I for one didn't have problems using it. You can even set a Critical Path, print the chart, or convert the A4 page into a PDF if you want to share the Gantt Chart digitally. A Portfolio Gantt Chart option is also available so you can get the big picture of all company-wide projects.
Planning your team with Resource Scheduling
If you made it this far, it's time to move on to resource planning. There's a Master Planning tool available at a company-level, displaying allocated hours for all projects, while the Resource Planner is dedicated to each project.
The Master Planning area offers a quick overview at how your team's work is distributed so you can see who's over or underallocated.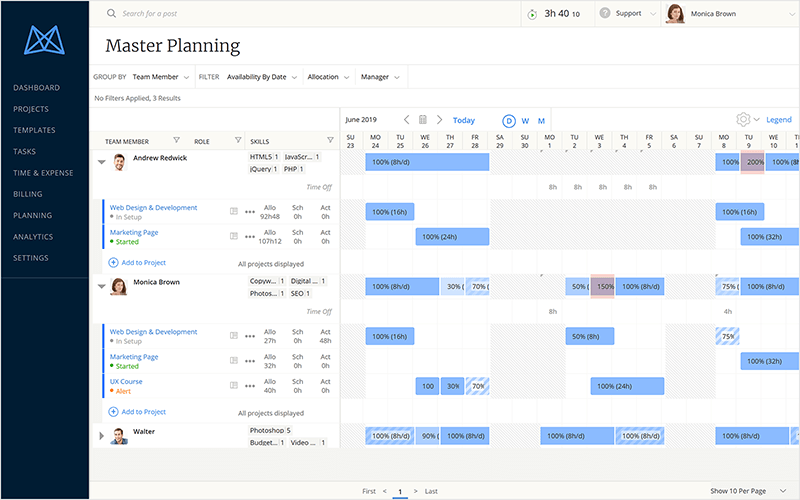 Say you're starting a new project and need an extra developer on the team. If you check this resource schedule, you can search for someone who is available for a set number of hours during a specific time frame so they can be added to your new project. Besides viewing allocated hours, you can also see tasks that have already been scheduled or compare allocated to scheduled hours to discover any issues related to time planning or estimation. Plus, you'll get to see each team member's skills next to the bookings. A handy feature not so common in other project management software.
There's also a leave planner so you can schedule an employee's free day or maybe just a couple of hours they're out of the office. The Resource Shaping tool integrated in the Master Planning option might overcomplicate your team scheduling process but it can also help you distribute work with a single click. Depends on how you use it.
Yet, these resource planning tools are not really straightforward. The process can get tedious. After you've allocated your work hours through Master Planning, you'll need to go to your project's Resource Planner and for each task distribute the hours you've first allocated through Master Planning.
This can take a lot of time, particularly since the start and due dates you've planned for a task are not directly displayed on the Resource Planner so you'll always have to check your project timeline or click on each task before distributing the final work hours. Using these two features effectively can take a lot of time to learn and not using them properly will cause issues in your team's schedule. But that's exactly what the trial is for.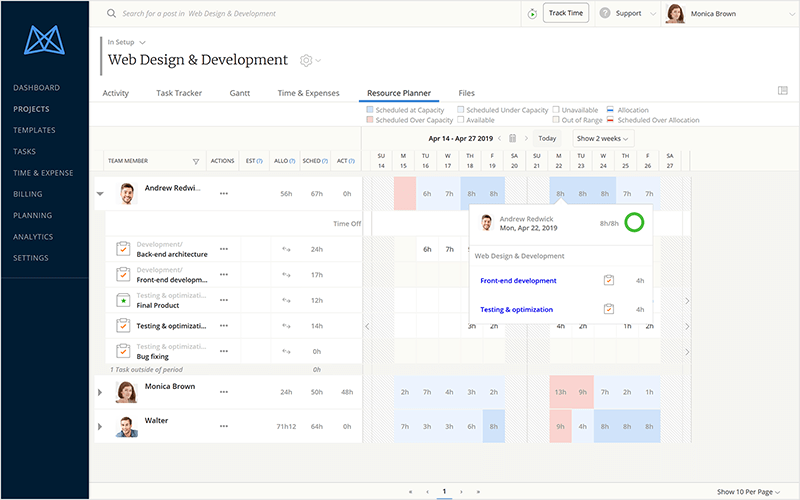 I've mentioned skills being a must for the resource scheduler. You can attribute them to one or more team members and even select their level of expertise. Much like Microsoft Project but easier to use. The next time you'll need a skill for a project, you'll easily identify who the right person for a task is or see if there are missing people from your team. Perhaps you need someone who knows Ruby or PHP, but have nobody with this skill yet.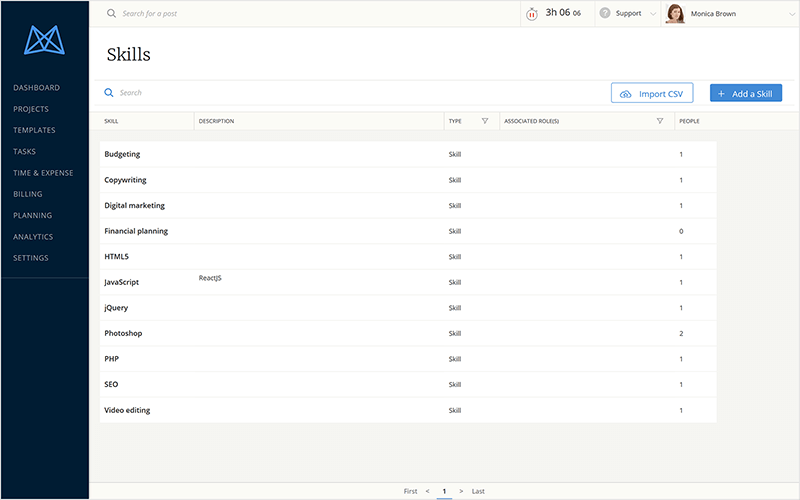 Mavenlink nails it when it comes to setting user permissions. There are 8 different types of permission levels you can attribute to managers, team members, clients, and guests. For starters, you can customize the types of access for each role from the Project Permissions Default.
You can decide exactly who will have control over financial aspects, who is allowed to invite other people, who can edit, comment, or just view the project. Even attribute a default rate for each role from using Rate Cards. There are really so many options to choose from and tailor different permission levels to each individual, which can be changed or managed at any time.
Everyone will have clear responsibilities from the start, since these options pop up for you to customize whenever you create a new project: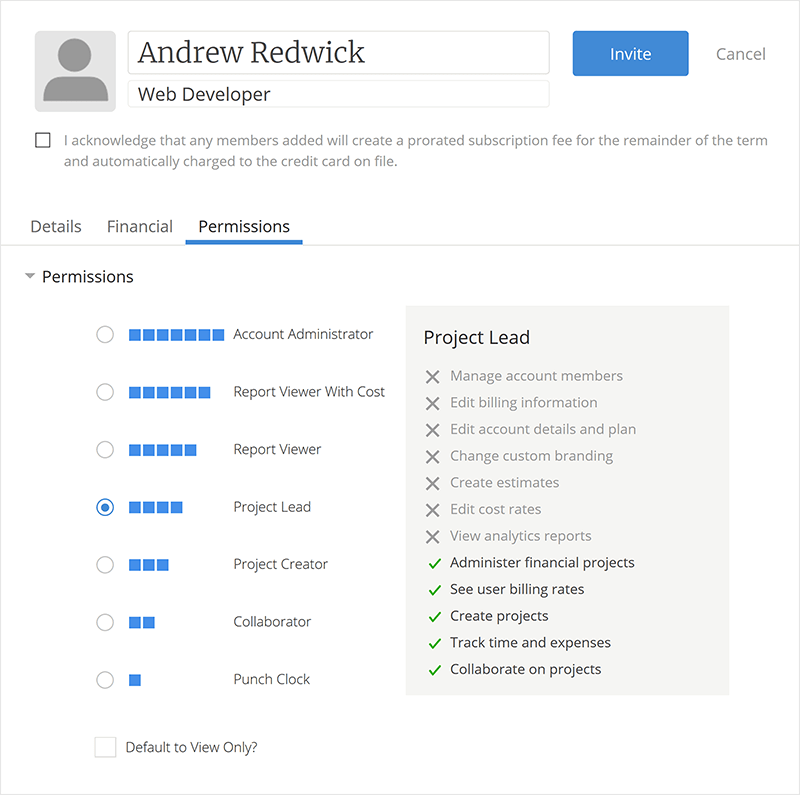 Collaboration
The collaborative features in Mavenlink are at a basic level. You can leave comments on the Activity section of each task or project. That's it. No chat, no message boards (unless you count the project's Activity Feed as one).
One thing that kept bothering me is that I had to refresh my task page each time to see new comments or updates on the feed. Worse, there are no in-app notifications. You'll receive all notifications via email so you have to keep an eye on your inbox if you're expecting any updates. It's actually easier to just ask your colleague to drop you a message on Slack or in person. See the Email Settings option under your profile icon to select how often you want to get the emails notifications for Activity Feed posts and tasks.
Files can be attached to any task via the comments section in a task's or project's Activity Feed Storage space is limited according to each plan. No file organization either so this feature doesn't really excel.
A Proofing feature so you can leave feedback (markups included) on 35 different file types and compare versions side-by-side is available with Premier and Enterprise plans at an extra cost.
Work monitoring & control
One feature missing from several project management tools is Time Tracking. Mavenlink has made sure to include it, but only at Professional and above plans. In fact, the time tracking function is by far the best and most complete feature you'll find in Mavenlink.
Chances are the timer will be the first thing you'll notice when your first open the interface. It comes with a bunch of small functionalities that are bound to make time tracking easier even for users who hate it. Everything is done from a single place: track time on an existing task or start the timer without even selecting a task or project, choose which time entries are billable, and add time manually and then start tracking from where you left (just in case you forgot to start your timer).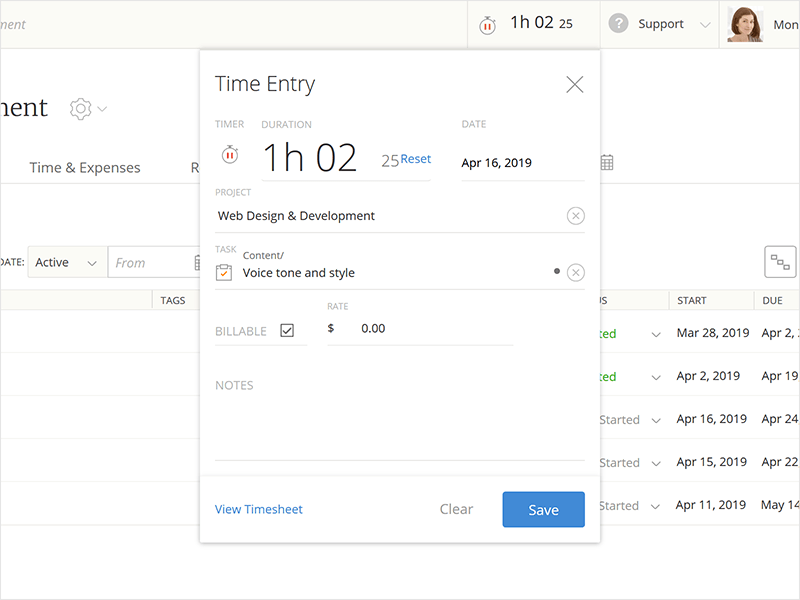 Also, you can view your timesheets straight from the timer. Here you can add time in bulk in case you forgot to start your timer or time entries for approval so managers can get a closer look at how you're spending time.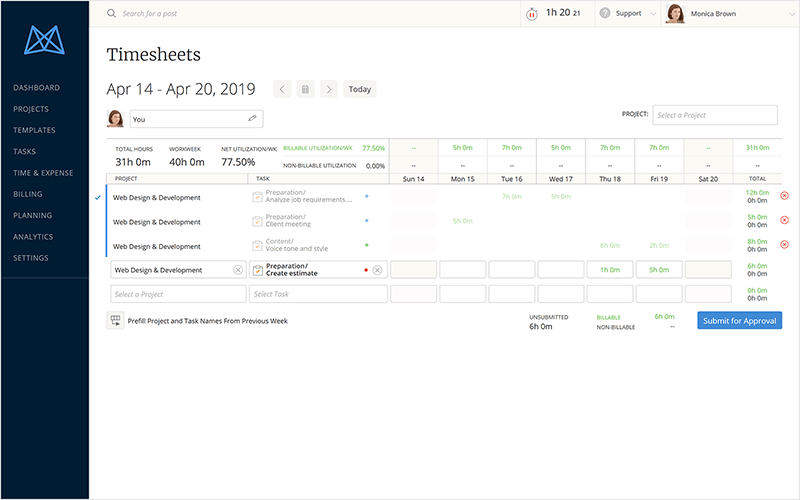 The amount of transparency time tracking offers in Mavenlink will make it easier for managers to supervise work and for team members to stay accountable. All tracked time is automatically registered in the Timesheets, Tracked Entries, Monthly, and Weekly section of the menu bar. Four sections that are more than enough to keep an eye on your efforts.
Reporting is another strong feature in Mavenlink, but a bummer since it's only available at Premier and Enterprise plans. So small teams with limited budgets can't benefit from it.
The Analytics section will be your next best friend if you're looking for quick, printable insight. Similar to time reports, Mavenlink's Performance reports show you how well-utilized your team members are within a specific time range (Utilization), the total time tracked (Time Tracking), and which submitted hours have been approved (Time Approvals). Here's a look at what a time tracking report looks like: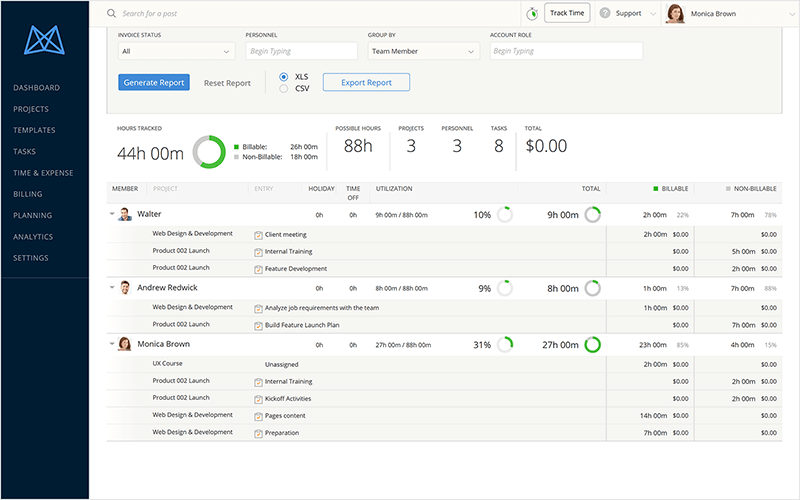 This particular time report will help you quickly spot team members who are slacking or overworking. The latter is a clear sign something's not right with the project's current timeline.
And there's even more reporting options for work in progress (WIP), project details (displaying details like billable or estimated time for every single task), and financial aspects such as invoices, expenses, accounts receivable, or time and material margin.
Financial management
If you're not in charge of accounting, just skip this part. But if you need a tool to help you close the project delivery process and get paid, Mavenlink offers a couple of financial management options.
Set fixed-fee projects and change the budget as needed even after the project's start. Or, go for a time & materials project to invoice your clients based on the number of hours your team worked on. Place a rate on each task and make sure you're tracking billable time when recording your work hours.
If you don't do this part, you'll have to manually add rates to your time entries later on and there's no warning pop-up for this.
Now you might have noticed that Mavenlink tends to complicate their processes with multiple steps. Same goes for invoicing. To create an invoice based on the tracked time, you'll have to either manually enter costs when creating a task, select a rate when starting your timer, or add rates in bulk from the project's Time and Expenses. There are really so many options that you're left confused thinking one method might be better than the other - when in reality they all work the same way. And in all cases everything needs to be done manually. Even mark an invoice as paid by hand, as there's no auto mark function for when a payment is made.
To keep track of invoices and expenses, create reports for them to check their status on all projects and see if you're on track with the payment schedule. All of Mavenlink's financial management features should be enough to help you get paid based on the real work you put in.
Integrations
All plans come with the Google Apps integration included in the base cost. While there are solid integrations to choose from (Slack, Jira, Xero, Salesforce, HubSpot, etc.), the catch is that you'll have to pay an extra fee to use them.
The price does come with its benefits though. Their M-Bridge system helps you monitor and manage all of your integrations from a single place. This distinct platform gives you access to their pre-built integrations, a management console, developer tools, and API. If you need another specific tool or feature, you can use this API, available with Premier and Enterprise plans only. Oh, keep in mind the M-Bridge system is not available during trials.
Usability
One thing that struck me when I first started using Mavenlink was that finding certain details (particularly for tasks) or even the comments area for each task will be difficult at first since you're not accustomed to the UI. I would say the overall look and feel of the app is a bit outdated and not very welcoming. I've seen worse though, so it's definitely a workspace you can get used to.
Any team member can start a work day from either one of these two sections: Your Tasks and Weekly Schedule. Both will show you all the tasks you need to complete and what's expected of you. If you have issues that demand immediate attention, you can also check Your Issues to first work on these.
Alternatively, you can also use your Dashboard for an overlook at all your projects, activity, daily and weekly time tracked and utilization, invoices, and the project tasks you need to take care of in the next 7 days.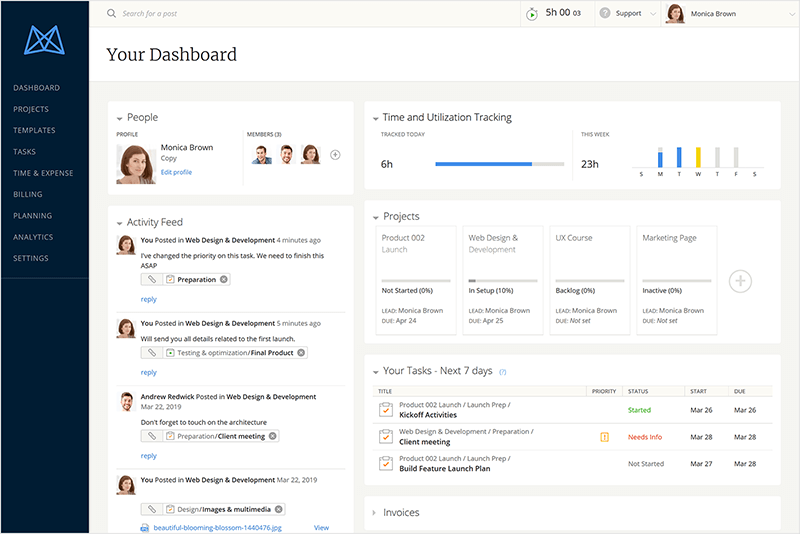 Thanks to its Master Planning (for scheduling resources and allocating work hours) and Reporting features and the extent to which these two help you and the level of detail they provide turn Mavenlink into a tool for project managers rather than one for the average team member. Pair this up with all the ways of monitoring time and expenses at a project-level, and you've got yourself a project management tool that's useful for operations, but a bit too overcrowded when it comes to a grass-level view.
If you want to take your reporting to an advanced level, Mavenlink Insights is a business intelligence (BI) feature available in the Enterprise plan or for Premier accounts at an extra cost. This bonus feature allows you to filter, clone, and customize any report or dashboard. It also gives you access to +100 expert-built reports that will help you solve key issues related to utilization, profitability, and project success.
Seeing all tasks you're supervising is easy. Just go to Your Followed Tasks and they'll all be sorted for you. For every task you can add specific followers (e.g. supervisors like yourself or just other team members whose tasks depend on another activity they're not assigned to) who'll be notified when a change occurs, providing quicker access to them and their status. Similarly, the Your Issues area will display all issues or problems you need to solve or monitor as they're being fixed by a colleague.
If you want to narrow down your focus, each project comes with an Activity dashboard. The info you get is minimal though and includes the activity changes that go on in the project, upcoming tasks, and other schedule, budget, and payment related updates: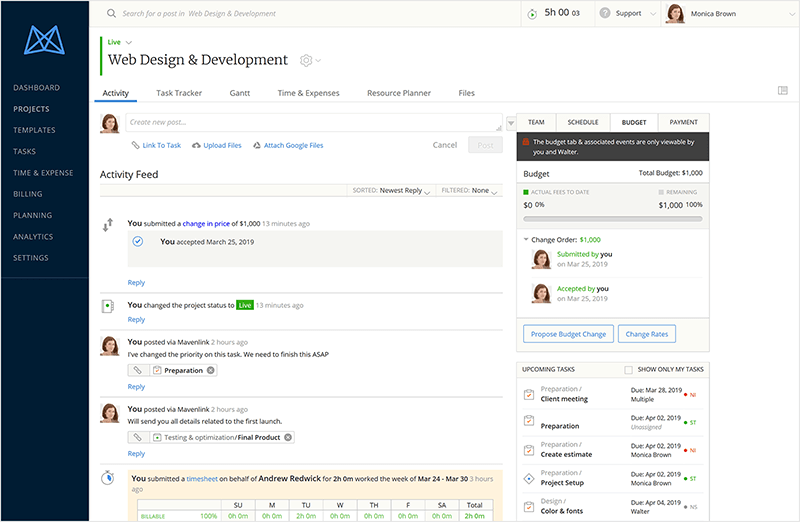 Personalization options are limited. You can set up your own Custom Branding (logo, workspace color, color theme,and personalized log-in message) and enable project colors for easier identification. Not much here but at least you get to add a dash of color now and then. If you'd like to add extra info to a project, task, project group, or user but don't know where, you can use the Custom Fields feature. Be aware this could just over clutter your workspace so test out a few alternative options beforehand.
Software Cost
You'll find Mavenlink's pricing to be on the higher-end. This project management software has 4 core pricing plans designed specifically for teams. All plans have to be bought yearly, meaning you can't pay month-to-month:
Free
A basic plan, enough to get you started with projects, task management, and collaboration with several team members. It's really a plan for a small duo or team of 3 members who only need to manage basic projects and work.
Teams
$19/month billed annually
This price applies for a maximum of 5 users. Every additional user will cost you an extra $4/month. This plan gets you started with team collaboration and basic project management features:
Your Dashboard
Project Workspaces
Activity Feed
File Sharing
Public & Private Messages
Access Permissions
Mobile App
Task Management
Task Assignment & Duration
Schedule Management
Gantt Charts
Task Dependencies
Critical Path Analysis
Project Plan Templates
24/7 Live Support
Knowledge Base
Training Video Library
Google Apps Integration
Custom Branding
Custom Subdomain
Storage: 10 GB
Professional
$39/user/month billed annually
A relatively expensive plan for small businesses considering you don't get any resource planning or portfolio management features, in which case other similar project management tools will be a better option. You're basically paying considerably more just for some extra storage, time tracking, and invoicing.
Teams features +
Change Request Management
Time & Expense Tracking
Budgeted Projects & Tasks
Time Cards & Expense Reports
Invoicing & Online Payments
Storage: 50 GB
Premier
prices vary, contact Mavenlink for a quote
The reason you might want to go for this plan instead is because of the resource planning features and project portfolio management.
Professional features +
Proofing (optional)
Portfolio Management
Project Baseline & Variance Analysis
Project / Job Costing
Rate Cards (Cost & Bill Rates)
Hard & Soft Resource Allocation
Resource Scheduling (task & project level)
Real-Time Availability Forecasting
Resource Shaping
Real-Time Analytics
Professional Services (optional)
API Access
Advanced Integrations (optional)
Custom Fields
Storage: 100 GB
Enterprise
prices vary, contact Mavenlink for a quote
All Mavenlink features in one. Briefly, the only plan that allows advanced reporting. Still no unlimited storage.
Premier features +
Expert-Built Reports
Custom Reporting
Trend Analysis & Forecasting
Data Visualization
Uptime SLA
SAML Single Sign-On (SSO) Support
Audit Logging
Storage: 1 TB
Mavenlink is just very expensive and there's always extra costs if you want more features. You're paying almost double the price each time you want to get an additional functionality. Plus, you're getting very little storage in comparison to other project management software options that offer unlimited storage space for less. The price for adding more storage is $100 for 100GB for the entire account.
Discounts apply for non-profits with a 501(c)(3) designation.
Support
Besides their help center and training courses (both free and paid, yes, you have to pay for a course that teaches you how to use their tool's features), Mavenlink offers real-time, 24/7 support through email and live chat.
You can also get in touch with their Sales team via the following three phone numbers:
Global: +1 949 336 7610
US: (800) 860-9544
EMEA: +44 (0) 20 3196 4495
Security
To keep your account secure, Mavenlink provides:
SSAE 18 (SOC1 Type II) and AICPA SOC2 Type II compliance
SAML 2.0 for Single Sign On (contact the sales team to enable this feature)
Encrypted data in transit (TLSv1.2+) and at rest (AES128+)
99.9% server uptime
GDPR compliance (access more info in their security and compliance whitepaper)
Final thoughts
Mavenlink remains a tool for project managers while regular team members might find its UI difficult to use. It's really not the kind of workspace they'd love going back to. While this project management software's permission levels and BI-powered reporting capabilities are strong, it's by far not a perfect tool. There's no risk management, no customizable workflows, not even a due date alert to let you know when a task is approaching its deadline. So much for reporting.
Pair this with a clunky interface you have to constantly refresh to see the latest changes and you've got yourself an overly priced tool only larger companies who demand top analytics could afford. Matter of fact, their most expensive subscription plan is indeed every project manager's dream and perhaps the only one worth buying, but if you just want their basic features and lower plans, you're better off looking elsewhere and saving your money.
Pros
Wide variety of permission levels
Time tracking and timesheets feature
Advanced reporting options
Financial management and billing
Cons
Slow learning curve
Cluttered interface
Weak collaborative features