Podio
Best suited for
Freelancers / SMBs
Introduction
Podio is a project management solution that claims to be ideal for both leaders and employees, being trusted by well-known companies such as Volvo, Sony, Deloitte, and the NFL. They call their way of bringing teams closer together and transforming their work into an engaging activity the "Podio Effect".
In 2012 Podio was acquired by Citrix, and has been growing ever since then into a customizable work management software that reunites project management, team collaboration, and CRM under one tool. But let's see what really makes Podio unique and if there's anything it lacks.
Trial availability
No free trial. To test the app, try the free plan for up to 5 employees + 5 external users. This allows you to use task management, apps, and workspaces but not all the available features.
Support
As an alternative if you want to get a faster response, try their Facebook page
How easy it is to get started
Upon creating your account you'll receive a confirmation and a basic welcome email. As soon as you enter the app, you'll be prompted to shared some basic data regarding your company and add your first team members. Nothing complicated here.
You'll then notice the app's structure: Workspaces, Apps, and Items. This can be confusing at first as until you understand where your items go after you save them. Before I go further, I need to clarify a few things about these hierarchies in Podio.
Workspaces are the main area where all activities happen. Think of a workspace as a team or department. You can have a workspace for all the company's internal activities or separate workspaces for each team and department. Within a workspace you can add tasks and, most importantly, apps.
These apps are features (similar to add-ons) that don't appear by default in the tool. This means you'll have to add each app manually for every single workspace according to your own needs.
Their App Market offers an impressive number of apps sorted by function and industry. For project management for instance, you'll find an app for projects, Gantt Charts, milestones, meetings, timesheets, deliverables, and much more. So in case you're missing a feature, chances are you'll find an extra one here.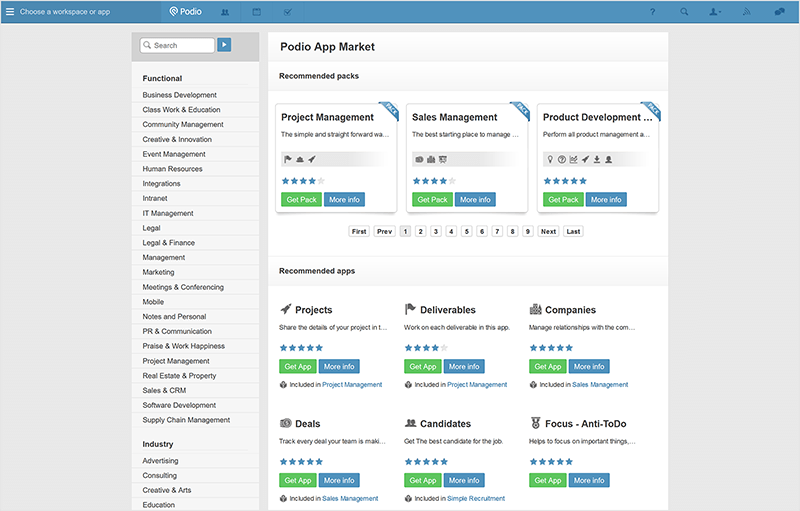 All apps can be deleted if you don't need them anymore and exported. Similarly you can also import data from Excel, but make sure the formatting of your field matches that of the app.
At the beginning, you'll get a couple of ready-to-use sample workspaces (+ a demo one that's filled in with sample data) including the relevant Apps you might need.
Moving on to items, these can be literally anything. A project, client, sales lead, meeting, task, deliverable, milestone... again, anything.
Upon first using the Podio workspace, you'll be guided through the tool's interface and create your first project. Very useful considering the tool's slow learning curve.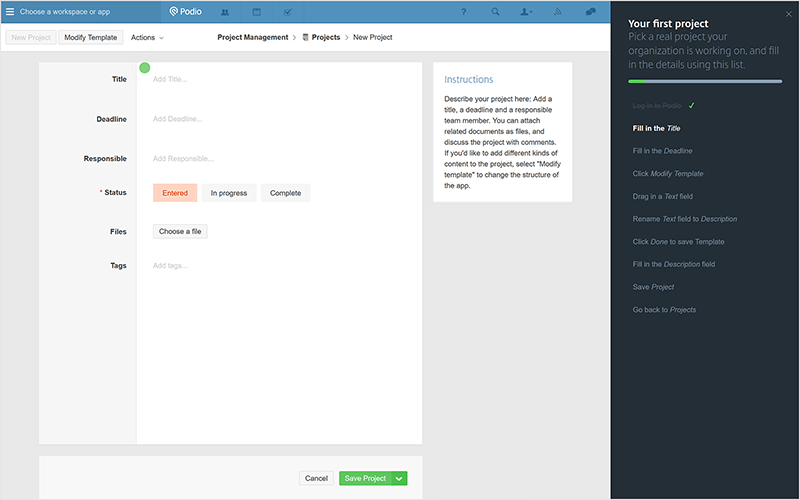 From here, there are different options for you to customize each project's details by adding a Text field (if you want to write a description for the project), images, duration, location, costs, and more.
While the app has a slow learning curve due to its several different features and apps, Podio compensates with detailed feature introductions. Each time you start using a new feature in the app, you'll get a pop-up telling you how to use that specific functionality. Handy for first time users as each tour can be viewed again at all times. A nice touch in case you missed something.
Email Frequency
Besides the first welcome email you'll only get emails to notify you whenever a change occurs to an item. No unnecessary spamming here and editing your email notifications is easy. A Daily Digest email is also available every morning to help you catch up on the tasks you are involved or interested in, but you can turn these emails off at any time.
Podio Features
Task management
While having the apps I mentioned may help you personalize your workspace, they also clutter it and make it more difficult to use. Just take the case of creating a new task.
When I first started using Podio, creating a new task as part of a project seemed almost impossible. Without an extra app, each task you create goes to a common tasks area in your workspace.
To connect a task to a specific project or deliverable, you'll need to manually add the Tasks app from the App Market. Or at least that's what you're told. I couldn't get the feature to work for me, as the Tasks app wouldn't recognize the projects I created and didn't let me connect the new tasks to an existing project or deliverable.
Your next best bet is to go to your project, click on Modify Template, and make sure you have the Tasks field displayed. To keep a task attached to a project, just create all of your tasks in that field. Importing your tasks in this section will not work though so you're left doing all the data entry by hand.
I personally miss the colorful buttons you can find in other project management software like
Asana
or
Basecamp
, making all important actions pop-up. So instead of looking for each button you need, I definitely recommend you learn a couple of keyboard shortcuts. Like hitting T for creating a new task.
All tasks will be displayed on a project or in your workspace's task list: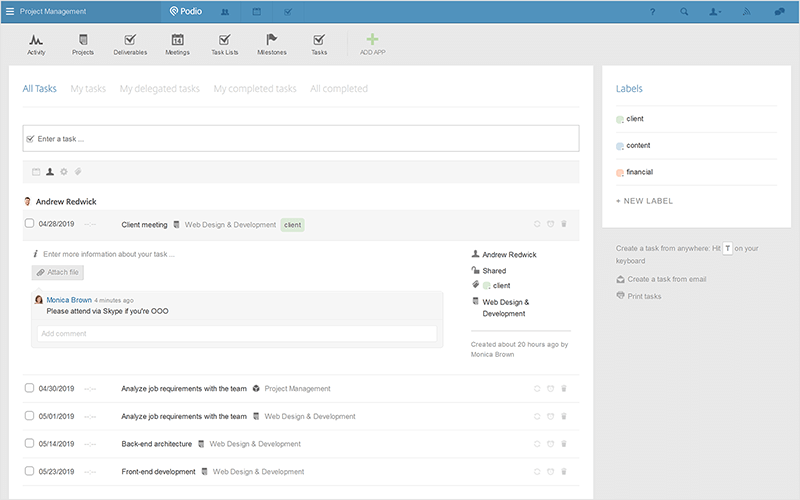 For each task you can add a color-coded label. These work like tags that help you identify the department they belong to or just add priorities, a feature that's otherwise missing from Podio.
An extra touch is the ability to create tasks from an email. All Podio accounts come with a unique email address so that you can forward any email from an external email provider to this Podio inbox. From here, they'll automatically be turned into tasks.
This software is not particularly the best when it comes to structuring your tasks into hierarchies. With no subtasks or default task lists in place, your only solution remains to use the Tasks app. Although a bit buggy since it won't let you link tasks to a project, you'll be able to place tasks within tasks as a workaround for subtasks. Take the following example where I'm creating a task for analyzing client requirements under the main client meeting task: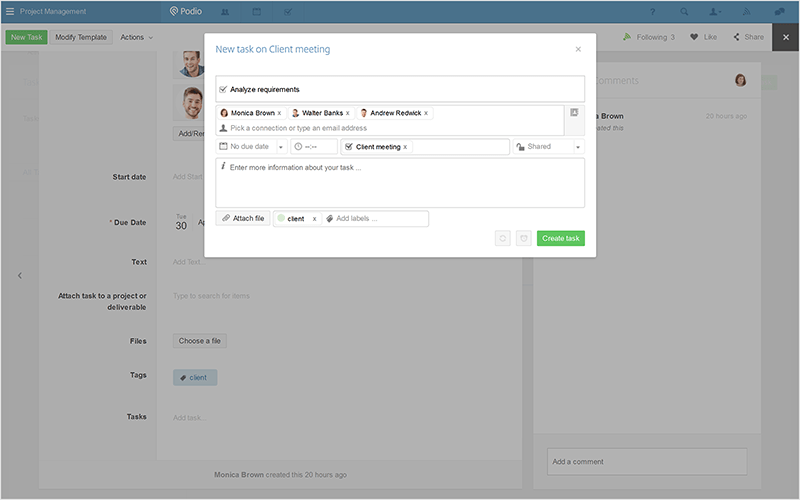 I'll also give them props for letting you set tasks to repeat. But as much as I want to tell you the task management feature is complete (since the Free plan offers this functionality anyway), the truth is that it's just not. There are always so many steps you need to go through to get the features you need. To add an estimated task duration for instance, you'll first need to get the Tasks app and modify the template to include a Duration field. Same for setting dependencies under the Relationship field. Technically, you can find any feature you want in Podio, but setting them up can take a while, your workspace will just be chaotic, and you might not choose the right apps at first.
Another thing that bugs me is the apparent multi-user assigning feature. Let's say you create a new task and want to assign three members to it. Once you hit Create task though, you'll end up with three different tasks each with one single user assigned to it, working as independent tasks whenever they're edited. Safe to say this is not really what assigning multiple users to a task means.
Project planning
There are essentially 3 different ways to view your project:
The Badge layout displays projects as badges or snapshots for an overall look: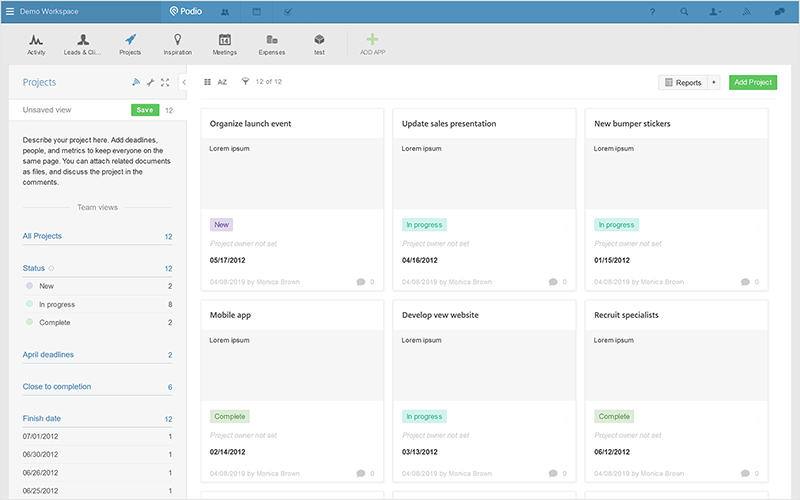 The Table layout shows all project details in line: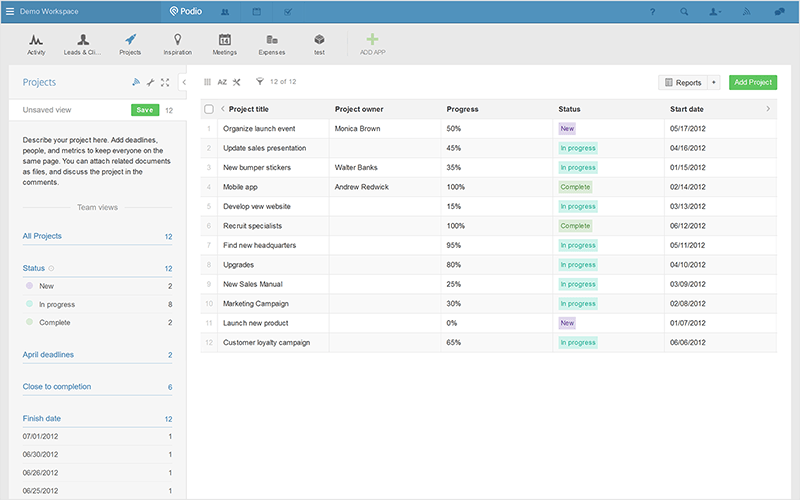 Finally, the Card layout is literally a Kanban board that sorts projects according to their owner or status: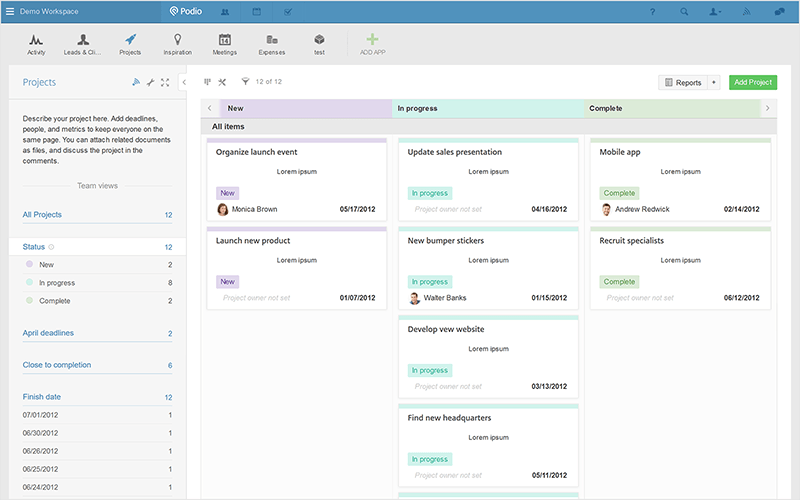 Then there's an Activity board for seeing the latest changes concerning your projects as a stream and a Calendar layout to display tasks by date. Not much to these features though.
If you want Gantt Charts your only option is to integrate Podio with
SmartGantt
. The App Market also offers a
for creating these charts but it really won't work unless you first connect it to SmartGantt. I didn't like the fact that besides the 14-day trial you had to pay to use this add-on and the cheapest plan is $6/month/user. That means doubling Podio's cost just for one feature.
If you're concerned about having to create projects from scratch each time, note there are no project templates but you can clone an existing project. Yet, creating a project and mentioning it's a template in its title is still better than nothing.
Managing and monitoring team members
With an inexistent resource scheduling feature, I'll turn to the simple ways in which you can manage roles within Podio teams. There are 3 roles to choose from:
Light user (only available with Plus and Premium plans) - They can only see and leave comments on activities. Can't edit, add or delete apps, or invite members to a workspace.
Regular user - Has editing rights, can add and delete workspace apps, and invite external members.
Workspace Administrator user - Has control over all items within a workspace.
All roles can be changed later so you can set temporary admins or regular users.
You can invite a client or stakeholder to your workspace as a guest. Guests can edit and comment only on the items you decide to share with them. However, they won't be able to see any other information that's shared in a workspace so you can rest assured they get access only to what they need to know.
The difference between a light user and a guest is that the former get access to the whole workspace while with the latter you can share only items you want, like a single app or item.
A User Management feature is available within the Basic plan and above. This option allows you to view all other members including the last time they logged in (particularly useful for tracking employees working remotely), name extra admins, remove team members and guests from your account, and even see which member belongs to a certain workspace and what roles they hold.
When it comes to monitoring users, Podio lacks features such as a resource scheduler or time tracking module to help you see exactly how much time users are spending on certain tasks and if you're on track with work. This being said, it's safe to say Podio might not be the best option for project managers who are looking to get quick project stats and make decisions based on them.
Collaboration
While Podio might not look like the friendliest app out there aspect-wise, there are actually some pretty decent collaboration options: an activity stream and poll creation function on each workspace, a comments section for all tasks, projects, meetings, and several other different items you've created with an app.
An integrated chat feature is available in the upper-right corner of the app. This option is like having Slack or Facebook Messenger integrated in Podio, allowing you to talk to a single team member, create group chats, and share files.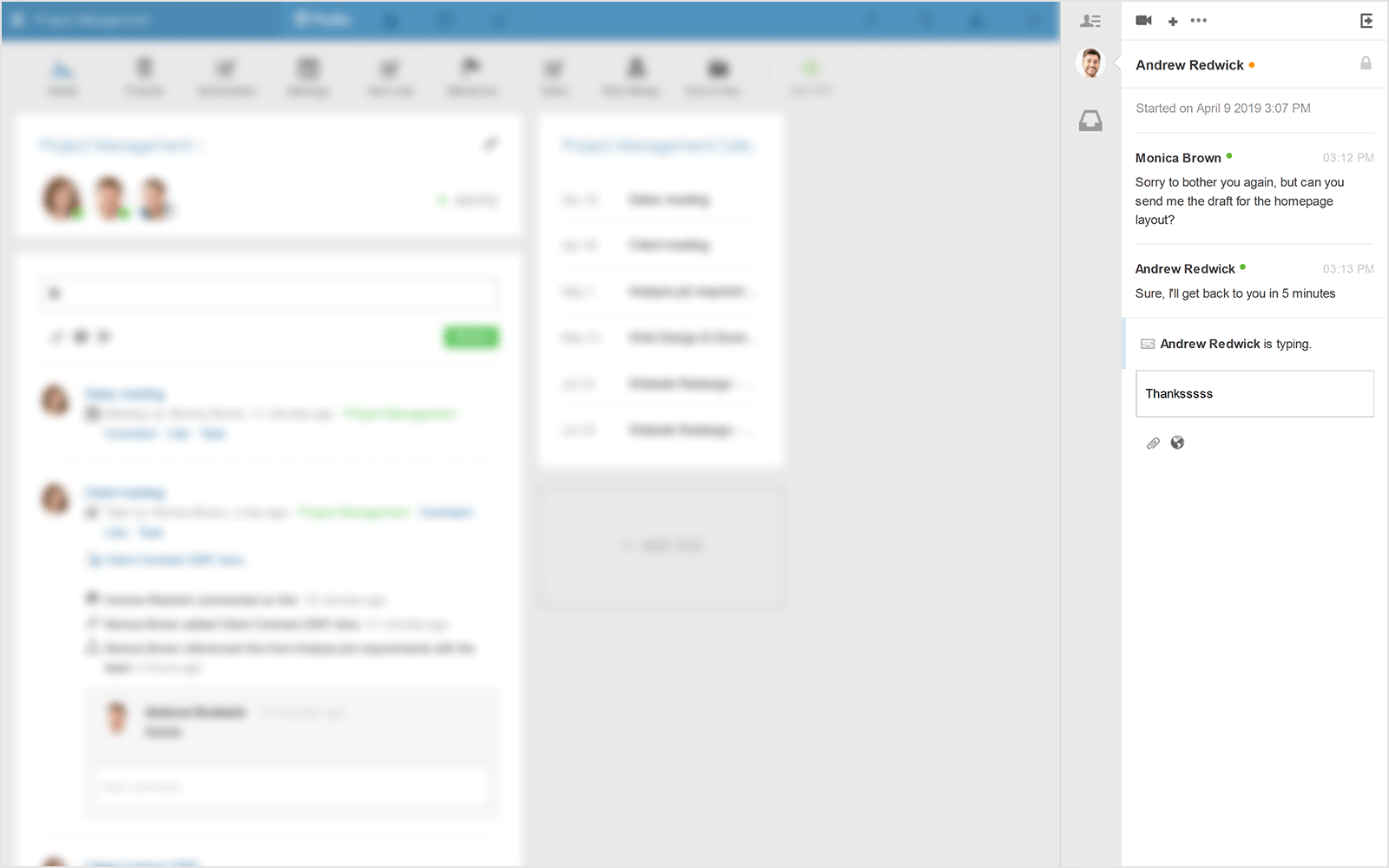 Quick tip: You can have audio or video conversations from the chat if you use their appear.in integration.
There are also a couple of apps (actually too many since choosing between them can get tricky) for scheduling meetings in the App Market but they all work essentially the same way.
The Employee Network is a central place from where all of a company's employees can communicate. This is the perfect place for sharing status updates, files, any questions, links that concerns everyone.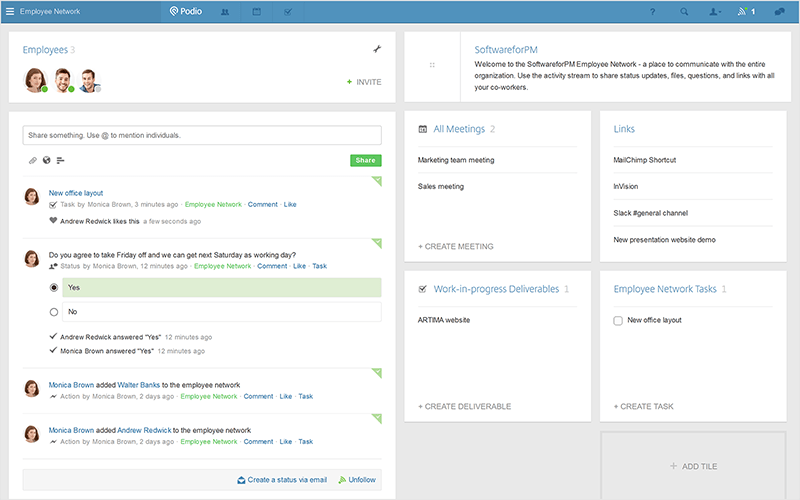 But what's really the single best thing about Podio? There is no storage limit. Not even for the free plan. That means you can share and store as many files as you want. The maximum default size though is only 100 megabytes, while if you want to share larger file sizes you'll need to try an integration like ShareFile, Box, or Dropbox. And file organization is decent too. Well that is if you enable the Docs & Assets app that lets you categorize each document and mark usage restrictions: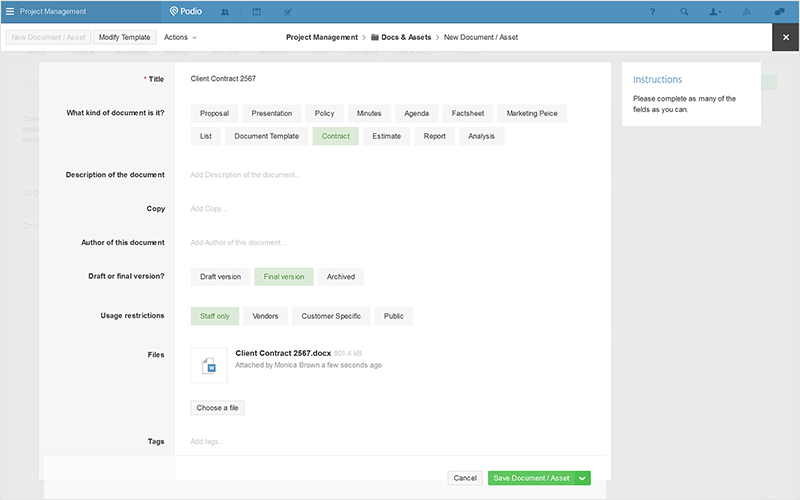 By default, all files can be replaced so you're up to date with the latest images and documents.
For any change that goes on in the app, including new files and tasks you're following, you'll receive in-app, email, and on-screen notifications. Instantly. Plenty of options to choose from and you can turn any of them off if you don't want to get the same notification three times.
What else can Podio do?
Podio is not just a project management software. It also features strong CRM features to track leads, manage client relationships, or organize the sales team. Podio attempted to create a lightweight CRM feature and make managing complete customer journeys simple. I must say they handled this quite nicely as this function is indeed easy to use, helping you handle both sales and communication from one place.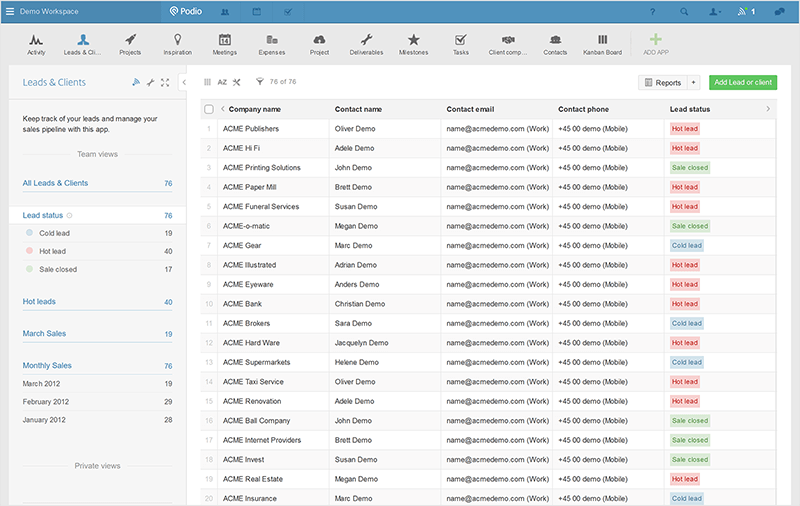 Their
GlobiFlow
integration (available only with a Premium plan) also helps automate your sales process. For instance, you can have it send an email to a prospect including the link of the proposal after completing a proposal. Similarly, with each new sale, the tool will find the customer's record, create a PDF invoice, and email it to the customer. Pretty neat if you want to save time on admin work.
The simplicity of the CRM has in part been transferred to their reporting options too. These let you automate sales pipelines, track project budgets, and more based on your apps' data. But reports are only available with Premium plans. If you're on a cheaper plan, you only get a basic table report like this one that includes expenses grouped by category and report status: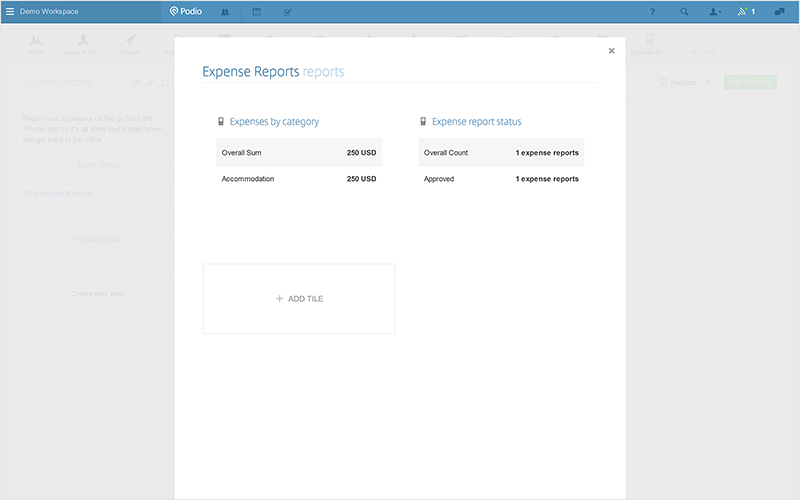 Not impressive and missing an exporting option.
The GlobiFlow integration might be able to help you this time too if you want more visual reports or charts, but the costs of switching from a free or cheaper plan to a Premium one are just too high.
Integrations
If the App Market doesn't offer enough solutions for you, try Podio's integrations. Take for example Evernote for boosted productivity, Google Calendar to make sure you don't miss an event, GoToMeeting to launch meetings directly from Podio, Zendesk for customer service, and many more other extensions.
An API is also available in case you want to create your own apps, further customize your workspace, or integrate it with a third-party tool.
Usability
While the Podio interface can take a while to learn, this won't stop you from handling your tasks from the first day. Each user can start their day from the My tasks area.
This will show you what your next duties are according to their due date. Admins and project owners get an extra overlook at the activities they delegated so it's easy for them to supervise other tasks: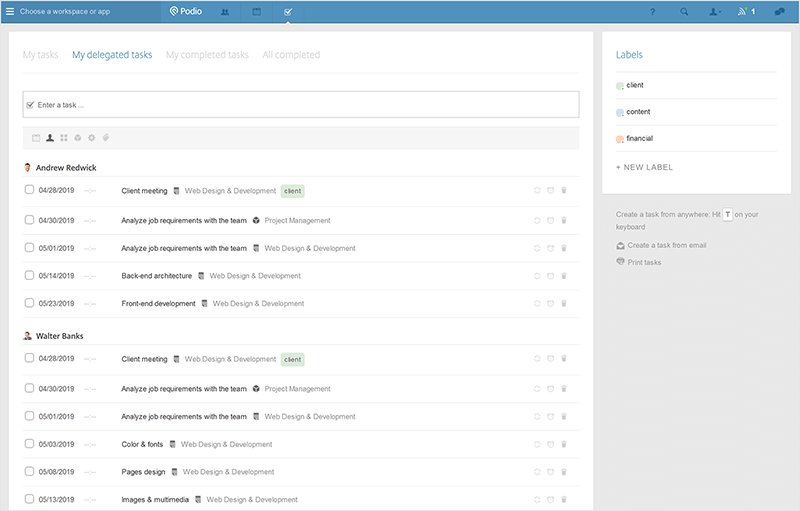 Groups of users can create their own personal workspace, with 3 types to choose from:
Open workspaces: Listed for all of the company's organization, can be accessed only if they request access.
Private workspaces: Secret workspaces not listed for everyone, can only be accessed by invite.
Employee workspaces: This is the main Employee Network where everyone is automatically added based on their email domain.
To save time navigating through several apps, try their automated workflows (the advanced version is available only with Plus and Premium plans). These enable you to bring a kind of "if this then that" logic to the apps you're using.
Here's what an automated workflow looks like if you want a task to be automatically created when a new deal is closed: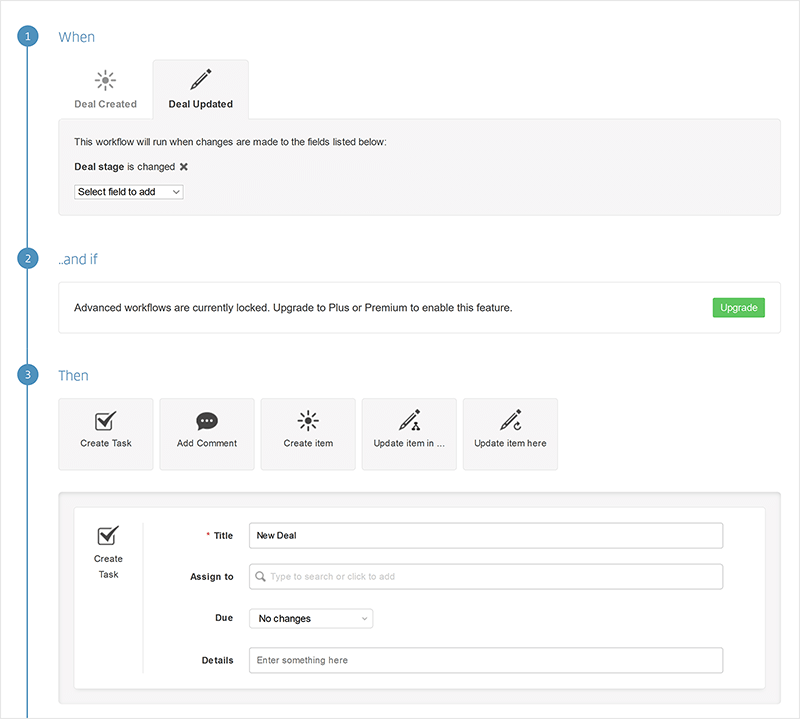 Podio is unique thanks to its highly customizable features, allowing each user to create their own apps and workspaces. When installing an app, you'll be prompted to install complementary ones too like a Deliverables app when getting a Projects add-on. While some of these can help you, others will just clutter the menu.
Be careful as Podio doesn't consider your existing app when installing a new one so you'll end up with the same app twice.
A user can also come up with a personalized structure for an item and even rename it. In case you want to use secret codes. Take for instance this project where you can add new fields and name them as you wish: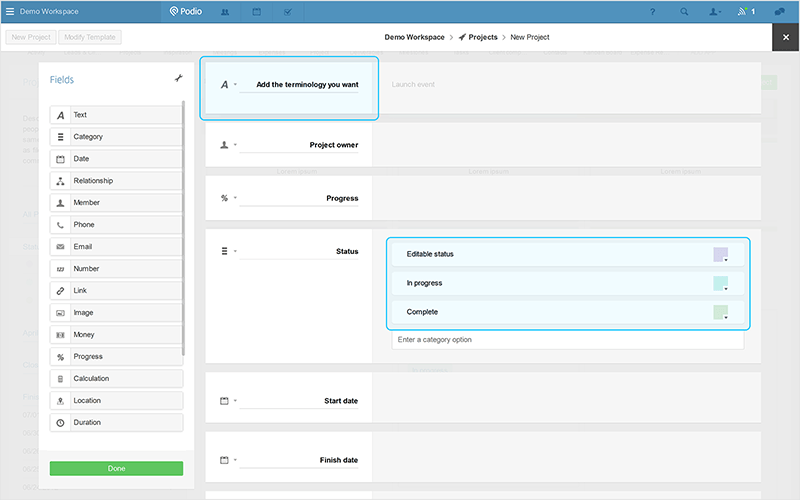 Besides their web app, Podio's features are also available on mobile (iOS and Android) so you can still access your data even when you're on the go. A Chrome extension (SuperMenu) is also accessible if you want to see all your apps at a glance regardless of the tab you're in and edit any view in Podio in a spreadsheet. A handy solution if you want to quickly edit costs or base rates in bulk.
Software Cost
Plans are average priced with a free plan offering the essential features you might need only for 5 employees. This might be enough for a small team, but if you have more team members, need to invite extra guests, require visual reporting, automated workflows, or even sales dashboards, consider getting a paid plan.
Free
up to 5 employees + 5 external users
Task management
Apps and workspaces
Free features +
Unlimited items
User management
Unlimited external users
Basic features +
Light user role
Automated workflows
Read-only access
Plus features +
Visual reports
Contact sync
Interactive sales dashboards
Advanced Workflow Orchestration by GlobiFlow
A 20% discount applies if you pay for Podio on a yearly basis. Nonprofits, startups, and students can apply to get a Podio sponsorship that includes appropriate discounts for this software (free for all students and 10% discount for nonprofits and startups).
If you're not happy with the tool or have accidentally been billed for the wrong subscription plan, you can request a full or partial refund.

Support
Reaching out to Podio's support team can be a challenge. You can either contact them by submitting a request or via Facebook. There's no phone number or live chat for you to reach out to them in case of an emergency and email support is really slow. In fact, I got a reply two days later. Frankly, this was still better than what I expected considering the negative user reviews but they were significantly slower than the support from other tools.
Request a Podio Partner if you know you're going to continue with this software. This person will be available to help you with setting up your account or any access and operational issues you might need via email or phone. The support team doesn't provide training for customers so if you need this you'll have to get a Podio partner. Alternatively, you can get a technical partner to assist with work on their API and help you put together integrations with other tools.
You can also check out their help page, use cases, or YouTube channel if you need aid with a particular feature. Make sure you check these out before you start using the tool as you may not be used to this type of interface.
Security
To ensure your data is safe in Podio, here are some of the key security features this project management software offers:
Data is hosted via Amazon Web Services in Dublin
HTTPS Encryption on all data between Podio and your web browser
All Podio accounts are private to every single user
Data is backed up regularly and stored in another off-site location
Regular security audits are conducted by the Citrix security team
Final thoughts
With Podio you really need to consider your exact needs and who's going to use the tool more often. Do you need just project management software or want some extra CRM features? Do you want a tool for your regular users or something that project managers could use with ease?
While Podio may seem like a project management solution the truth is it falls short when it comes to advanced task management and resource scheduling. But it compensates with its CRM functions helping you track more than just projects and focus on your deals too from the very first contact to its closure. If you don't require a solution to manage your customers and have just a few employees, you're better off staying with the free plan which provides sufficient task management and extra features via their dedicated apps.
Pros
Smooth onboarding
Dozens of extra apps to choose from
Highly customizable workspace
Affordable price
Unlimited storage space
Cons
Cluttered, not so intuitive interface
Steep learning curve
Slow customer support
No resource scheduling