Redbooth
Best suited for
SMBs / Enterprise
Introduction
Redbooth first started out in 2008, but it relaunched again in 2014 and now focuses on supporting 900,000+ users who collaborate jointly on projects.
Just like its name, which depicts the well-known telephone booths in Britain, Redbooth excels at team communication and collaboration - even through video calls. The tool has also merged its collaborative features with task management, file sharing, reports, and a smart AI-powered Redbooth Predict™ functionality.
Trial availability
A 14-day trial is available allowing you to test all of Redbooth's Business plan features. No credit card required.
Support
Email for general info: info@redbooth.com
Phone support available only for Enterprise subscriptions
How easy it is to get started
A short video in the welcome email will introduce you to the basics of Redbooth's UI. There's no other introductory tutorial within the app, but all new features are briefly described before you add any new content.
One thing we need to clarify before moving on with onboarding is the meaning of workspaces. A workspace works just like a project where all tasks are entered and managed until their completion. In fact, in Redbooth a workspace IS the project.
When you first start using the tool, you'll get a default workspace with sample tasks and subtasks to show you what task management features you can find in Redbooth.
Creating a new workspaces though takes literally less than a minute. Workspaces can be open to all of the organization's employees or need an invite to be accessed. To save time, you can choose from your own task list templates or a series of preset Redbooth templates like the Web Design one below: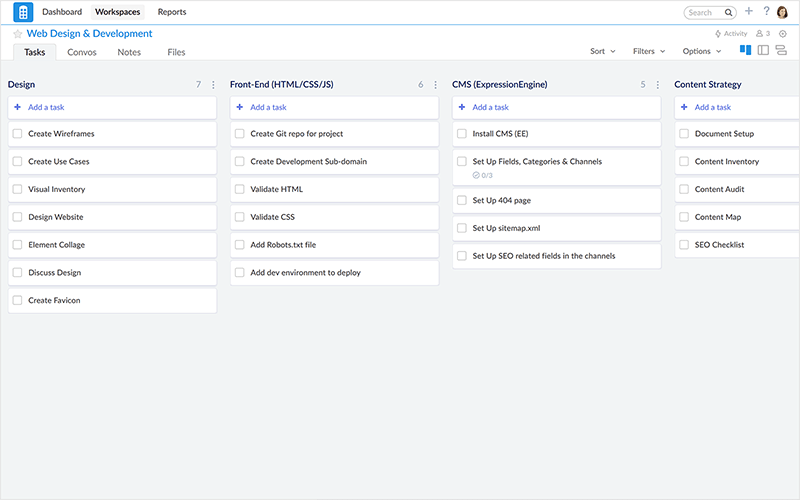 Email Frequency
No spamming here. All emails you receive are only related to in-app actions which you can edit at all times with some extra educational emails in your first month. You can also opt for a daily workspace digest. Props for Redbooth for not sending these by default and flooding your inbox.

Redbooth Features
Task management
Creating tasks in Redbooth requires virtually no effort. You can either add them manually, or import them from a spreadsheet, email, or document in case you have a rough list of them. This means you can have a list of tasks in Google Docs for instance and once you add them to Redbooth each line will represent a new task.
Redbooth users have often compared it as being a better version of Asana. And for a good reason, thanks to its advanced task management. There's subtasks, recurrent tasks, even private tasks only accessible to the people that have been assigned to it. Several team members can be in charge of a single task and a link to that specific activity can be shared within the company.
Colorful tags also help you distinguish between tasks and set statuses or priorities to filter and sort your task lists: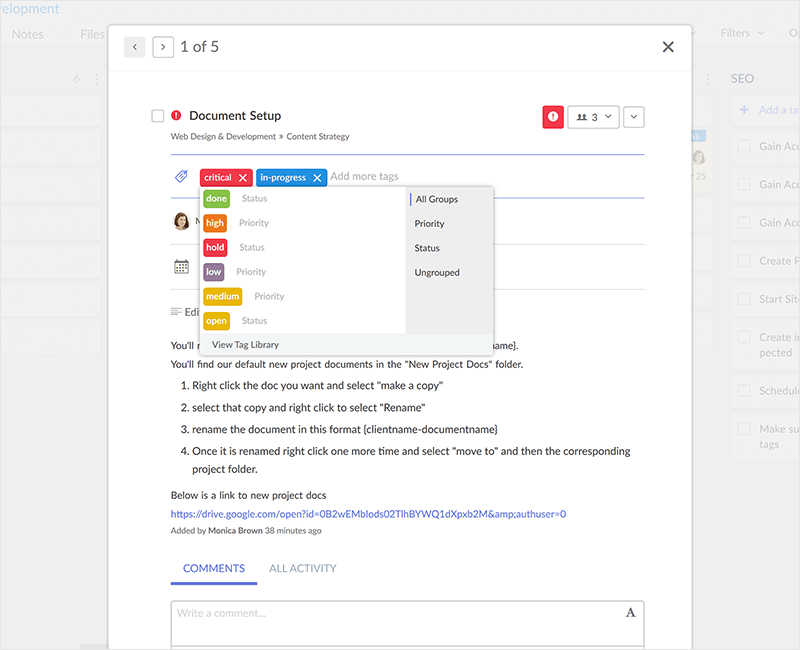 Project planning
Each workspace acts as a project reuniting tasks, conversations, notes, and files.
To manage your tasks across projects (again, projects are called workspaces in Redbooth), you have 3 main layouts to choose from:
1. A default Kanban view that allows you to manually drag tasks from one task list to another and create workflows.
2. A list view that is essentially just a to-do list that displays the selected task on the right-hand side of the screen: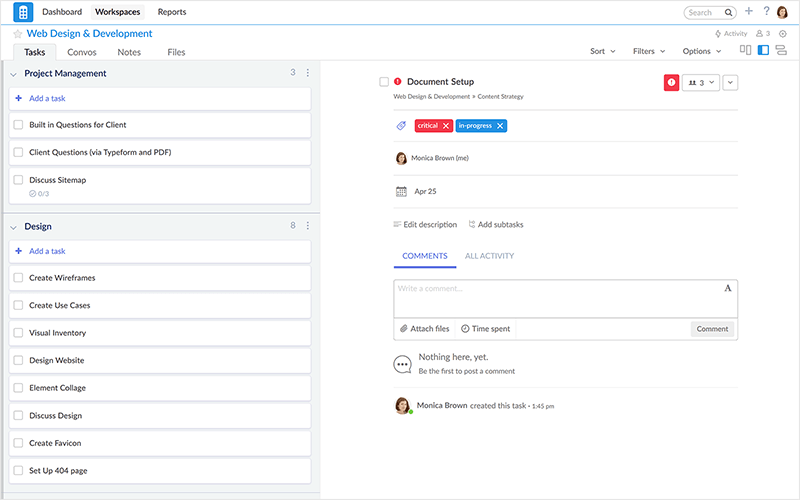 3. Gantt Chart option (known as the Timeline view) that lets you set a task's duration, establish dependencies, and see if any tasks are overdue: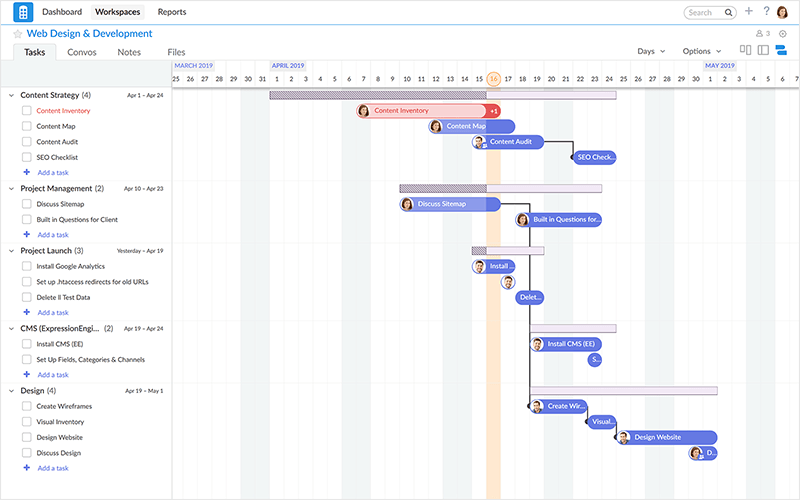 You can also build a report based on this Timeline view in the Reports section of the app. Only this time, you'll be able to sort it based on a single user or team, like the marketing one.
Managing team members and monitoring their activity
There are limited ways of managing users in Redbooth. With an inexistent resource scheduling feature, this particular project management software doesn't excel when it comes to user roles either.
There's just 3 roles to choose from:
Admin - Has full rights, can access and edit all workspaces and invite new team members. While they can remove users from a workspace they can't delete them. To delete a user in Redbooth you have to first contact their support team. Some will appreciate this safety feature.
Participant - A regular team member who can access self created workspaces and others based on an invite. They can also edit and conduct work on tasks in the workspaces they have access too. But can't do admin tasks like change a user's role, update billing information, or even backup the organization's data.
External - External users are guests who only get access to a workspace they've been invited too. Despite their guest status, they can edit and work on tasks just like a regular user but without being able to invite others, schedule HD meetings, or view tasks in a Gantt format.
Even without a resource scheduler, there are plenty of options to choose from to supervise a team.
For instance, the Task Overview report highlights in red all tasks that have exceeded their due date without being completed, helping project managers see which tasks are left unassigned or without a due date: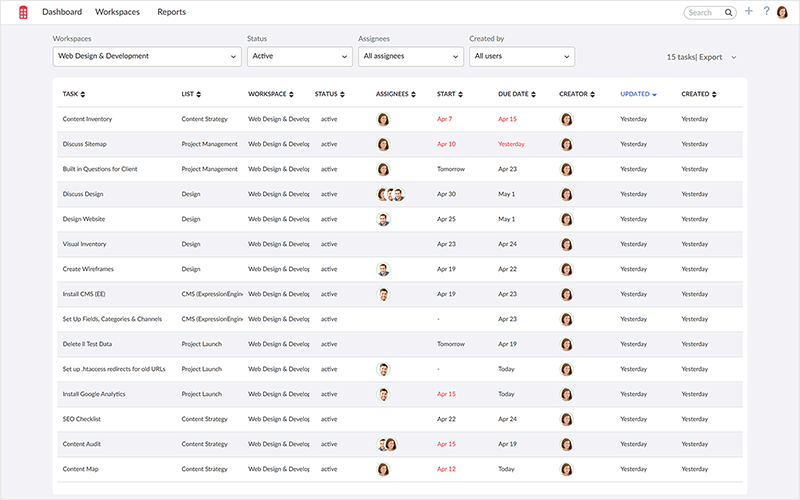 The Calendar report can also offer you a general quick glance at which activities are behind schedule and what your team will be working on over the next few days: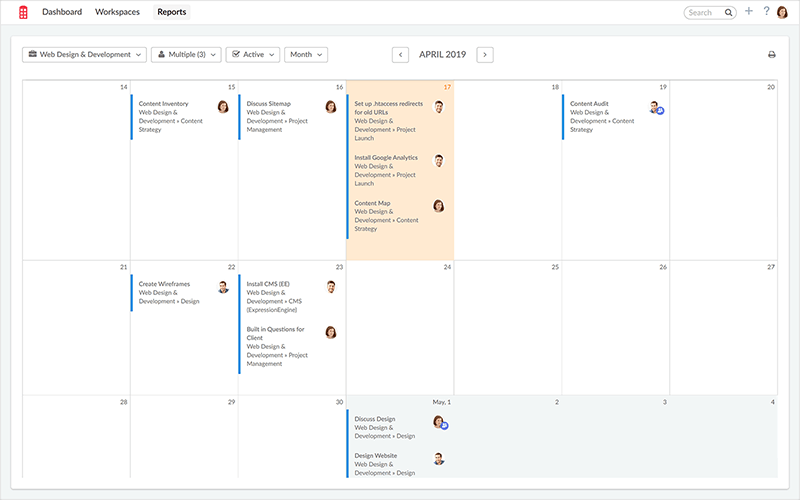 The Workload report works similarly with the above calendar feature and is a decent replacement to a resource scheduler, except you can't really see if a team member has got too much work on their tray (or too little). That's unless you manually check how much time each task will take. But that's just too much extra work considering the Workload report doesn't display subtasks, so you'd have to add all hours up for every single task or subtask yourself.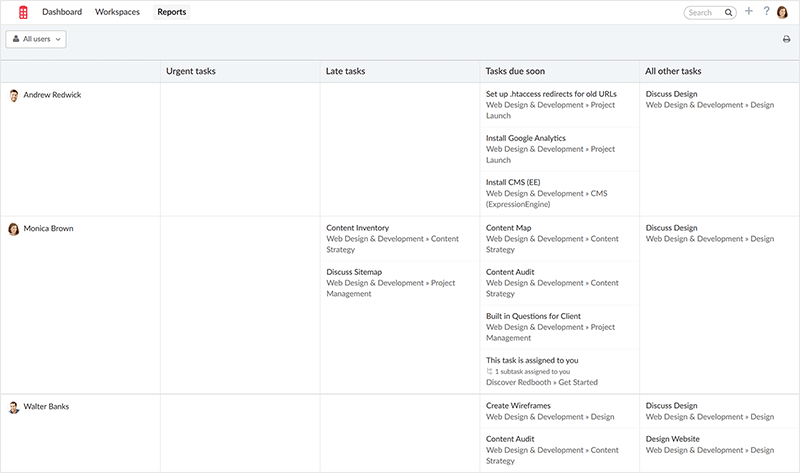 To keep a closer look at each individual's activity, use the Tasks by User and Users reports which both work in the same way, showing you any overdue and upcoming tasks.
For an overall view of the activity that goes into each project, the Workspaces report serves as a general look at tasks that are overdue, unplanned, or unassigned, while a trend reports widget displays your team's activity evolution in time. Pretty decent if you don't want to switch between multiple reports and still get a good understanding of how your team is managing their deadlines.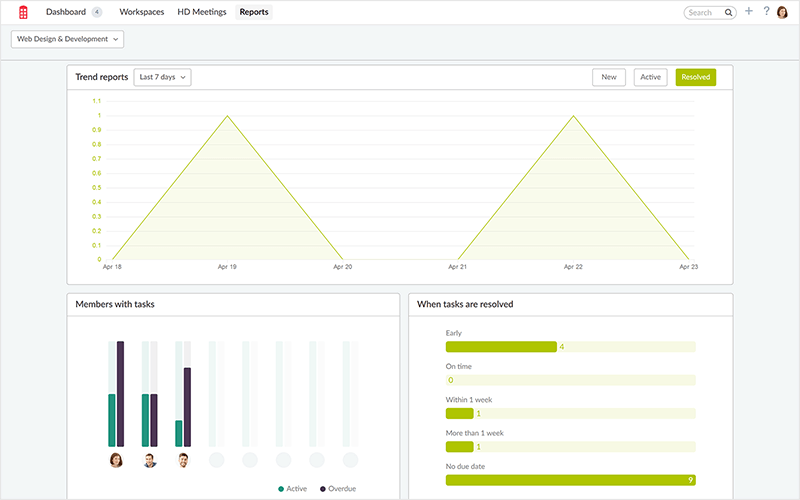 With this same report you won't really miss a resource scheduler. The Members with tasks section shows you who has too much on their plate by comparing the number of active and overdue tasks that are holding them back. Pair this up with the When tasks are resolved section for relevant insights into when tasks are completed and you get a more accurate prediction for deliverables in the future. A feature you won't find with other similar tools.
Finally, there's Time Tracking reports. These display how much time an employee spent on a task during a given time period. But don't expect too much from them. Unless you're using an integration, time tracking is done by just adding time as a comment under each task. Although simple to use, these are merely guesstimates.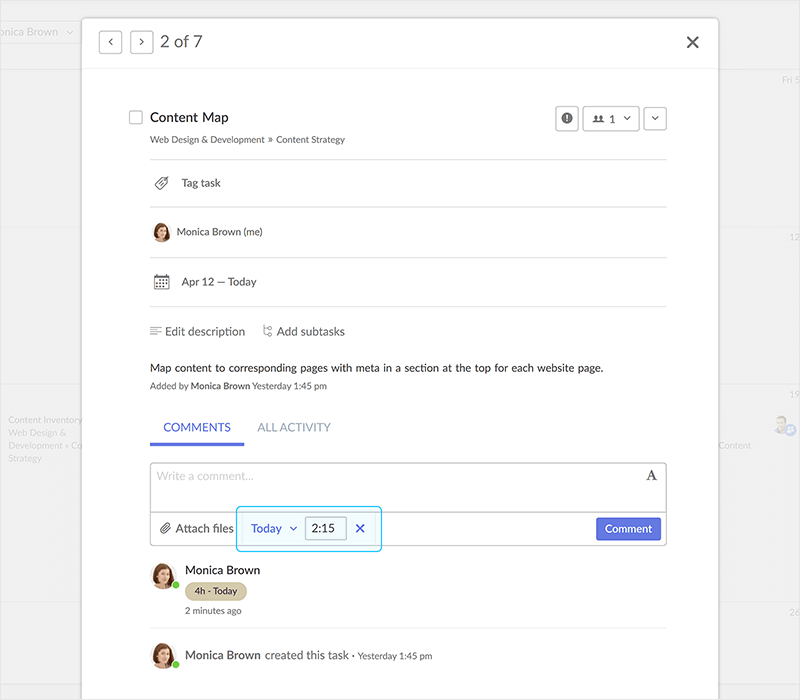 All entries, whether you've marked them as soon as you started working on a task or a week later, are automatically displayed in time reports with the weekly tracked hours on the right. Here's a sample 2-week time report for one project: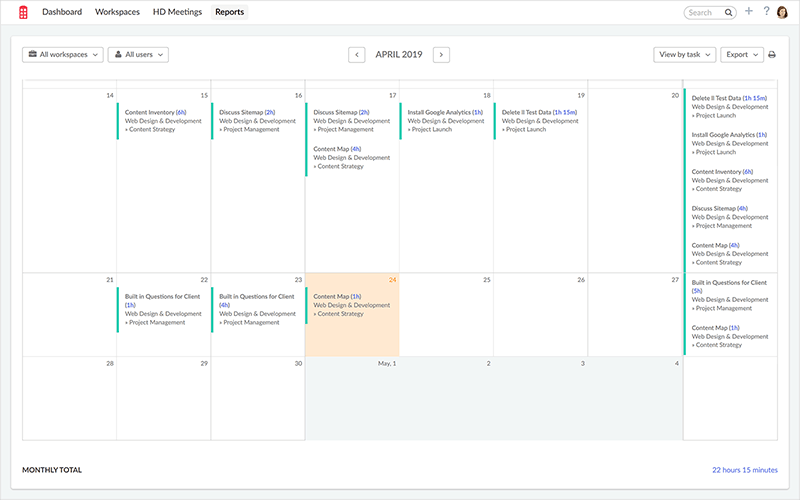 The process of creating a time report should pose no technical difficulties, but it won't guarantee the accuracy of the entries as everything is done by hand. Also, the reports might look good in-app, but once you save them the format is ruined and downloading it as a PDF file will leave you with a basic black and white screenshot of the interface.
The Redbooth Predict™ full options are available with the Business and Enterprise plans and can help project managers assign task owners, finish projects within a deadline, and reduce unnecessary extra work using AI-powered technology.
For instance, a Pro subscription lets you get user and due date recommendations based on the availability of your resources. Useful for managers setting due dates with so many tasks going on at the same time: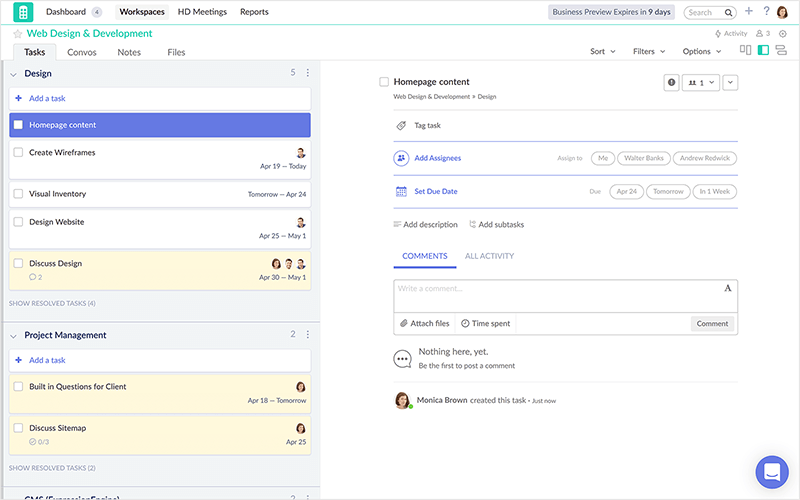 The rest of these smart functions are yet to be released at the time of this review.
Collaboration
As its name depicts, you can only expect strong collaborative features from Redbooth. And this particular project management software does deliver them.
Besides typical communication features like task comments, private or public message boards, shareable notes, and activity streams (with chat options), Redbooth is pretty strong when it comes to in-person collaboration. The tool lets you schedule and run real-time video meetings with your teammates regardless of where they are or what device they use. This will help you in return hold your daily meetings, deliver a presentation, and even share your screen in an HD format. All meetings can be recorded and shared with those who could not attend on a specific date.
This feature is essentially just an integration with
Zoom
that comes as part of the Redbooth app by default. If you don't find the feature when first using this project management software (like I couldn't), reach out to their support team and they'll most likely activate it for you if you're on a plan that allows HD meetings.
Just schedule out a meeting or set it to repeat if you plan on having regular meetups. Then share the meeting's link at any time to invite a group of colleagues: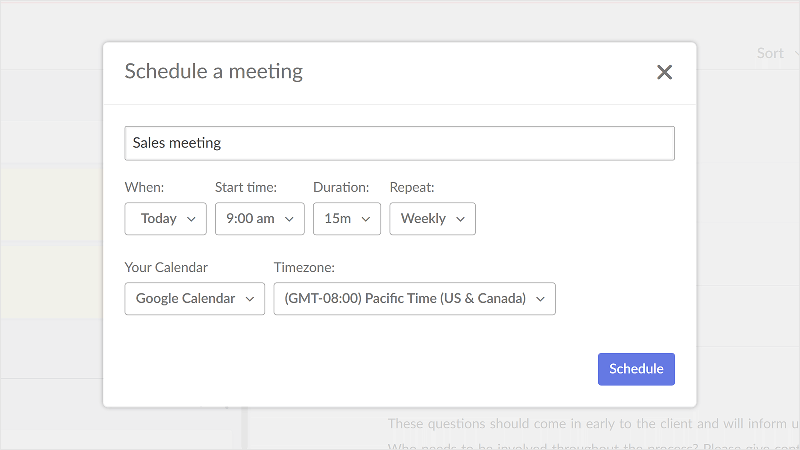 You can even add these video recordings to your files. Every image, document, or video you share with your colleagues will be neatly stored in each workspace's Files section where they can be further organized into folders: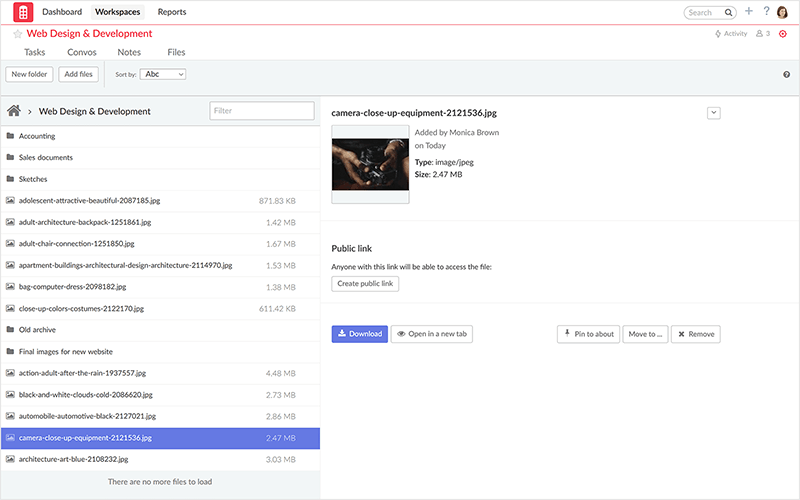 For all actions that happen within the web app, Redbooth sends email, in-app, and desktop notifications which you can tailor to your own needs. Nothing different here compared to other similar tools. Their only nifty trick (to replace the missing project manager role from the app) is each user's ability to establish which tasks they want to follow:
Receive notifications only for tasks assigned to you, where you're been mentioned, or specific tasks you chose to follow.
Auto-follow all new tasks, conversations, and notes if you want to keep up with everything that's going on within the organization.
Auto-follow all new tasks, conversations, and notes in a workspace. The best choice for project managers in charge of one or more specific projects.
Additionally, specific users can be notified through @mentions or @all if you want to get everyone's attention.
Integrations
For all your other needs, there's plenty of integrations. Say for instance Google Drive for extra storage space, Clockify for time tracking, Okta for identity management, or Slack for communication. The options aren't as varied as you'll find with other project management software options. There's no solid integration for accounting or invoicing, two features which, although not mandatory when it comes to managing projects, could help you get paid and reduce some steps for your accounting team.
If you'd like to create your own apps, Redbooth's API is the solution. They provide all the documentation and resources your developers need and support opportunities from their own engineers.

Usability
One thing you'll notice as soon as you get accustomed to Redbooth's interface is the lack of customization. Besides being able to change the main color of the UI for every workspace and switch between different task layouts, there's not much you can personalize. They also offer you the ability to create and reuse your own tags - their most robust feature so far besides the meetings one.
Truth to be told, you won't really feel the need to customize your workspaces as the interface is clear enough and has a fast learning curve compared to other more cluttered tools like Podio or Mavenlink.
The main menu is by itself ordered logically so any user can start their day from the Dashboard section where they get access to their tasks and all notifications that target them: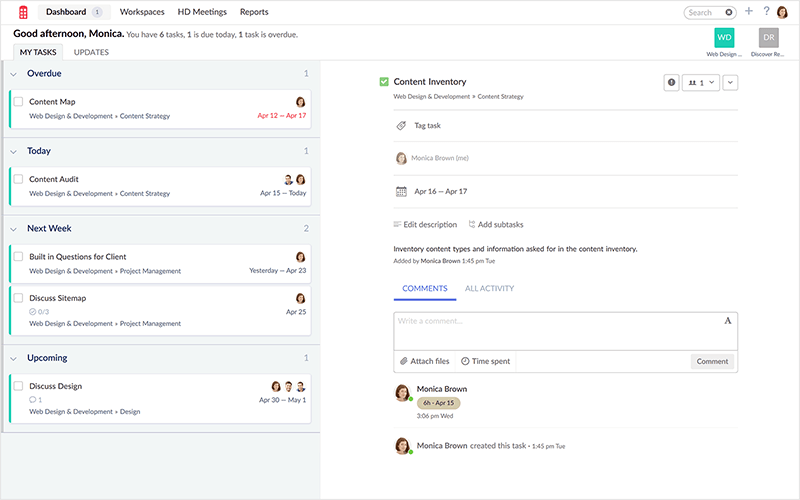 And even if you lose track of a task or file, you can still resort to the search bar in the top right-hand corner.
Next to it, there's a secondary menu bar from where you can create a new task, workspace, task list, conversation, or just add a new team member. A quick add function if you want.
Unlike other project management tools, Redbooth will seem more suitable for the regular user since it focuses on a single team member's tasks. At a closer look though, Redbooth is really a tool for everyone. Project managers can launch meetings, create elaborate reports, and even distinguish between tasks they're assigned to or are just monitoring.
To suit all your needs, Redbooth is available on mobile devices and as a desktop app (both for Windows and Mac) in addition to their web one. There's also a neat integration with Apple TV so you can view and edit your workspaces directly from your TV whether at home or in the office, an option you won't often find with many other similar tools.
For international users, Redbooth is available in 3 other languages besides English: German, French, and Spanish.

Software Cost
Redbooth's subscription plans are moderately priced. The free plan offers few features and only 2 GB for storage, making it a decent option only for individual users who don't have too many demands and not for teams.
Assign users & due dates
2 GB
2 workspaces
Exportable Gantt Charts
Task Overview
Calendar
Conversations
Community Forums
Email Support
User Recommendations
Basic
$9/user/month
unlimited users
Free features +
Time Tracking
Tag Manager
Multiple Task Assignees
5 GB
Unlimited workspaces
Free guest users
Task Dependencies
Workload
HD Video Meetings
Due Date Recommendations
Business
$15/user/month
unlimited users
Pro features +
Custom Tag Groups
Assignable Subtasks
50 GB
Trend Reports
Timeline Overview (new!)
OneDrive for Business Integration
Project Status (coming soon)
Predict Reports (coming soon)
Enterprise
custom pricing
unlimited users
Business features +
500 GB
Phone Support
Free Training
Non-profits, educational institutions, teachers, or individual students are eligible for a 25% discount. Groups of students (minimum 3) can also get a 50% discount for all paid plans. No refunds are available
Support
Redbooth won't pose too many problems in terms of usability. However, for any issues you can submit a request through their contact form, reach out via email, or contact them by phone (available only with Enterprise-level plans).
You can also go to their help center, case studies, or YouTube channel if you need an introduction to a particular feature. Check these before you get started to make sure you get accustomed to Redbooth's interface and features. Keep in mind you might not find some of the information you need here. For instance, there's almost no info regarding HD meetings in the help center. In these cases, the customer support team becomes your best ally.
Security
To guarantee the safety of your data, Redbooth bets on vital security features like:
Data hosted by Amazon Web Services and monitored 24/7
Continuous automated penetratation testing
Continuous Manual Penetratation testing and ethical hacking
All connections are encrypted with SHA2 2048-bit (TLS 1.2) encryption
Final thoughts
Overall, Redbooth is a strong collaborative tool with advanced task management features that is better suited for small and medium teams who don't need to manage project portfolios or budgets. While its reporting function is decent and can give project managers an overlook at the status of their projects, several users have noticed the need to switch between different screens to get the information needed.
Truth is while Redbooth has a friendly interface and easy to use task management features for regular users, admins and managers won't really find much use to its functionalities besides the reporting and Redbooth Predict™ tools. But the latter two might just be enough for smaller teams who need to bring some structure to their everyday work.
Pros
Quick onboarding
Clean and intuitive user interface
Video collaboration features
Advanced task management
Meetings scheduler
Cons
No budgeting feature
Lack of customization