Basecamp
Introduction
Basecamp initially started out as 37signals, a web application company founded in 1999 that fully rebranded itself into Basecamp in 2004. In fact, the first version of the tool is still hosted under the 37signals name and it hasn't really changed since then. In time, they went through a series of major updates in an attempt to make team collaboration as efficient as it can be, now counting the 3rd version.
Basecamp Classic and Basecamp 2 are still available. Regardless, this review will focus solely on Basecamp 3 that has the newest functionalities and integrations.
How easy it is to get started
Trial availability: There's a 30-day trial that lets you fully-test Basecamp. Yes, really all of them. No credit card is required so there's no risk of being charged after the trial expires. When this happens, you won't be able to access your account until you pay. But they still let you export part of your data.
Email frequency: You'll first receive a welcome email which could take about 20 minutes to get. There's no email confirmation though, which is not really secure since anyone can create an account by just knowing your email address. Team members, on the other hand, instantly receive an invite through which they can confirm their identity.
The other emails are only for in-app actions and you'll get them as soon as a change occurs in your account. Occasionally, you'll get educational emails teaching you how to use specific functions such as editing your notifications. Of course, you can also turn these email notifications off.
How easy is it to add a new project?
Basecamp's onboarding is, in two words, easy and hassle-free. When I set up my account, I was asked a few questions to personalize my Home workspace: add teams to my company, select the types of projects I'm working on, and invite a first team member.
The Basecamp interface seems overwhelming at first. If you begin work with lots of default projects and teams, you'll be stuck staring at your workspace, not knowing where to start. A short video will show you the basics of Basecamp before you get to organizing your workspace. There's also plenty of
extra resources
to guide your way through this software.
Onboarding is smooth in Basecamp. You won't worry about wasting too much time learning how to use it. Whenever you click on a new feature, you get a couple of on-screen guided steps. For instance, when you first access the company headquarters (HQ) you'll be asked about any upcoming events available at a company level or files everyone needs access too. These are automatically added to the HQ so you don't start with a blank workspace. Convenient if you're short on time.
The tool comes with a sample team and project so you get an idea of how to structure your work. If you ask me, these are a must to get you started: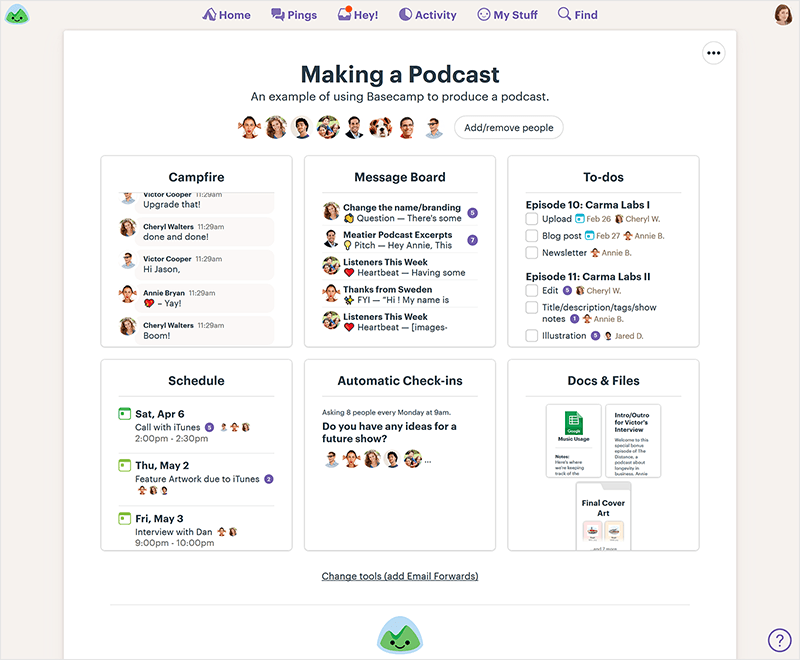 From an onboarding perspective, Basecamp is perfect both for users who've never used project management software before and for Basecamp beginners, thanks to it's easy-to-understand interface and features.
If you've named the projects you're working on during the onboarding process, you'll find them under your Home dashboard. Otherwise, to create a project just click on the +New button right next to the Projects section of the Home and voila, you've got yourself a blank project.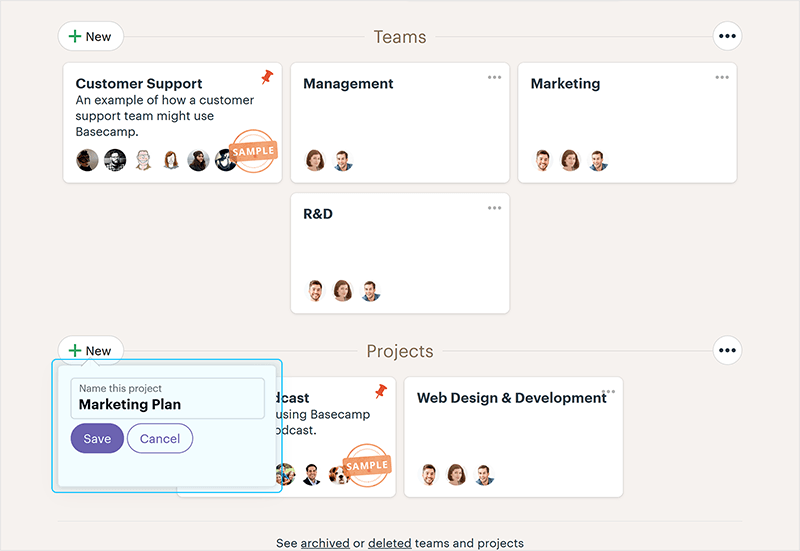 To add project details, click on each project. Invite team members, set notification preferences, and edit details with a single click.
What if I get stuck?
The onboarding process is not likely to cause any issues. If you do have a question related to using a feature or payments, the Basecamp team can only be contacted via their contact form or simply through a reply to the welcome email. There's no phone number or live chat for real-time help.
Manage your projects with Basecamp
Planning your tasks and teams
To save you from building To-do lists each time, try creating project templates. Unfortunately, Basecamp doesn't let you turn an existing project into a template so you'd have to create all of them manually before adding one. Once created, templates can be used unlimitedly.
To create these templates, you'll find a link under the Projects heading, but it disappears after you've made your first one. You'll need them again and think they're hard to find but don't panic. Click on +New and Manage templates… and you'll be able to create a new project template whenever you want to: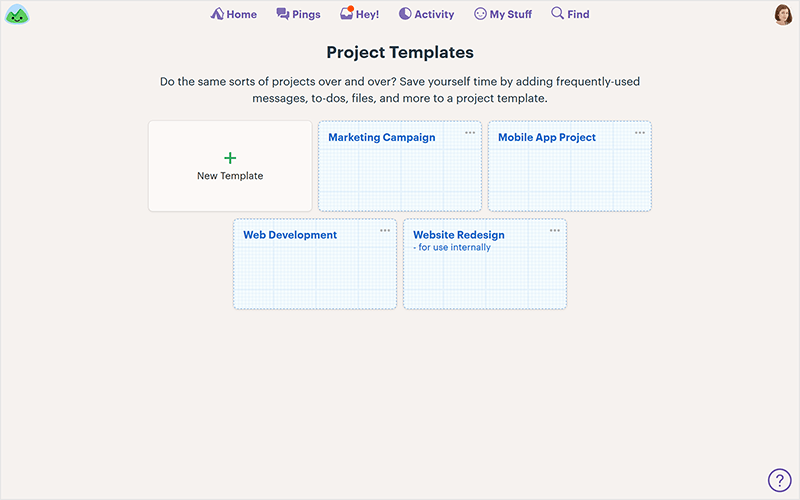 Task management in Basecamp is straightforward. Essentially, there are only 2 ways of viewing your tasks (called To-dos in Basecamp): a list or a card view. These are interchangeable at any time from your To-dos so you can pick the one that best fits your work style. Lists are easier to organize though but that's just my take.
If you're a fan of to-do lists, you're in the right place. Basecamp's To-dos are clear and effortless to work with. You'll probably get the hang of using them in less than 5 minutes.
There are some missing features though like task priorities, subtasks, task dependencies, or recurring to-dos, making Basecamp less advanced when it comes to task management, although this is a must for any project management software.
Going through your to-dos each day can get boring, so try bookmarking those you're working on from the top-right hand action button: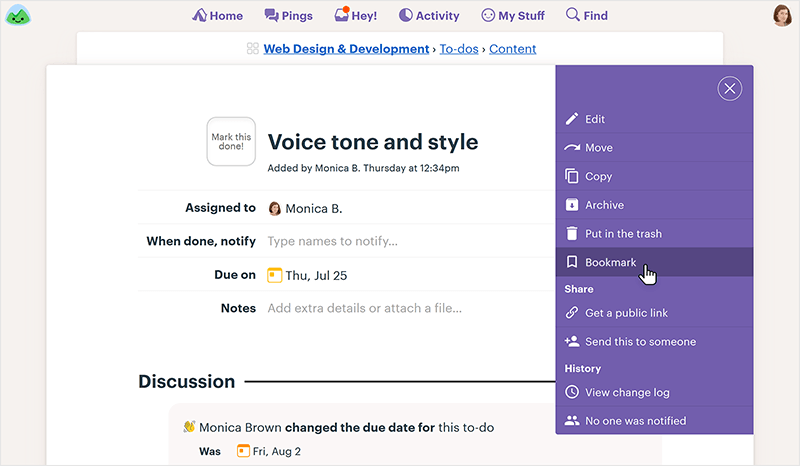 You can also get a public link for each task to share it with your teammates and clients.
Each to-do comes with a changelog. You know, for the times you want to find out who accidentally archived a task. In fact, several different features in Basecamp (e.g. file version control or Hill Chart progress) offer this transparency so everyone can see exactly how the project evolved.
The main thing Basecamp lacks is a Resource Scheduling feature. You can check out the Schedule of a team or project for an overall look at how your team's work is distributed but it's not really useful in this sense since you've got lots of data to sort through. Briefly, Basecamp's Schedule works just like a calendar, allowing you to mark important events or milestones
User permissions in Basecamp are quite interesting: you can have as many admins as you'd like and invite a team member to all projects or just one specific project. The thing here is that you can't choose who is allowed to fully edit a project, leave comments, or just view it. Instead, everyone gets full access to the project. Too much transparency here.
Alternatively, you can invite a client to your project. By default, the project's content is entirely private to them until you decide which sections you want to share. Basecamp offers full control over the project sections and messages your clients can see. This way you won't worry they're getting spammed with notifications or not getting enough insight. By giving your client access, you can get faster feedback, avoid email back and forths, hold fewer meetings, and provide any needed files at all times, without having your client ask for them.
Collaboration
Overall, Basecamp is definitely more of a collaboration tool rather than project management software. Yes, the task and project management functionalities are not advanced, but trust me, it does compensate when it comes to collaborating.
Campfires, message boards, comments, check-ins. All these are different methods and opportunities for teams to communicate. Similar in objective (team collaboration), they are actually used in a slightly different way:
A Campfire is a casual chat room for non-work related work (like sharing memes or celebrating a colleague's birthday)
Message Boards are for sharing announcements, ideas, progress updates, and other work-related feedback.
Comments are left on specific To-dos or documents to keep info in context.
Automatic Check-ins are used for creating recurring questions that team members receive periodically.
While there's no meetings scheduler, Scrum teams can use the creative Automatic Check-ins option as a replacement for the daily stand-up meetings. You'll already find a couple of preset questions for this in case you don't know where to start.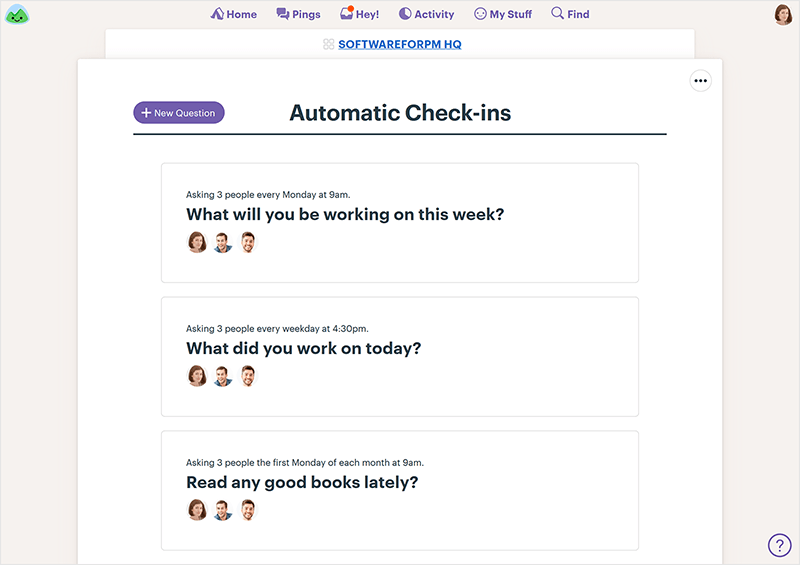 In fact, there are too many opportunities for chatting. Different ones for each team and project, plus your HQ. With so many choices, it's easy for a message to get lost. But maybe this is what makes Basecamp more fun to use than most other project management software options.
Not done yet. There's also Pings. These work much like private chats where you talk to one of your team members without bothering the others. You can literally use Basecamp as a replacement for Slack.
Then there's teams. Team workspaces are organized exactly like projects but their real purpose is for assigning team-related tasks that don't necessarily depend on a project. Ever had a "Plan team building" task? Here's the place to add it.
But teams are not just there for administrative work. Customer support teams can use this workspace to track client issues too: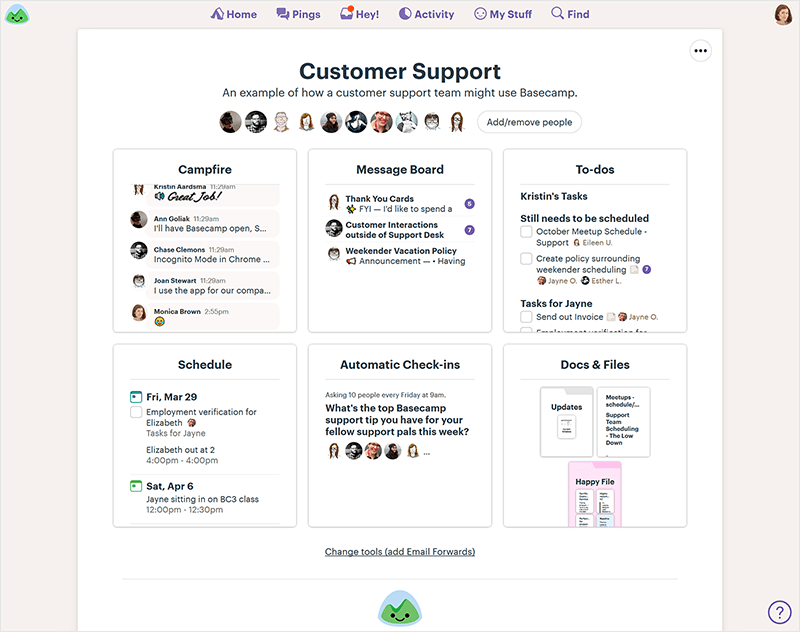 Keeping everyone on track with the team's ever-changing activity is done through in-app and email notifications. All in-app notifications appear in the Hey! section which acts as an inbox for any updates coming your way.
Depending on your style of work you can opt out or choose pop-up notifications so you'll immediately know when there's something that needs your attention. This is particularly helpful if you're looking to get immediate feedback or want to stay updated at all times.
By the way, you can also get these notifications on your phone or tablet, for extra connection on the go. If you're working from home or from the office, I'm sure you won't enjoy getting three different alerts for a single notification.
If you just hate being disturbed after work (particularly useful if you've got a work laptop or work remotely), there's also the possibility for you to check this life-saving Work Can Wait! Only during my work hours… button and set the exact hours when you can be bothered.
For each list or to-do you can unsubscribe from all communication from the Subscribers section under the comments area. You'll be able to subscribe back at any time if you ever want to get involved in that to-do again, see all changes, or just be notified when a new file is uploaded.
Images and documents can be attached to literally anything: comment, project, team. You can even add a file to the comments section of another file.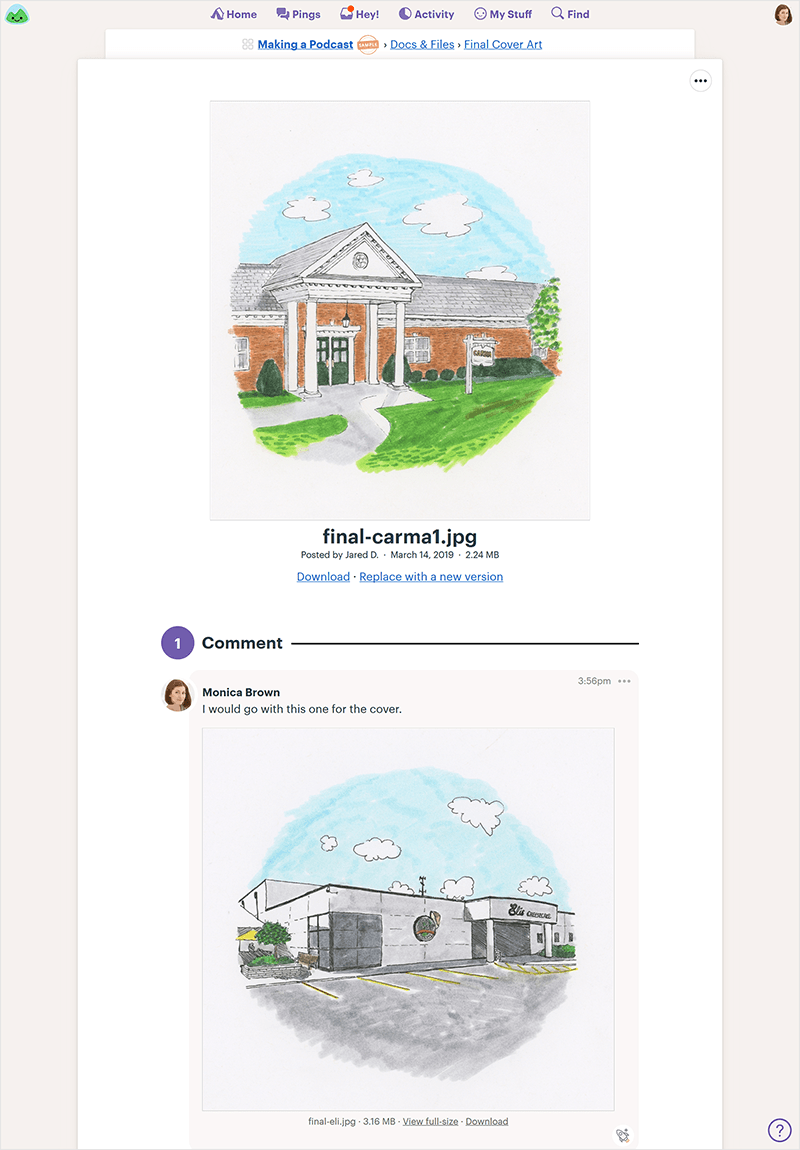 The Docs & Files area lets you organize files into folders or color-code them so they're easy to find one year later after you've added hundreds of other docs and pics. A useful option is to download the files in bulk so you can store them in your own database or share them this way.
Don't forget about the file versioning feature I previously mentioned. The Replace with a new version button under each image (the feature doesn't work with documents) so you can keep it up-to-date at all times. Seeing all version will help you keep track of them throughout the whole process.
You can bring your work-related emails into Basecamp under the Email Forwards section of any team, project, or company board. Forward an email of interest to save@3.basecamp.com or your special address available when you first add the Email Forwards tool. Save the address so you won't have to search for it later. This process might seem tedious but it will just become a habit after your first 5 emails.
Work monitoring & control
Let me just say reporting is almost nonexistent in Basecamp. The Activity section is really all there is for you to get a look at your team's progress. There's no exporting or sharing option though so you'd have to copy the data manually to share it with a stakeholder. You can get a daily activity report though via email but it's really just a bunch of your previous day's actions put together.
If you really insist to store your data elsewhere, you can still export the project and team data from Adminland (if you're an admin). But be prepared to manually sort it to create a handy activity report.
In Basecamp, the project manager is often left doing all the manual work, switching between projects and to-dos, or scrolling through several different communication boards. There's not even an alert to let you know if a due date was exceeded. You can only see your overdue to-dos in the Activity section. Not very project manager friendly in this sense...
Integrations
Basecamp offers plenty of 3rd party integration available to help you fill the missing features (see Harvest for time tracking, TMetric for invoicing, or Easy Insight for reporting) or with specific duties (SupportBee for customer support, Instabug for bug reporting, mediatrigger.io for social media brand mentions, etc.). Basecamp's API also provides different options for developers among which Chatbot Configuration (to let 3rd-party services post updates in Campfire) and webhooks.
Usability
When it comes to your To-dos, there's not much to the filtering options. This means all tasks, completed or not, are placed on the same list. While this would usually be a problem, Basecamp's interface is clear enough not to overly clutter them. All completed tasks are lowered in size and placed under the to-dos you have to complete next. I don't know if this ever happened to you but this also makes it easy to find a task you've accidentally marked as complete.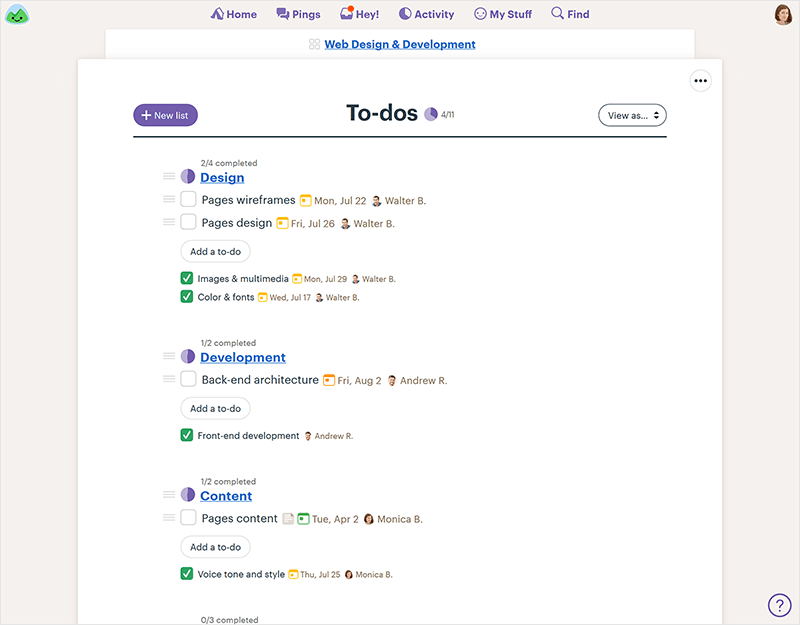 There's one way of "filtering" though: searching for a specific word. The advanced search function lets you literally look up everything, tasks (to-dos), files, folders, Campfires, comments, you name it.
This search function is quite useful if you end up with a cluttered dashboard. To clear up space, remove the project and team samples after you get to know the app. You can also archive items (tasks, to-dos, files, etc.) that are no longer relevant but you still want to keep them around instead of trashing them.
Finding the items you've archived is a bit complicated though. There's no single place for all archived items. Since not even their support page details these areas, I'll take you through all locations:
Archived a team or project? Look on your Home dashboard under the Projects section for the following text: See archived teams and projects.
Archived a file? See archived images and documents under each Docs & Files section.
Archived a to-dos list? Go to a project's To-dos section and scroll to the bottom of the list.
Archived a to-do? Go below the to-dos list it belonged to. Of course, this means you have to remember where that was first.
For all other communication-related boards or events in the Schedule, your best bet is to just look at the bottom of the section where they were first added.
Accidentally deleting something is no big deal. Everything you delete goes to a trash (find it on your Home dashboard under the Projects section) where you can access them for 25 days until they're permanently deleted.
Basecamp's not all about scheduling and monitoring work. To keep things fun, emojis can be shared in comments (and anywhere there's text for that matter) or as boosts for leaving encouragement messages as text or emoticon.
Customizing your workspace is limited to changing the theme's color from your Personal Settings and adding your company's logo to your Home dashboard. When it comes to organizing your workspace you can opt to view to-dos, projects, and teams either as lists or cards. You can make even more room on your boards by setting up the exact tools you want displayed on your team, project, and company boards. Just look for Change tools (add Email Forwards) above the Activity section. That's about all really.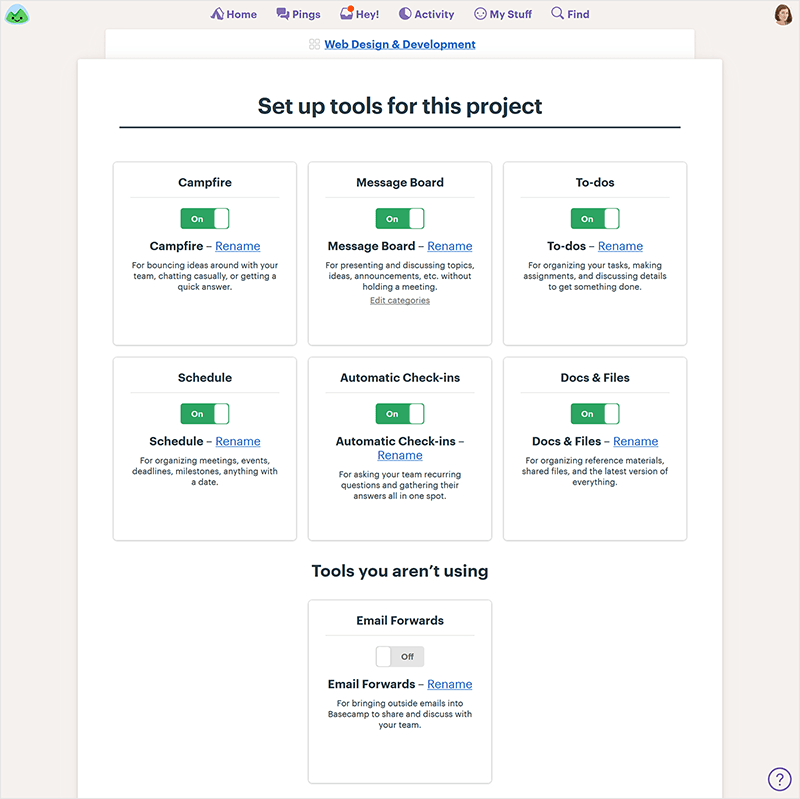 For project managers:
Two words: Hill Charts. Hill Charts allow you to track the progress of your team's work from the moment a task is created until it's completed. From figuring things out to making them happen, similarly to climbing a mountain when something's difficult and descending once you get the hang of it.
While they're good for showcasing the project's progress (especially considering there are no other reporting options in Basecamp), moving tasks on the Hill Chart is done manually. Or, as they call it, it's human generated. Yes, you have to drag each task and drop it at a point you estimate you're at. Not much automation help here, instead reflecting a person's emotions and beliefs upon work's evolution.
You can also use Hill Charts to see where you're work stalled, if a task is behind, or which tasks are on the right track. All updates are recorded in the Hill Chart Progress in chronological order for you to follow their progress. And of course, there's a discussions area under each chart and a possibility to annotate them. A perfect example of how Basecamp reunites real-time with asynchronous collaboration.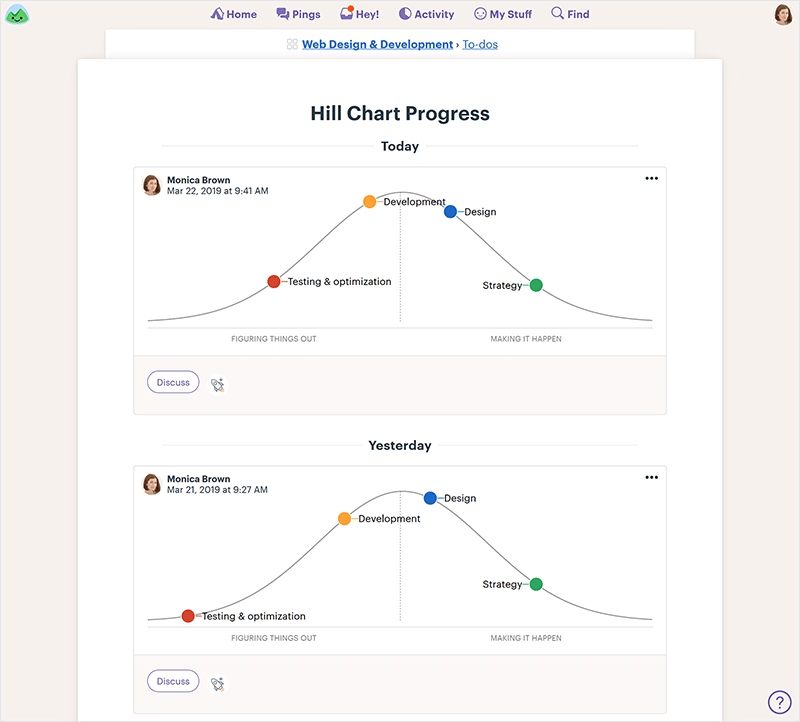 Now, as I've mentioned before, Basecamp can get overcrowded when there are dozens of different projects going on at the same time. The Stuff (tasks) I've assigned section shows you all the tasks you're responsible for, so you can focus only on those you need to supervise: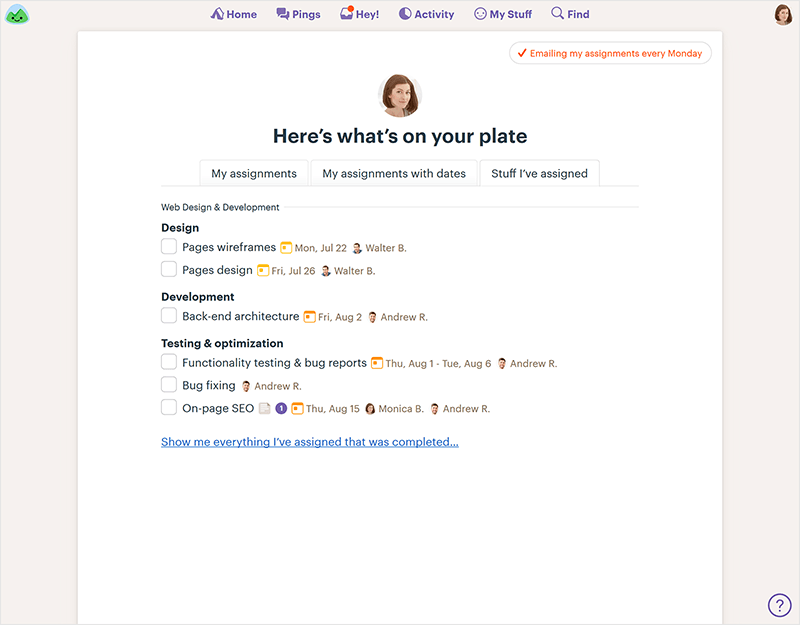 Alternatively, you can have a look at the Activity section to see the latest user activity on projects you're involved in, overdue to-dos, a specific user's activity, and upcoming events. Each team member's activity can also be seen below every team and project workspace.
Monitoring options are limited though. You can't see how much time a person's got left to complete the to-do or if they have too many tasks (or too few) to work on and actually be able to complete them on time.
For team members:
Basecamp is a tool for team members. Its simple features make it easy for any user to see what they have on their tray for the day, collaborate on a task, and share relevant files. My assignments is a section all users should start their day with. You'll be able to see your daily tasks according to project or due date so you'll know what to start with. No priorities though.
From My Stuff you can also get an overall look at your schedule, drafts (messages or docs you haven't finished yet), bookmarks (to-dos, events, files, or anything you want to save for later), recent activity, and boosts you received from your colleagues.
Since Basecamp is so strong when it comes to collaboration, there's still a chance you could receive too many notifications. To maintain your focus, turn on the Focus Mode. While you're focusing only on work, all notifications (including emails and orange badges for unread messages) are turned off. You can restart this option at any time or wait for notifications to automatically resume the next day.
Software Cost
Basecamp's pricing is much on the low-end. The problem though is that small teams with fewer members will inevitably find the plan expensive. Whether you have 4 or 60 members in your team, the price will be the same. This could be justified since you're getting a task management, file storage, and advanced collaboration tool in a single software.
Unlimited users
Unlimited projects
All Basecamp features
500GB file storage (no current option for adding additional storage so you'll still have to use extra tools for more space)
This pricing is really all or nothing. There's no free option, so for individual users there are better and cheaper options out there considering you won't even need the strong collaboration features Basecamp provides.
Teachers or students of a K-12 school or university can get a free account if they use it solely for classroom purposes. Nonprofits are eligible for a 10% discount.
*As strong supporters of a fair refund policy, Basecamp's refund terms are more than decent. You can get a refund if you accidentally extended your plan instead of cancelling it, you haven't used Basecamp in the past months but forgot to cancel, or just weren't happy with what this project management software has to offer after you've tested it for a while.
Support
If you're looking for real-time support, note there's no phone number or live chat available. You can only get in touch with the Basecamp team through a contact form.
Basecamp claimed their response time is around 7 minutes so I sent them two inquiries and got an answer in exactly 9 and 14 minutes. Better than expected but keep in mind their work hours are between 8am - 6:30pm CST Monday to Friday. According to their website there's no 24/7 support, but again I got my quick responses outside of this time frame. In fact, they've got one the fastest customer support teams from all of the project management software options I've tested.
Security
Among the features that keep your data secure in Basecamp are:
Basecamp security response (bounty program for reporting security issues)
Secure data centers (Chicago and Ashburn, Virginia) with regularly updated infrastructure + Amazon AWS and Google Cloud Storage
EU-US Privacy Shield & US-Swiss Safe Harbor Policy
All content is permanently deleted within 30 days after you cancel an account
Final thoughts
Although dubbed a project management software, Basecamp is in fact more of a strong team collaboration tool. Project management features such as resource scheduling, risk planning, or budgeting are clearly missing but would be a great aid to any project manager using this tool on a daily basis. The heavy focus remains on making communication smoother. While a project manager using Basecamp will have to work outside the app on reporting, team members can use this software to its full potential when it comes to communication, task organization, and file sharing.
Briefly put, Basecamp is perceived as a project management tool for teams. Just check out the hundreds of client reviews on their testimonials page to see how other teams are using Basecamp. Yes, hundreds. As a team member, I'd definitely enjoy using Basecamp's chat boards and giving boosts to my colleagues, but if I were in charge of management, I'd probably just be spending my time building reports and pestering my team members with status-related questions.
Pros
Flat monthly price
Strong collaboration features
Low learning curve
Friendly user interface
Client access permission
Cons
Limited reporting functionalities
No resource scheduler
No project portfolios