Asana
Best suited for
Freelancers / SMBs / Enterprise
Introduction
Back in 2008 when Microsoft Project was the norm in project management, two former Facebook engineers, Dustin Moskovitz and Justin Rosenstein, founded Asana. Over the years, the brand has grown into a strong supporter of diversity and inclusion, improving its hiring practices and workplace environment so that all employees feel equally valued and respected. The same beliefs reflect in their product, color-blind accessibility and pronouns added to the profile settings being just two of the steps taken towards that direction.
Trial availability: A 30-day free trial is available for the Premium and Business plans. No trial for the Enterprise plan though.
Email frequency: Once you create an account, you'll receive a clean activation email, followed by an educational one that encourages you to try out basic actions like assign a task or comment on it to get started: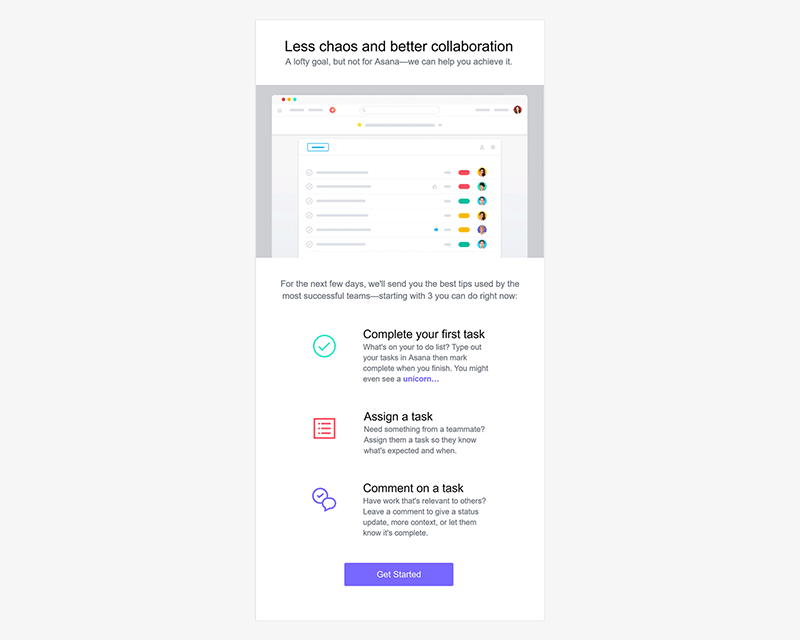 All other emails are notifications triggered by in-app actions such as new tasks, new comments, or status changes. Since you get one email for each new action, clearing all emails will be quite a tiring job.
You can choose not to receive any emails but this means you'll have to keep the Asana web app open at all times for future notifications.
How easy is it to add a new project?
Once logged in, get to work straight away without going through a complicated setup process. Watch the guiding intro video, choose from the 6 available languages (English, German, French, Spanish, Portuguese, and Japanese), complete your user credentials, and select the team's size.
Finally, a payment window will pop up. You don't have to pay for the trial but you are prompted to connect your card to the account which might be odd for 2019 (ever heard of GDPR, Asana?). Remember to get a trial for the Business plan first if you want to test out more features.
Asana's a great tool to get off email back and forths and constant status meetings. Its color-rich, polished design and neatly organized features make it easy for you to switch to Asana from another solution without too much hassle.
Now that you're over with the administrative part, start a project by choosing from a series of predefined templates.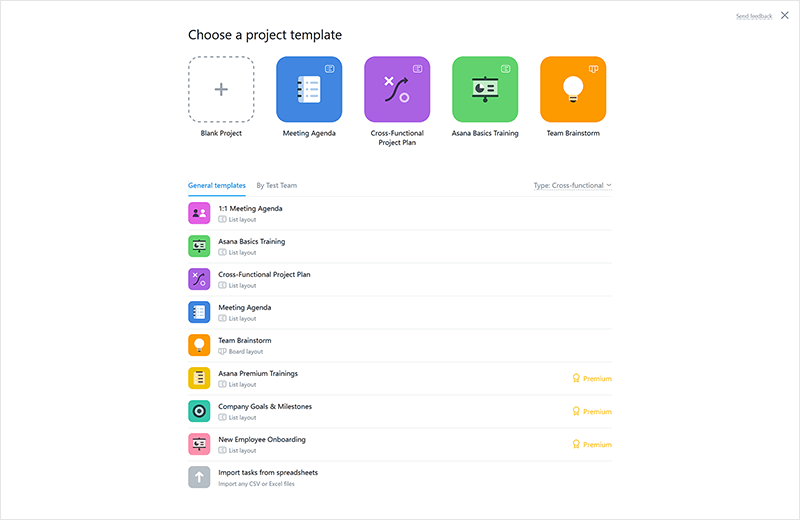 If you already have a list of tasks, there's also an option to import tasks from a CSV/Excel file or email into Asana - so you don't have to add them manually.
What if I get stuck?
The Asana onboarding process shouldn't pose any problems. However, for payment-related problems what you should know is that there's unfortunately no real person to talk to in real time.
If you click on "Contact Support", you'll be redirected to a FAQ page and more resources. Your only choice is to reach out to them via email either from a contact form or directly with an account manager you talk to before.
Manage your projects with Asana
Starting a project
Create a project from the New project button on your Home screen. To help you better identify your project, you'll then add all the basic project details: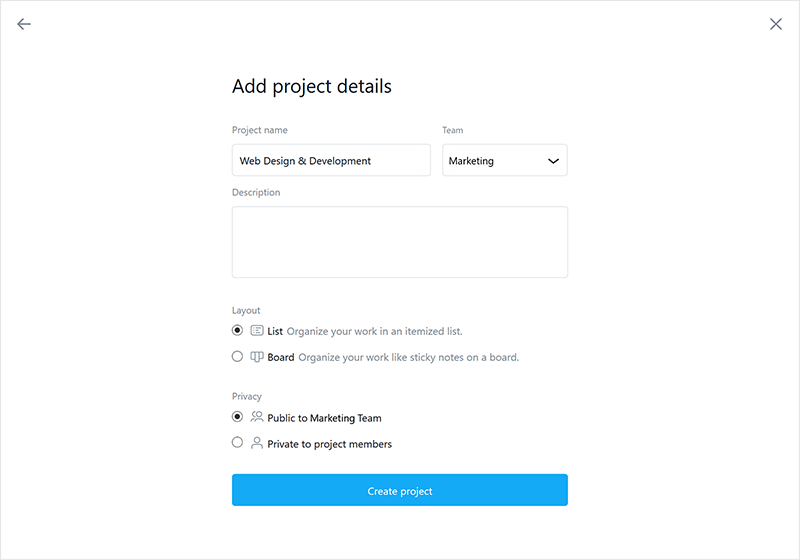 Choose your layout wisely, a List or Board view, because once picked, they can't be changed. A bummer feature that's been highly requested but doesn't exist yet.
At this point, you can't attach any documents to the project such as client discussion notes, requirements lists, your project charter, etc. These files can only be added once you've created your first task.
Planning your tasks and teams
Labeled as project management software, Asana is at its core a task management tool. A great first step to move away from email but not enough if you want to track issues, set budgets, or schedule out any material resources.
Its features allow you to create tasks, subtasks, duplicate a task, set dependencies, or transform a task into a project. This is all you'll need to manage your tasks until completion, whether you change your mind and need to turn your task into a series of subtasks or maybe want to further develop an activity and make it a full project.
An interesting, rather strange feature is that you can add a task to up to 20 different projects. Complete it in one project and it will get marked off in all of them. This task will appear simultaneously in all projects. Beware though: If you complete it one project, it will get completed in the others as well. Better to create distinct tasks with different deadlines then to get confused later on. Not sure about the use case, perhaps someone from Asana can help us.
Just as tasks can be liked (not so useful to be honest), you can also favorite a project. This shows up in the Favorites area in the left-hand menu so you'll find the projects you're currently working on or those with a higher priority.
Asana is missing a traditional Gantt Chart feature, but the Timeline view looks and acts exactly like one. That will do if you don't need advanced settings like Critical Path or other types of dependencies besides the default finish-to-start relationship.
Keep in mind there's no exporting option for the Timeline. As a workaround, you can invite stakeholders to your workspace so they can at least view it.
One thing that users often complain about when it comes to planning your team is that there are no real user roles to set. There's no Project Manager, Admin, or Guest for that matter. What you do instead is set a user's rights and establish exactly who is allowed to edit or comment on a task: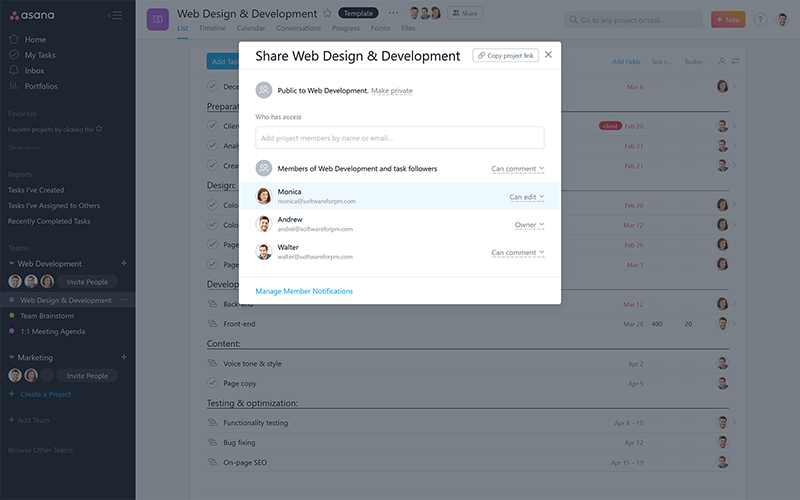 When it comes to collaboration, there's no multi-user task assign feature, a basic one in each project management feature. A bit sad since two people can't work simultaneously on the same task, leaving you no choice but to create 2 separate tasks and add length to your project.
As for now, the Resource Management feature is still in the works and will soon be available for all Business plans according to Asana's pricing page.
Collaboration
Teams collaborate in real-time better when there's a conversation board on each project and task. Asana's got this checked. Also, each user's activity status board is available in the Progress area for you to leave any updates without having to call yet another meeting just to say everything's going according to plan.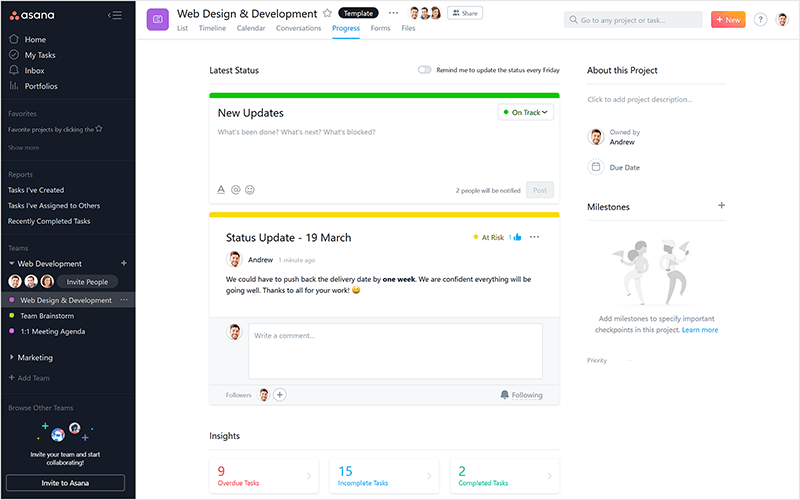 While Asana thinks it's ok not to have multiple people assigned to one task, they still let you set different followers for a comment. Just in case you want a supervisor or other team members involved in that specific matter to take part in the talk too.
Users are also sent in-app and email notifications whenever a change occurs to a task or project they're assigned to or following. You can decide which type of notifications works best for you and opt to receive only those. Notifications can be edited either from the Inbox section or from My Profile Settings.
A nice little feature is that Asana lets you create teams. This helps you better organize the projects for which a single team is accountable for. The on-project discussion boards are also available at a team level. Truth be told, this feature becomes useless considering you still have to create a separate team project if you want to track one team's duties only.
Clients can only be invited as guests. This leaves you with two choices: either add them to an existing team or create a separate one for clients only. Just make sure to give them comment rights for the projects they should be aware of or else they'll have editing rights just like the team members. This means they'll be able to create, edit, and delete tasks and projects.
Keep in mind they'll be notified for any task they're following. While there's flexibility to this, it leaves a lot for the project manager to manage. Unless you specifically have them unfollow certain tasks, chances are they'll be showered with unnecessary updates.
Finally, files can be attached and shared at a comment and task level by importing them (from your computer, Dropbox, Box, Google Drive, or OneDrive). The project's Files section is there just for viewing them though. So you're likely to never use this area unless you're looking for a specific file and don't want to search through dozens of tasks.
Work monitoring & control
To keep a close eye on the individual effort, each team member gets a personal workspace where they see what tasks they should work on next. A Progress tab is also available for you to send status updates. These messages will help you prevent project delays, poor planning, and, you know, having to call a meeting just to inform your team on the latest changes.
What's practical at this stage is the Insights section in the Progress tab. It highlights how many tasks are overdue, incomplete, or completed to help you see how many tasks you've got left in your pipeline. A basic feature frankly. Luckily, they added a daily distribution graph for you to check out your work's status on a day-to-day basis.
Integrations
If you haven't found a feature you need yet, Asana offers several specialized integrations like InstaGantt (for Gantt Chart), Harvest/Everhour (for time tracking), Adobe Creative Cloud (for task creation), and Litmus/Mailchimp/Campaign Monitor (for email campaigns).
Usability
From the first onboarding steps, Asana's interface is simple and easy to ramp up. To help you, a lot of accent is put on educating you towards using the tool efficiently. Whenever you first open a new feature (like the Timeline or Calendar), a short video pop ups explaining how to use it.
In case you lost track of a task, there's an advanced search function to help you find a task or conversation wherever it might be in the app: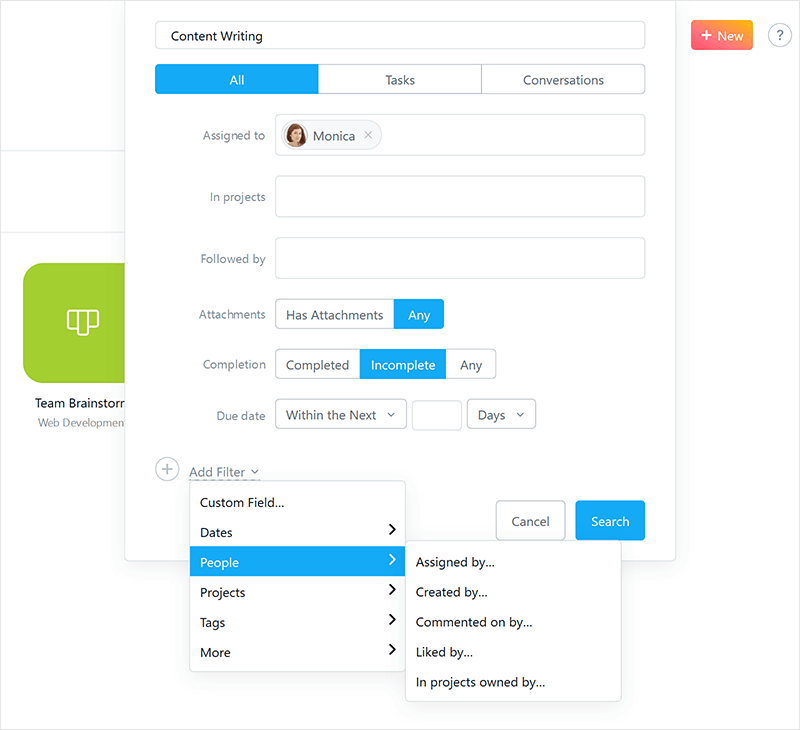 An active blinker in the Asana browser tab will let you know at all times if you have a notification that requires your attention. Although there's no sound or anything like that to alert you, the visual indicator is enough for you to see when you receive a notification.
For more accessibility, Asana has different keyboard shortcuts to use for your most common actions (or even if you forget where one button is) such as Tab + Q to quickly add a task or Tab + C to leave a comment. Still, we would have liked these to be customizable.
Creating a new task, project, conversation, and team or inviting a user is also fast. Just click on the +New dropdown (hint: that colorful button in the top-right corner) and you'll be immediately directed to enter the details of your new element.
Asana also lets you set your own Custom Fields. Don't let their name woo you though. These come in handy if you want to add priorities or costs, but are limited to basic data entry, much like tags.
If you want to concentrate on the tasks at hand, use the Focus mode (Tab + X) that clears the interface, leaving you with only the task you're currently working on in full screen: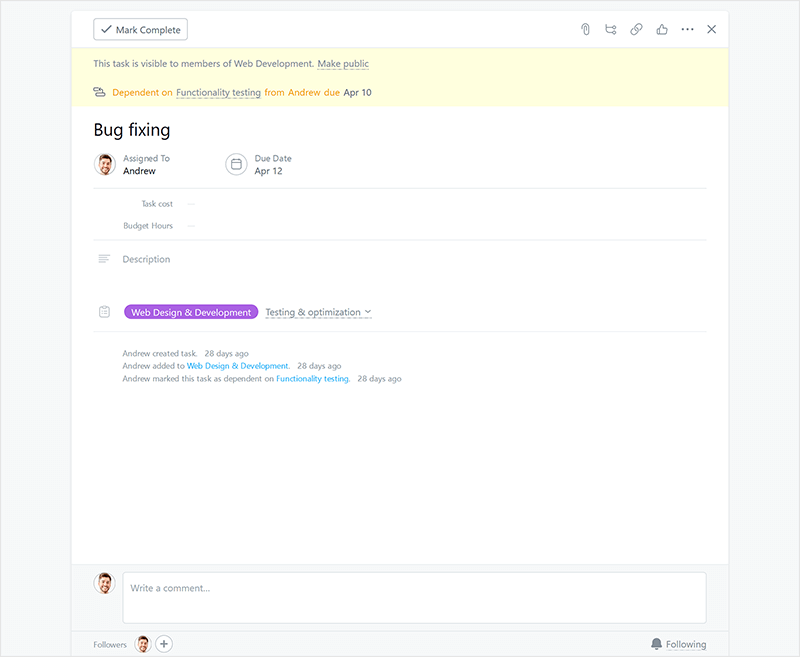 Any app's design gets boring after a while. Asana's no exception. So when it comes to customizing your workspace, change the background to match your preferences from My Profile Settings -> Display.
Don't know about you, but we love emojis! They're fun and evoke powerful emotions that can't be conveyed through a written format. And Asana's got them too. If you want even more goodies, be on the lookout for their Easter eggs such as the unicorn that appears when you complete a task or the Tab + B command which fills the screen with cats. Yes, you heard it right. Internet cats... Try it out on at your own risk.
For project managers:
The Timeline (similar to a Gantt Chart, not the same thing though) and Portfolios area offer you the big picture to supervise multiple projects and tasks simultaneously. The filtering options are decent, but if you want something more advanced than the typical due date and alphabetical order you'll have to set up a Custom Field first.
Each project comes with a Progress section for you to monitor its status. If you want a quicker look at how many tasks you've got left to complete, just go to Portfolios, choose a folder, and you'll see a progress bar for all projects under Task Progress.

This feature is not really handy though since you're only getting a number and have to manually check each task to actually see how much workload you've got left on your team's plate.
If you're interested in strong reporting features, Asana's reports might not be what you're looking for. You can only create reports for the tasks you've created, been assigned to by others, or have recently completed. Not many advanced options to choose indeed.
There's no sharing option for these reports, but you can export them as a CSV file if needed.
Moving on to communicating with your team, Asana allows for solid - although not advanced - collaboration to keep you connected with your colleagues. A message board (comments section) is available on any task, project, or team board so you'll avoid any misunderstandings and keep updates in context.
Don't forget about the Proofing feature to give feedback to your team and create actionable tasks like changing an illustration's color or testing out multiple fonts. Creative teams will love this.
For team members:
All team members can start their morning from the personal workspace. I'm talking here about the My Tasks area, a space for office and personal tasks, calendar, and files, that help keep everything connected in one place. Well, everything except notifications.
Any notifications coming their way appear in the browser's tab. To view them, head straight to the Inbox section. Not very intuitive if you're not yet used to seeing notifications in your main menu bar. From here a user can manage all email and browser notifications, archive them, and even choose to unfollow a task indefinitely.
There's also a Snooze option so users can stop getting notifications for one hour and focus on project work without any distractions. No "unsnooze" option though. And that's not that great considering each time you hit Snooze an hour adds up.
Software Cost
Asana's overall average pricing is offered for 4 different pricing plans, each matching a distinct type of user and project team:
Basic
free up to 15 users
The free plan is a good solution for individual users or small teams. Although it offers limited functionalities, these are enough to help you get started with managing your projects in a more structured manner.
List and board view
Assignee and due dates
Calendar view
Status updates
Premium
$9.99/user/month billed annually
$11.99/user/month billed monthly
The Premium plan allows small and medium teams to create project plans and make reports to track work. Besides this reporting feature and the Timeline view, you might not find this plan useful if you're looking to manage complete project portfolios, a feature available on with the Business plan.
Basic features +
Timeline
Advanced search and reporting
Custom fields
Task dependencies
Private teams and projects
Premium content in Asana academy
Business
$19.99/user/month billed annually
$23.99/user/month billed monthly
Larger teams can take project management to a company-wide level with portfolios and a soon-to-be released Resource Management system.
Premium features +
Portfolios
Lock custom fields
Onboarding plan
Resource Management (upcoming feature)
Enterprise
cost upon request
This is a solution for complex organizations that require a security boost, advanced customization options, and additional priority support from a dedicated Customer Success team.
Business features +
SAML connection
User provisioning/deprovisioning
Data export and deletion
Block native integrations
Custom branding
Priority support
Small team discounts apply for Premium subscriptions if you have less than 15 team members. Nonprofits are also eligible for a discount on Premium and Business annual plans.
*Once you start using one of Asana's paid plans and their features, there's no refund option so make sure you're choosing the right subscription even before adding your card.
Support
There's no in-app support or phone number for you to call, making it hard to address imminent questions. There's a question mark in the upper-right corner that leads you to a series of video tutorials on the app's features, integrations, and keyboard shortcuts - just in case you get lost.
So how do you finally reach out to the Asana team? Access their support page first. Unless you can fix the problem by yourself by reading the help page, you'll have to write to them via a contact form and wait for a response. As an alternative, you can reach out to them on Twitter. Twitter support can be slow though and will only redirect you to contact the support team via email for complex problems.
Additional resource materials and user guides are provided to help you use Asana's features to their full potential. For this, the Asana Academy also offers a series of dense courses packed with use cases for different types of teams. You can even become a certified Asana trainer.

Security
Asana's best security features include:
SOC 2 Type 1 certification
TLS 1.1+ for web connection
SSAE 16 certified AWS data centers for data storage
An online status checker to highlight any incidents or server outages
A Security Exploit Bounty Program for ethical hackers to help them improve their app's security
The tool is not too GDPR compliant though. You can't delete your data if you're the billing owner of an organization. This means you must remain a team member until the financial contact is changed.
Final thoughts
Overall, task management (rather than project management) remains at the core of Asana with other features such as reporting and team management being limited at the moment. The soon-to-be launched Resource Management feature offers a promising outlook at improved collaboration and transparency for all teams using Asana.
Asana is great to help start-ups get off email back and forths or repetitive in-person meetings, but it's easy to outgrow it. Its lack of advanced features will only become a problem if you're looking to take your work one step further, in terms of tracking risks, budgeting, or scheduling resources. For these cases, turn to their relevant integrations for help.
Pros
Free plan available for teams
Simple UI
Smooth learning curve
Timeline planning view
Lots of integrations to choose from
Cons
Asana's paid plans start at groups of 5 or 10 users
Inability to switch between task layouts once chosen at the beginning
Limited reporting features