Find the best project management
software in minutes
In just 4 easy steps we help you find the most suited project management
software for your specific needs
Project Management Software Vendors List
What is Project Management Software?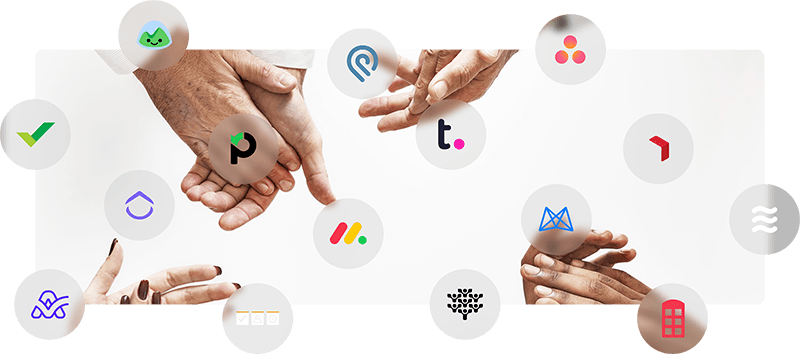 Project management software is a digital tool that project managers and team members use to manage projects from start to finish including project planning, task management, quality management, resource allocation, collaboration, reporting, and budgeting, all while aiming to keep the project team productive. There are several project management software options out there, each with different perks that can suit the requirements of your team and project.
Two common but distinct types of project management software are:
On-premise or in-house project management software - Companies pay a one-time fee to use the software and store its data on their own servers or equipment.
Cloud-hosted project management software - Pay a monthly or annual fee to use the web-based project management solution and all data and work is stored in cloud so teams can access it virtually from anywhere.
Tools that offer only advanced task management are often falsely regarded as project management software. Task management is essentially just a module that's part of a full software for managing projects. A single task management tool can be used separately without involving multiple complex projects, clients, and resources simultaneously in the work process.
Then there are productivity tools. Project management software is more than just a simple productivity booster. The latter can help you get control of your time, stop procrastinating, and become more efficient on a daily basis while project management tools do all that but on a larger scale at project level.
Ideally, a project management software contains all functionalities that allow you to manage and monitor a project from start to finish. Solid project management software offers advanced options in terms of clients, projects, activities, and resources, but can also be used for managing simple task lists and short, non-complex projects. If you're not looking for a complete solution though, a specific tool that targets one or two key features and its integrations is enough.
What Features Should a Project Management Software Have?
To meet your needs, all strong project management software solutions must include all the features you always use for your projects. The benefits? You'll no longer have to switch between 5 different apps or pay for. Your work data is kept in one place so you can easily search for the information or files you need and prevent losing them across multiple platforms.
Create simple or detailed task lists, Kanban boards, and Gantt Charts, and assign users, set deadlines and priorities, and manage all project activities throughout different status levels from the moment they're created until completion.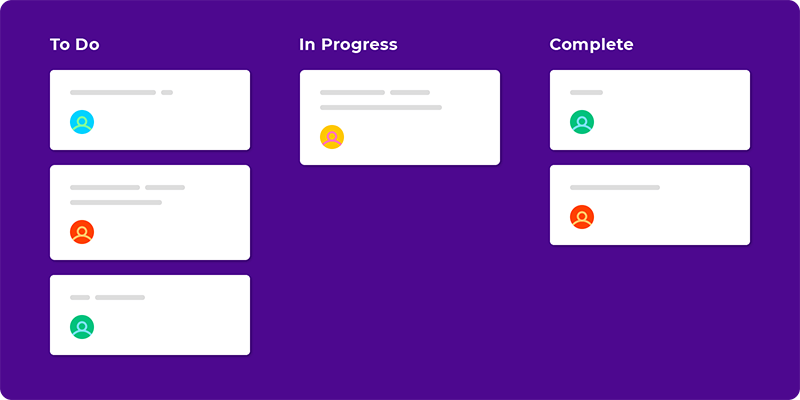 Time Tracking and Time Management
Monitor how much time your team members spend working on a task and create timesheets and time reports to make better time estimates for future projects.
Milestones
Set alerts for key moments (product launches, project phases, large changes and events, new integrations, etc.) that will occur during project development so you can schedule tasks in time and finish the ones that directly influence a milestone.
Project Costs Management and Budgeting
Track project and resource costs and monitor all expenses to create better cost estimates and stay within the project's budget.
Resource Scheduling
See which team member is responsible for every task, who's got too many activities to work on, who's underbooked, and if there are any resource conflicts.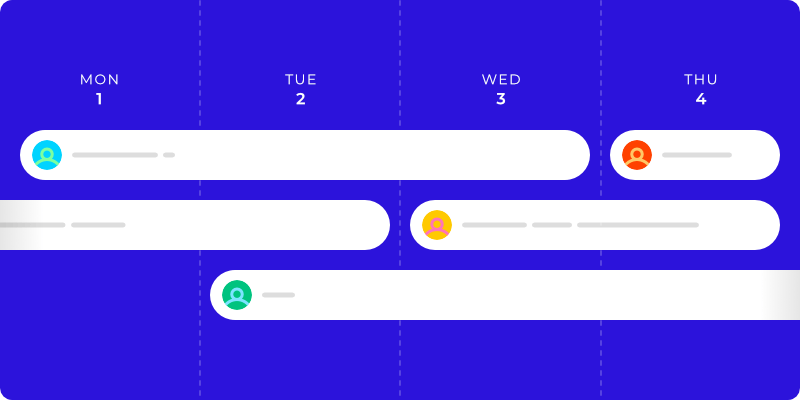 File Management and Sharing
Organize your photos and documents and share them with other team members by attaching them to comments, tasks, or projects so you can better collaborate on them.
Communication
Organize your photos and documents and share them with other team members by attaching them to comments, tasks, or projects so you can better collaborate on them.
Reporting
Organize your photos and documents and share them with other team members by attaching them to comments, tasks, or projects so you can better collaborate on them.
Bonus Features
There are are other functionalities too that are not specific to project management software but might be useful for your own project. These include bug tracking, file versioning, video conferencing, Business Intelligence (BI), meeting scheduler, user roles and access control, and more. These are often part of project management software that's specific to certain industries. Software for creative agencies, for instance, might include a prototyping tool or have an integration with a similar solution.
Two other common features you'll find as a bonus for project management software are:
Workflows
Establish project workflows to streamline your project management process and visualize the status of each task through Kanban boards.
Invoicing
Create, send, and track your invoices to make sure you're getting paid on time and fairly for the work you offer.
Project Management Software Benefits
Not sure why project management software is the right choice for you? Here are its benefits in order of importance:
Benefit
Helps you reach your objectives
How this helps you
This software solution is a great aid in reaching your objectives throughout all of project processes by helping you identify bottlenecks or other risks that can be fixed on time when it comes to work planning, resource allocation, project monitoring, team and client communication, and delivery.
Benefit
Better work planning and scheduling
How this helps you
Automatically calculate times and schedule your team as the system takes into account the information you've provided or any small changes that can happen in time.
Benefit
Streamline your workflow
How this helps you
Create workflows to suit the needs of your team, project, and manage work from its start until the project's completion within only one app.
Benefit
Get an overall view of your project work
How this helps you
Receive a snapshot of all project work through dashboards, reports, and notifications so you'll know everything that's going on, discover possible bottlenecks, and can fix them in time.
Benefit
Improve client communication
How this helps you
Keep in touch with your client from the very start of the project to share updates, get feedback, and save time you'd otherwise spend fixing an error that resulted from miscommunication.
Benefit
Collaborate in real-time
How this helps you
Several different people will be working on related tasks at the same time, so keeping them connected in real-time with the latest updates helps them implement changes as soon as possible and prevent project delays.
Benefit
Ensure team accountability and clarity
How this helps you
Project management software records a paper trail of all on-project activity so all team members have proof of their work and know exactly what they have to do, what resources they can use, how much time they've got to complete a task, and more.
How this helps you
Digitally generate reports, task lists, and resource calendars and attach files to a project, task, or comment without ever worrying about losing them.
Benefit
Keep all data in one place
How this helps you
Avoid losing or misplacing your files across different apps and devices through project management software's centralized storage place.
Project Management Software Buyer`s Guide
Do I Really Need Project Management Software?
So you know what a project management software is, but do you really need one? Not all projects are the same, some are simple and can be done with just a pen and a piece of paper, or in Excel. Others, though, are more complex, juggling multiple team members, tasks, costs, milestones, and resources.
Pay attention to your internal projects, how much work you need to put into them, and see if you're mostly in charge of long-term, complex projects. In this case you certainly need a project management software.
If you've got work centered mainly around operational work with just a couple of projects, then you'll need to have a closer look at the projects you're dealing with. If you have more than 2 long-term projects or several different projects that occur many times throughout a year, then software like this is a good choice. In this case, cloud-based services are a cost-efficient choice since you can pay monthly and cancel the subscription whenever you want to or just don't need to use the tool anymore.
On the other hand, if you're only working on operational duties or have only an additional one-week project every 2 years, than project management software won't be the solution for you. A task management tool is a better alternative.
You might have already bought a project management software subscription but see no need for it. In this case, you risk using a complex app and interface while paying for more functionalities than you actually need. Instead, use a productivity or task management tool that helps you with a precise requirement.
The perfect project management software frankly doesn't exist. A couple of the features you want right now from your next app are important, others are not. You'll need to identify and compromise on the non-essential ones. Finding a project management software to help you with all your duties is almost impossible so choose a complete one in terms of project-related features.
What Should I Look at When I'm Searching for Project Management Software?
Finding the best solution to help you handle all these at the same time can be a tough job, so here are 4 steps to begin with:
1. Start by creating a list of your problems and needs
Write down your team's needs, common project requirements, the problems you've usually faced, and any other important aspects you want your next project management software to help you with.
Just remember there are some problems project management software won't be able to help you with. For instance, having unmotivated team members, tech problems, or new laws and policies that can slow down your project development process. Meanwhile, project management tools are a great option for any project-related issue that you can control. This includes losing track of time, giving too much work to a single employee, leaving tasks assigned, lack of accountability, bulky interfaces, lack of communication internally or with the client, and more. After you've put the list together, sorts all of these needs according to their priority.
2. Turn these problems into software features you must get from your next too
Think about how you'll use these features to help you with your needs. Consider which features are a must and which ones you can do without. Take each need and convert it into one or two features you require from project management software:

3. Create a starting app list.
Put together a list of 10-20 apps that provide the must-have features you need. If you have more specific requirements, meaning you know exactly what you want, you'll probably end up with a maximum of 5-10 applications.
4. Compare the apps and narrow it down to just 3.
Analyze each project management software and pick 3 that cover your must-have features and some of those helpful but not mandatory functionalities too. Ask for a demo or run them for a test directly with a free trial.
We help you skip steps 3 and 4 to find the right solution for your needs without spending countless hours. All you have to do is pick 3 of the features you mostly need and you'll automatically get a list of 3 recommended project management tools. See how we rate the project management software and what our methodology is.
Before you decide on final project management software to buy, consider all of these aspects that can affect the project management process:
The size of your business - Knowing the exact number of people who are going to use the project management software is a starting point when you select a tool with the right collaborative options and estimate its costs. Solutions generally target 3 types of user segments:
Individuals/Freelancers

- Tools have their features limited to the needs of an individual user (to-do lists, time tracking, invoicing) and leave aside functionalities such as advanced task management, team collaboration, or resource scheduling. For this segment, plans are often free, but this solution is only a simplified version of project management software.

Small and medium-sized businesses

- Most project management software choices on the market are dedicated to SMBs and are tailored to suit the needs of teams by providing a smooth learning curve and collaborative features.

Enterprises

- Enterprise project management software (EPM) offers work planning and monitoring solutions across the entire company to align strategies and objectives within all departments, branches, and business units. This is the right solution if you're handling different project portfolios at the same time or would like to automate your business processes.
Devices - Think about all the device you'll be working from and how you'll be supervising your team. Consider your current operating systems (certain tools might not work on MacBooks) and whether you want to use project management software on the go, offline, or from a mobile device too. Construction team members, for instance, need to track their time from tablets or mobile devices even while offline when on site.
Remember to test these mobile devices and other secondary tools if they're essential to you. They can differ from their desktop versions so don't expect to use the same functionalities on a mobile app. Duplicating the exact desktop-features on a mobile app is difficult and some are actually impossible to replicate. Do you really need a mobile app in the first place? You might just need to use one feature on the go and never even access the others. For instance, there are project management software options that allow you to track time via their mobile app, but you won't be able to schedule your team, shares files, or leave comments.
Ease of use and speed - You might not want to dedicate time or part of your budget to train your team into using a new tool. So test the project management software yourself to see how long it can take you to get used to its interface and features and if the tool is actually fast enough so you won't have to wait endless minutes to upload a file. If you've used similar apps before, you might be used to a specific type of interface or menu organization. In this case, a new tool could seem difficult to use because you're not yet familiar with.
Just remember that not all apps are identical. Take a while to get accustomed to a new interface you're not familiar to avoid being biased when choosing one. Have your project team test it too so they can bring their own feedback. Having them pay attention to the things they'll often do like seeing available tasks or communicating ensures a smooth future project development process.
Not into adding projects and new data just to test a tool? You can sometimes watch a full 1-hour tutorial or webinar that shows you how you can use one project management software from start to finish. Testing it yourself though removes any bias a software provider or affiliate client might have.
Customizable workspace - Besides being easier to use, a personalized workspace can help you use a highly flexible workflow, reuse templates, set different privacy levels for your users, and even create your own custom fields or features when the tool's API is provided. All this allows faster access to the vital functions you need, helps you communicate easily, and presents what you have to work on based on your own workflow.
Client support - Even if you think you've got the hang of using the project management software you've decided to buy, there will always be that small thing you'll need help with whether it's accidentally deleting a file or just needing more tips for using a specific feature. Make sure help is available at least during your work hours. The degree of support available can vary from one subscription plan to another. The option of having a dedicated Account Manager is commonly part of high-priced subscriptions so plan ahead to establish how much money you're willing to invest for extra support. Email customer service, phone and chat support, product manuals, and a help page are usually available for most users though.
Language availability and localization - Most popular project management software options are available in English. Others offer a variety of other languages like French, Chinese, Spanish, German, Italian, or Russian to match your team's needs. Customer support can also be provided in a language other than English and if you're looking to invoice clients in a non-English speaking country, there are different options for you to change invoice templates into your language of choice and even their currencies.
Integrations - Project management software solely will never possibly be able to help you with all your needs. What you can do is keep it connected through any of the possible integrations from Google Apps, to GitHub, Adobe apps, and any of your favorite tools.
What Are My Options?
Before you buy a subscription for any project management software, start with a free trial. Many project management software providers offer trials for their product so you can test their features on real projects and get the feedback of your team too. If you think that 15 days (the typical length of a trial) is not enough, just ask for a trial extension and you'll get a couple more free days to decide if you want to go on with the tool or pick a plan that's right for you.
There are free plans too! Free project management software is often dedicated to single users (freelancers and individuals) and has limited features such as simple task management and reporting.
Want more ways to save on project management software? Many project management tools offer special offers for NGOs, universities, and colleges, or you can get discounts when you purchase a plan annually instead of paying monthly. Be aware of any hidden costs though such as extra fees for more storage space, training, onboarding or setup.