Monday
Best suited for
SMBs / Enterprise
Introduction
Monday.com (formerly known as daPulse) is not your everyday project management software. Mainly because it's not necessarily geared towards this, but rather something more diverse.
From managing a sales pipeline to planning a product roadmap and automating the entire hiring process, this visual tool can be used for almost anything. As proof lie 50.000 teams, among which Discovery, Carlsberg, and Fiverr, who've made it their preferred choice. Let's see what's all this ruckus about.
Trial Availability
14-days free trial on all plans, no credit card required.
Support
On-site tickets
Send emails from the app (24/7)
Phone: +1 (201) 778-4567
1. How easy it is to get started
As soon as I land on their website, I feel an upbeat vibe thanks to the colored boards and animated GIFs. There are too many fields to sign up for a free trial for my taste (three, plus a triggered pop-up), but so be it.
Upon confirming the activation code, I'm redirected to a set-up process that wants more information about my team, its size, and company profile - based on which I get 3 recommended templates. This ends with the possibility to choose your own workspace URL.
Then the actual onboarding starts, prompting me to create a board: either from scratch or from one of the three templates from before. If this is still not enough, there are 71 more to dive into.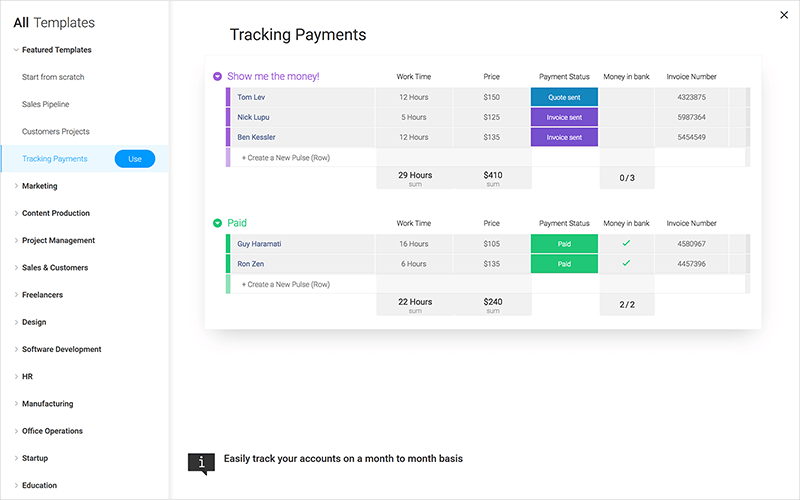 Email frequency
The first email included about 4 tutorials on how to best use monday.com; the next one invited me to contribute to their community, while the third one reminded me to add more teammates (even though I've done so at the beginning). I wouldn't mind them if they weren't sent one day after another - which makes me think these guys are either too aggressive.

Functionality
Monday has recently updated their interface, which makes it a delight to play with.
The first sidebar menu contains just enough info not to get lost, yet enough to get the most out of this tool. I'm talking here about the advanced search bar and the help button to either watch a tutorial or walk through a webinar.
As for the second menu, this one is more oriented towards organizing your tasks and boards - projects in this case. An Inbox collects all the threads you've been mentioned in, while the My Week area groups tasks that are due for the current and previous weeks.
This is also the place where you can add boards, be they shareable or private ones, and view your company-wide or personal dashboards.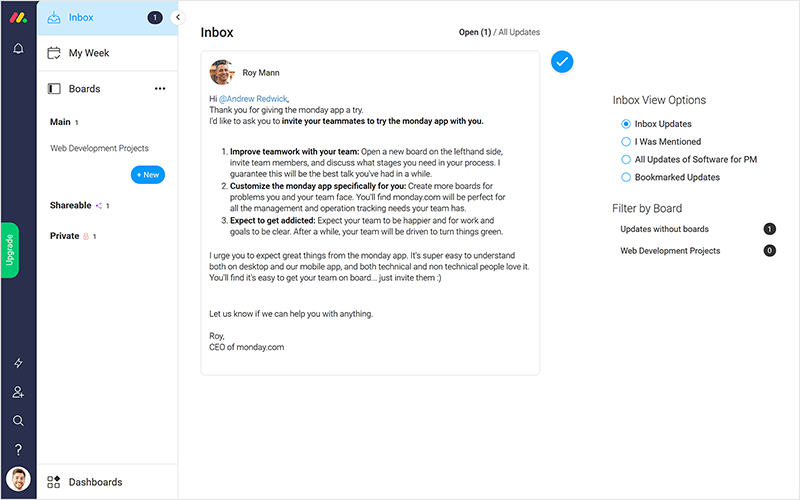 A lot of emphasis is put on learning, with a set of three video tutorials in the bottom right corner, and an occasional one popping by, to make sure you're armed with the right knowledge to manage your work.
I also like the account settings. Visible and informative at the same time, with small tips such as key shortcuts and the latest product updates.
monday.com Features
Almost every tool has its own terminology, and monday.com is no exception. So let's start with the foundation of this platform: the board.
A board is a flat grid composed of groups of rows called "pulses". Because of this simple format, you can navigate and grasp information at a glance - unlike most project management software that come with an inherent hierarchy.
Don't get me wrong. You can still use it to manage your projects, but also to track bugs, keep track of late payments, schedule ads and social media campaigns, or collect data for incoming orders from your online shop.
For now, remember that boards come in three flavors:
Main - visible to everyone in the team
Shareable - visible only to the guests outside your team like clients and vendors
Private - visible only to you and the selected team members - ideal for testing personal projects before sharing them with everyone or those that contain confidential information
Shareable boards are only available for the Standard and above plans.
The best part is that you can actually link and automate pulses from different boards. Even move them from one to another, as long as you make sure your columns match. Which brings us to the next item: the pulse, a.k.a. the building block of your workflow.
A pulse resembles a spreadsheet row that you can further customize by adding several columns types to it. The standard ones include status, people, text, timeline, date, tags, and numbers.
They're pretty straightforward, with some that require further explanations. Like the Numbers column that allows you to change or type in your own unit (be it a currency, percentage, or shoe size). It also comes with a function field at the end of each group to calculate the sum of say your budget hours. Or the Timeline column, that automatically opens the Timeline view.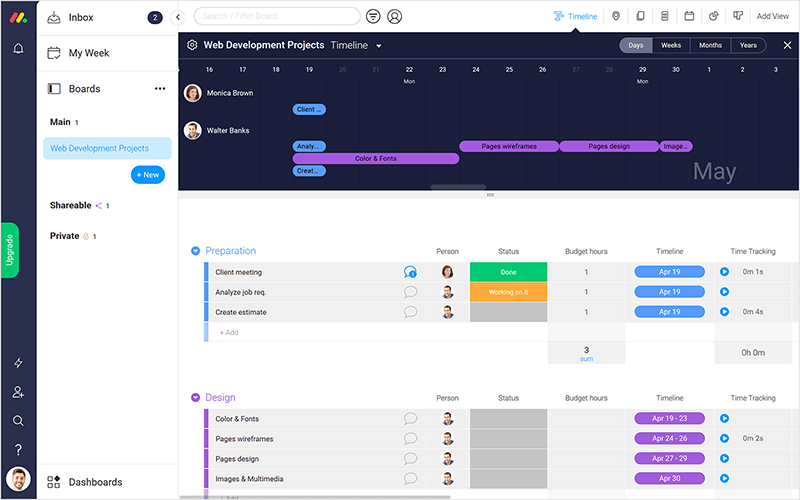 The Date column doesn't show up on the Timeline, so use it carefully.
Worth mentioning that the People column allows for multi-user assignees, which up until recently was known as the Person column supporting only one user assignee. If you're still stuck with the old one, change it by using the Change Column Type function under column settings.
Now that we're over with the standard columns, let's move to the advanced ones. They reside under the Column Center and can be anything from world clocks, location and votes, to more operational ones like the Date & Status combo to see urgent and overdue tasks in a single date.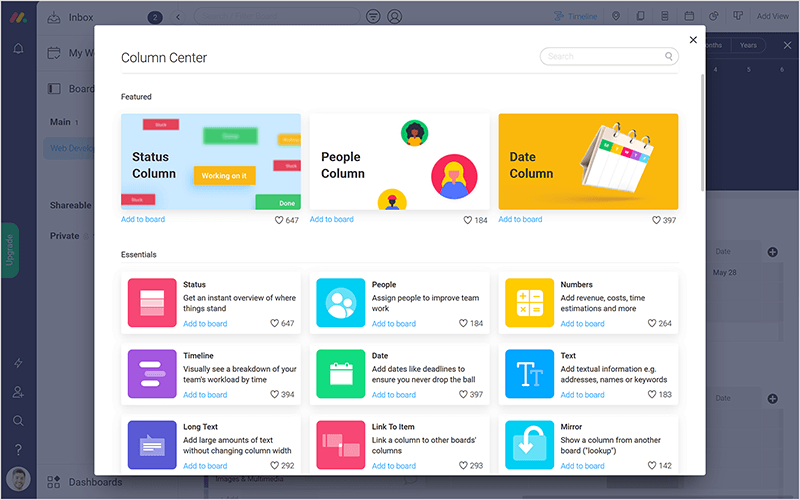 Time tracking in monday.com is pretty basic, with only one start-stop timer column. It's data can be exported as a csv file - nothing less, nothing more. A thing which will annoy the more financial-oriented project managers who want to gauge the profitability of their projects.
Notice something so far? The variety of these columns and their power-ups make out of monday.com a true swiss knife for almost all workflows besides project management. For convenience, you can also rearrange them and hide or lock certain ones if they contain sensitive information. Like the desired salary of a candidate from your HR process.
This lock column is available only under the Pro and above plans.
Workflow management
This is great, you say, but what's so sexy about a spreadsheet? This is only the foundation. The real value comes from views, which we're going to talk about next.
Views allow you to take data from any board and visualize it in a different format, 8 in total:
Timeline - The most common one, gives you a glimpse into your "team's workload by time". At least that's what the guys at monday.com say, even though I wouldn't call it a resource scheduler, but rather something that resembles a Gantt Chart. Since all you can see is the duration of each task and how they relate to each other, thanks to the newly added Dependencies column. This comes contrary to monday's grudge against them, but who knows, maybe their vision has changed. I'm only sorry for the dollars spent on promoting their famous message: "We don't need no Gantt Charts". Flash news, some of us do.
Maps - For mapping out the exact location of your team, whether they're a remote one or an overseas subsidiary.
Calendar - Displays all the dates of your board on a calendar so you don't miss any important deadlines.
Files - Reunites all the board files into a single place, with thumbnails visible to identify important documents in a matter of seconds.
Chart- Allows you to create pie, bar or line charts and follow their progression.
Form - To make a form out of your board and gain input from your team.
Broadcast - Similar to the former one, but also embeddable into your website. Useful for when you need to take detailed orders for your e-commerce store or people outside your organization, like clients.
Kanban - To view your board after the status of each pulse, along with swimlanes for each user.
Each one of these views will show up on top of your board, making it easy to monitor all the rough data with it in hindsight. The accent is put on making work visual, without too much communication needed, a premise that monday.com delivers on point.
However, there are no concrete reports for drilling on further details such as billable vs non-billable hours, which makes it hard to analyze complex projects just from a few statuses and colored columns.
Automation & Integrations
As you dive deeper into monday.com's options, you'll find out that too many columns are hard to update and keep track off.
For this, the guys behind the platform came up with automation. They consist of pre-defined combinations of triggers and actions between your board parameters, much like Zapier, that do the hard lifting for you. Like moving a pulse to a separate group of pulses once its status changes.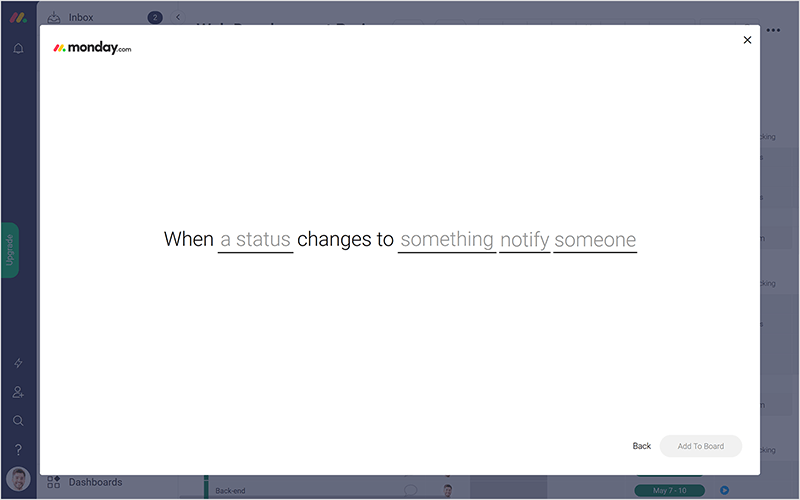 The set-up process is straightforward with an accent on filling data as you're supposed to speak. Kudos team, much friendlier than Zapier actually! Automations are also broken down into notification, due date, dependencies, assignee, and status oriented ones, which saves you time.
Each board has its own automations, so don't assume they replicate to the rest of the boards.
But what if you want to perform automations with third party apps in the same manner? They exist but under a different terminology: integrations. Monday.com has made sure to cover the most popular apps in their niche - Mailchimp, Twilio, Typeform, Zendesk, Slack, and Shopify to name a few. These make automation a breeze no matter if you run a team, project, or business.
Team Collaboration
When it comes to communication, monday.com does quite well. Not Basecamp comparable, but still solid.
Each pulse comes with its own subscriber list from where you can invite people (even guests) and configure the frequency of the email updates. Apart from the basic functionality, such as mentions and checklists, two more items stand out: the Info Box and Activity Log.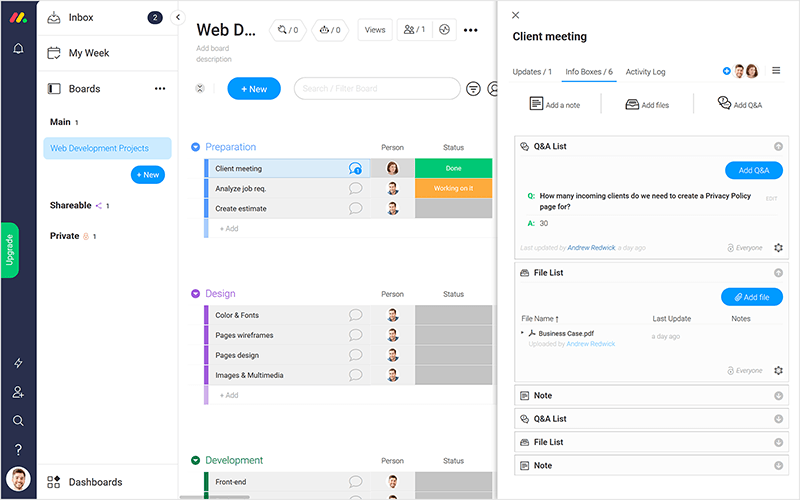 The first one, the Info Box, allows you to add as many boxes in the form of notes, files, or Q&As as you wish - although the last ones don't work as expected. I mean, you normally post a question and wait for someone to answer it. But in this case, those who have the answers must edit the Q&A first to have access to the answer field. The number of boxes can also pose a problem if they exceed a certain number, since there's no organization in terms of filters or views (except for the Files one).
The second one is the Activity Log that can be filtered by day, group, or column - if you think there might be some errors in your workflow and want to track the root cause.
Let's not forget about the voting column for when it's too hard to veto on a concept or where to take today's lunch.
monday.com also covers teams inside and outside your organization. Important to notice that when an existing member joins the team, they will be automatically subscribed to all the team's boards. A blessing if you're a manager and want to be up to date to all the ins and outs, a curse if you're only concerned about a specific project. I'll leave this to you to decide.
In terms of external guests, be they volunteers or clients, they'll only have access to the shareable boards they've been invited to. This means they can create new columns, add due dates, change the status of a pulse, comment, and add files. But they can't use the search function, open other boards, nor be added to a Team.
Notifications and updates
Communication is not all about how you transmit information, but how you receive it as well. For this, monday.com arms you with three "productivity swords": the notification bell, Inbox, and My Week area.
The notification bell alerts you about all the updates that directly concern you, like someone who mentioned you in a pulse or subscribed you to a board.
The Inbox on the other hand, acts like a newsfeed for all the boards that you've been subscribed to, whether you need to be informed about those updates or not. In time, it can turn messy, although I see its utility for those who need to have their hands in every jar - say the CEO or a line manager. Overall, I had a hard time to understand it and what the differences between the Inbox updates and rest of them are, especially the bookmarked ones.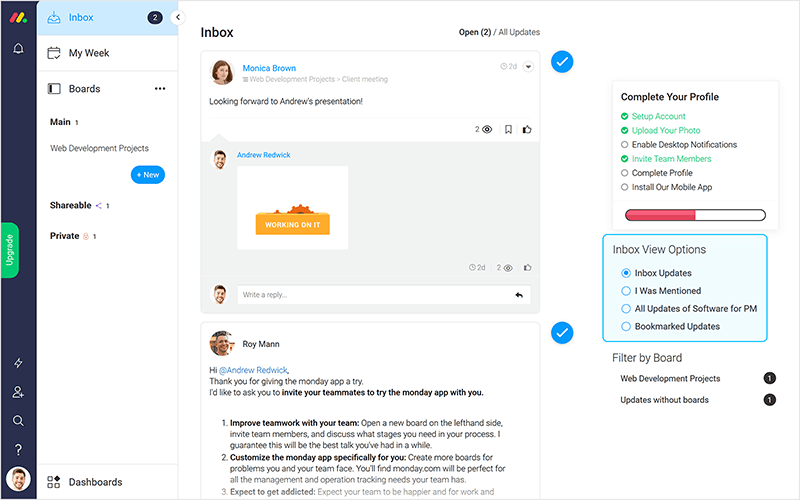 Email notifications exist as well and are configurable under My Profile -> Notifications. A bit hidden, if you ask me.
As for the My Week area, this one acts like a filter for you and your team members to see which tasks are on roll for the current and past weeks. Would have liked to see something more advanced, like in Paymo's case, where you can select a date range for the updates to show up.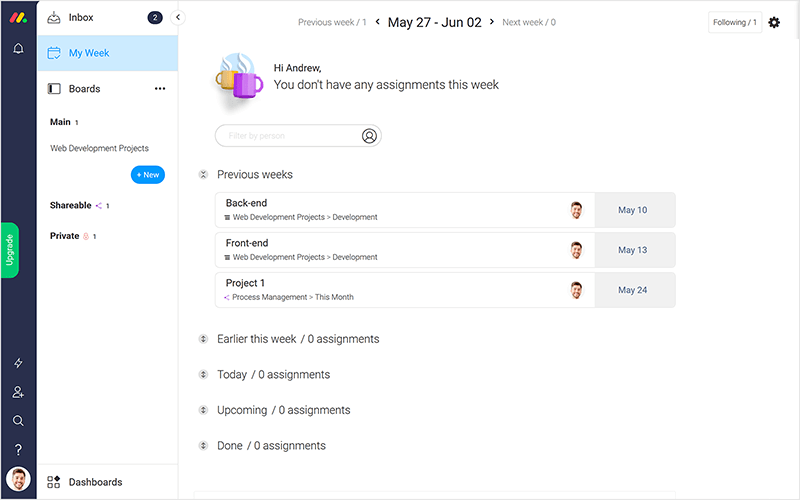 Dashboard
If these notifications are still not enough, monday.com offers probably one of the most advanced and user-friendly dashboards among the current project management software suite.
This one gives you key insights and metrics from multiple boards like monthly revenue, total number of orders by month, incoming orders, and so on.
The parameters, in this case, are called widgets that can be dragged and resized to your liking. Apart from the financial oriented ones, you might use the battery one for monitoring statuses, add a countdown for a project or event, collect bookmarked articles, or insert a motivation quote to keep you focused on your goals.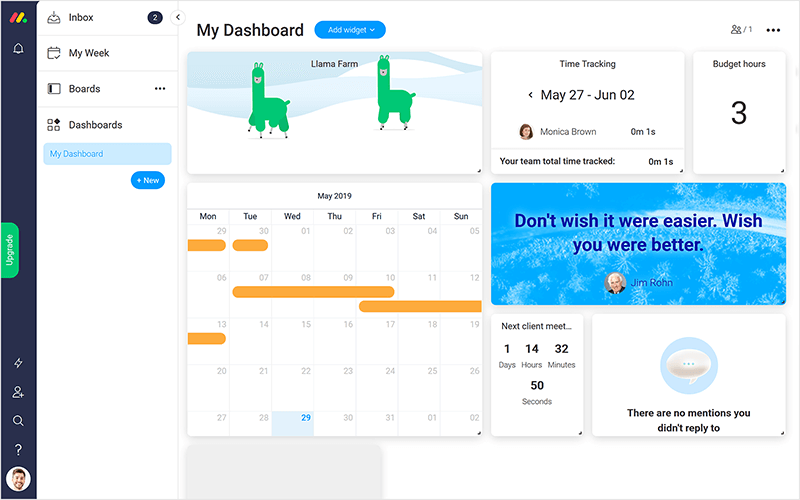 monday.com is sure to piggyback on the gamification trend started by Asana's Yeti, featuring a cute little easter egg: llamas. You can build your own llama farm by choosing which status columns to add llamas to your farm. So every time a pulse reaches a certain status (say "Done") your farm grows in numbers. This makes it fun and motivating at the same time to clear off boards and get work done.
Usability
Overall, monday.com has an intuitive platform thanks to its flat hierarchy (boards-groups-pulses) and the absence of other project management oriented features like subtasks.
What I want to tackle at this point is data and how you can reach it in the fastest and most convenient way possible.
Oh yeah, that's the updated search function on the first menu, which allows you to look cross boards after column tags, pulses, mentions, and files. There's also a filter for saved searches and one for recent ones, since according to them, 93% of the time people search for the same thing. Can subscribe to that.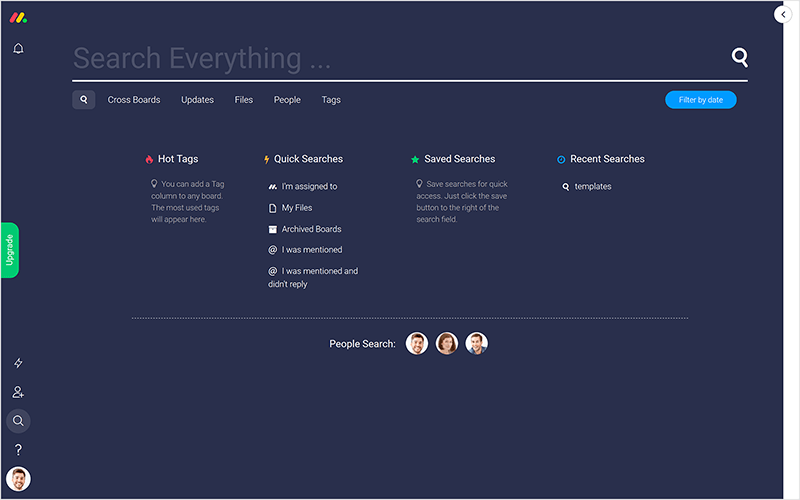 Another helpful function is the Quick Bolt Switch. Similar to a ctrl/cmd + tab key shortcut on your computer, it grants you the comfort of switching between the boards and dashboards that you're subscribed to.
You can also import data directly into the platform from an Excel spreadsheet or another project management tool. For now, only Trello and Asana are supported, with more to come in the future. Although I'm quite sceptical about the more complex ones like ClickUp or Paymo, where specific items are nonexistent in monday.com.

Cost
Monday.com doesn't have an account for individuals and solopreneurs, forcing you to buy at least two seats. The next ones come in installments of 5, 10, 15, 25, 50, 100, 200, and 200+ seats. A bit limiting if you ask me, as it excludes the really small business owners and mid-size teams between 50 and 100 team members.
The pricing is affordable, but if you do the math for larger teams you can spot the extra margin as opposed to a system that only bills for the number of active users. That's why I'm going to focus on presenting the available plans for a team of 5 people:
Unlimited free viewers
Unlimited boards
Over 20 column types
iOS and Android apps
Kanban view
Embedded forms
File storage
5 GB
Activity log for 1 week
Automations: 5
Dashboards: 1
2 Factor Authentication (2FA)
Basic features +
Share boards with guests
4 guests billed as 1 user
Timeline view
Calendar view
Map view
Advanced search
Forms customization
50 GB
Unlimited Activity Log
Integrations: 5
Automations: 15
Dashboards: 5
Standard features +
Time tracking
Chart view
Formula column
Custom tags
Private boards
Integrations: 20
Automations: 60
Dashboards: 20
Unlimited storage space
Google Authentication
Enterprise
custom cost, contact monday.com
Pro features +
Integrations: 50
Automations: 150
Dashboards: Unlimited
SSO
Audit log
Session management
99.9% SLA uptime
Advanced account permissions
Bulk discounts are also available: 18% for a yearly subscription and 32% for a 2-year subscription. They also offer another "early bird" one through an in-app pop-up, for those who're already sold on monday.com in a few minutes.
NGO's and educational institutions can benefit from a discount too, but they have to fill in a form first.
Support
When it comes to support, it all boils down to who has the most self-service app. At least this holds true for the project management software market. Up until now, I would have announced ClickUp to be the #1 contender. But given monday.com documentation, I'm willing to bet on them as the race winners.
They have live webinars on basic and advanced walk throughs in 6 different languages besides English: Italian, Finnish, French, Chinese, Polish, Spanish, even Hebrew (monday.com's mother tongue).
In case you don't feel like taking part to one, then skim through recorded webinars of:
Walk throughs & Features
Industry specific workflows for logistics, manufacturing, construction, education, etc.
Best practices on how to implement certain productivity methods or manage a remote team
Another thing that I like is the little trial extension pop-up. I happened to be on Easter holidays when the trial expired. Upon coming back into monday.com, there was a button that allowed me to prolong it with 7 more days - without resorting to the support team.
One-on-one training and a dedicated customer success manager is only available for the Enterprise plan.
Leaving this in the rear mirror, I have to warn you about one thing. Monday.com is aggressive when it comes to ads, with all my YouTube being spammed by their tutorials. Yours too probably soon. Guys, hope I can make a point here: please reduce their number or hire someone to do a better job.
Security
In terms of security, this is how monday.com makes sure you're in the right hands:
GDPR compliant
ISO 27001, ISO 2718 PII, SOC2 Report
Data encryption in transit and at rest
Multi-factor authentication support
SSO (Google, Okta, OneLogin, SAML 2.0)
EU-US Privacy Shield
Make sure you check which ones are available for your desired plan.
Final thoughts
Thanks to its flat hierarchy and customizable columns, Monday.com really lives up to its "swiss-army knife" nickname. But since this is a site for those of you who are searching for a project management software, I'll draw my conclusions accordingly.
Its strongest feature is the trigger-action automations, which will help you create a self-sufficient system that takes care of itself without too much supervision. With a caveat though: there are no bespoke reports, rendering the app a bit too simple for project managers who deal with complex projects on a consistent basis. Overall I would recommend the app for small teams, because I can't see how it would scale up to larger ones that are more operational in nature.
Pros
Flat hierarchy
Customizable columns
Powerful automations and integrations
Embeddable boards
Cons
Poor time tracking features
Improvised Gantt Chart (Timeline)
No resource scheduler
No reports