ClickUp
Best suited for
Freelancers / SMBs
Introduction
ClickUp dubs themselves as the #1 Productivity Software. A pretty bold statement for a company that's been around for only 3 years. Nevertheless, they've come up a long way to match up the user experience and feature set offered by other legacy apps, like Basecamp and Asana.
Boasting a client base of 25,000 teams (among which Google, AirBnb, Nike, Uber to name a few big shots) and available on a plethora of devices, this new project management software means serious business. Let's have a closer look at it.
Trial availability
Free Forever Plan
30-day free trial (all features available), no credit card required
Support
Phone (24/7): +1 (888) 625-4258
Email: help@clickup.com
On site and in app, although a bit invisible
1. How easy it is to get started
I've signed up for an account expecting to test the Unlimited plan, when in fact I was on the Forever Free one. A few hours later and a polite customer support rep put me to the correct one, so I can get over that.
Back to the onboarding: perhaps one of the best I've experienced so far. Clean activation email followed by an onboarding wizard that allows the user to customize their future workspace. Invite colleagues in, integrate third-party apps, add ClickApps (like Multiple Assignees, Start-End Dates, Priorities, Time Tracking, Tags, Time Estimates), define workflow statuses, and import projects from a CSV/Excel file or other project management tools.
A bit weird that they define basic project management features as optional ones (ClickApps) if you ask me.
You'll then be asked to create your own project from scratch or choose from 20 different templates, even ones for managing crypto ICOs and VC funding rounds. I wonder if they're legit, as in have a real use case, or are just for the buzz
Like in Paymo's case, there's a filled up project that encourages you to perform certain actions with the help of inline tips and expandable GIFs. Useful since you don't need to resort to the help page ("Docs" as ClickUp calls it) for additional info.
Email Frequency
In terms of email frequency, the greeting email is again bold to say the least. ClickUp marches on with their uniqueness in the form of Assigned Comments and Me vs Team dashboards, features which can be found in most apps of its kind, and the possibility to import projects from the "boring guys" a.k.a. Asana, Trello, Jira, Basecamp, and Todoist. Talk about guts!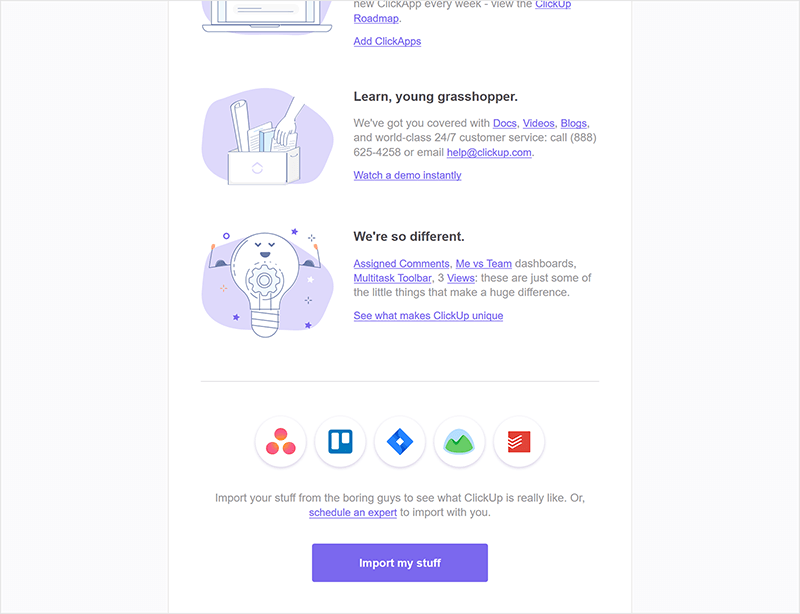 No spamming though, which I appreciate. Although my colleague, who accepted the invite later on that day, got plenty of notification emails while I played around and assigned tasks for him.

Functionality
The interface looks a bit too cluttered, maybe because they're trying to add too many features all of a sudden. To review it, the task and planning views (Gantt Chart, Portfolios, Goals), reports, notifications, and search are situated on a horizontal bar. Followed by another one for spaces, with all items that belong to a space like projects, task lists, and tasks in the left menu: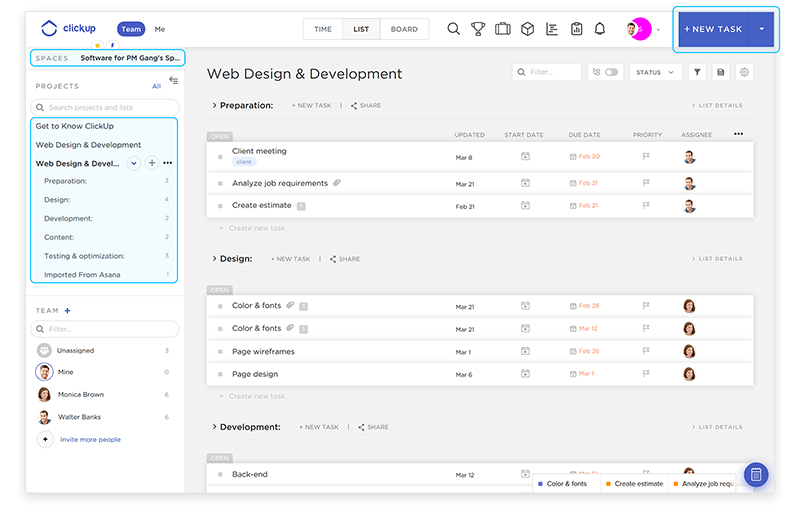 The New Task button is right where it should be, accessible from the top right corner, for times when inspiration strikes and you need to act fast upon your idea.
ClickUp Features
ClickUp relies on a very specific hierarchy:
1. Spaces - At the top we have spaces. They're pretty flexible, with the possibility to set up separate task statuses, privacy rights, and ClickApps. Because of this, you can use them as:
Departments with different granularity levels (more robust for the development team for example)
Your personal space, only private to yourself
A dedicated client's area
2. Projects - Act as folders within Spaces, each one with their own customizable task statuses. Repurpose them for sprints, phases, groups, anything to keep your Spaces organized.
3. Lists - These are tabs within a project that further nest tasks. You could think of them as milestones as well, since you can assign dates and share them with external clients.
4. Tasks - Actions you need to take in order to complete the parent lists.
5. Subtasks - Smaller items part of a task to which you can assign users, due dates, and priorities.
One big warning (or bug perhaps): the subtask date range can exceed the parent task range, which makes the Gantt Chart hard to follow.
6. Checklists - These are in fact simple subtasks, with only two task statuses (Done/Not done) and assigned users.
Thanks to its granularity and customizable options, the hierarchy can be used to manage product roadmaps, events, even subsidiaries if you're creative enough to adapt it to your workflow.
Provided that you've already set up your Spaces with their corresponding ClickApps and users, it's time to move on to the part that ClickUp has nailed very well: task management.
Task management
As soon as you get over the onboarding phase, you'll notice 3 different task views on the top bar, each one with a different purpose:
List - This is the default one, which displays tasks and lists on rows. It comes in handy if you wish to zoom in on task details (sorting columns in this case) or simply filter after them and their status. Big plus that you can save filters too.
Time - Allows you to visualize all tasks together with their start and end dates, even hours scheduled, in a calendar format. You can then sync these tasks with other external calendars such as Google Calendar or iCal for convenience.
Board - Much like a Kanban board, this view consists of different task statuses that are either customizable or simple ones (Open/Closed). These represent the life cycle of a task and come with extra sorting & collapsing options, in case the status is empty and you need to clear some space.
All these views can act as meta views if you select the All Spaces option in the top left. Ideal for managers who need a top-down view on how things are going company wide.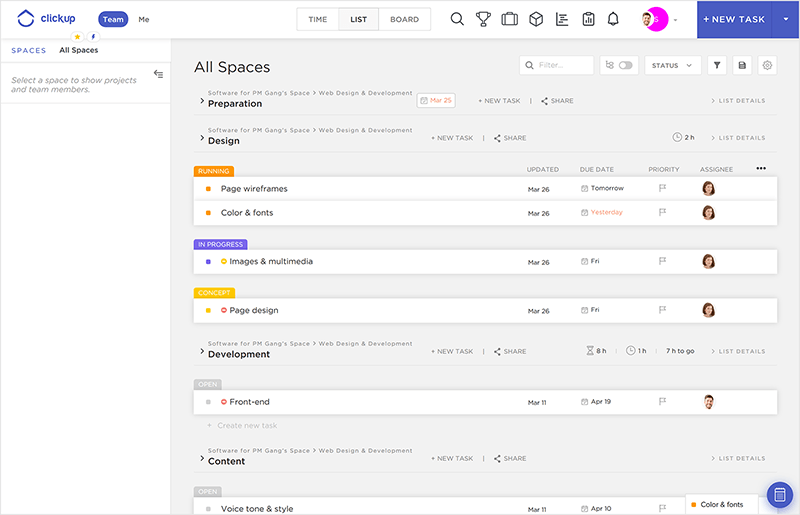 Moving on to the actual task.
Upon creating one, a pop-up allows you to access the task details, copy the link, or minimize it in the Task Tray. This last feature is in fact a browser situated at the bottom left, with tasks instead of tabs, for when priorities change in a matter of seconds or the notification system is just too much to handle. Quite useful if you're a serious multitasker like me.
Let's jump straight to the task details. You can move tasks to different spaces and projects, assign multiple users for shared responsibilities, set dates and task budgets using natural language (1h, 1d, 1w), even flag priorities to better organize yourself and your team. So far, basic project management features.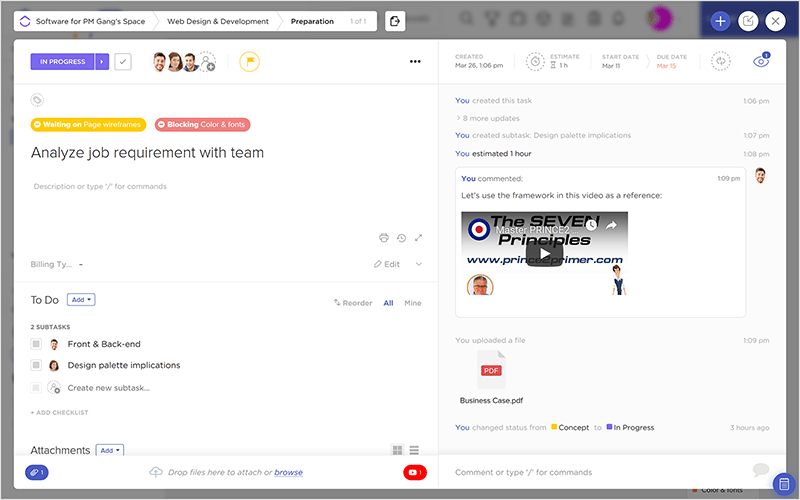 If you can't find a field that you're used to work with, then add a custom one from the three ellipses on top. They range from text, dropdown menu, or email, to checkbox, currency, or calculated value (similar to the sum expression from Excel).
For a better control over how projects unfold, there's also the possibility to set dependencies between tasks without resorting to a Gantt Chart. Just specify which tasks to wait for and which to block until completion. Repeat this which each task and you should be set.
If this is still not enough, you can semi-automate your process through repetitive tasks. They include repeat triggers that change the status of a task for a given event, like switching the initial task dates or adding a new one.
Tasks display subtasks with similar features too, in case you need to break them down and have the same control level. Or transform them into subtasks to spare you the effort of adding them again. Same goes for subtasks if they're much more complex than you first anticipated.
What's neat is that you can invite external users to comment on a task - thus streamlining the eternal back and forth between you and your clients. Any links mentioned will be grouped after their belonging app/website, removing the need to infinitely scroll after them.
You'll also see if they're commenting in real time thanks to the collaboration detection feature, similar to the ones on Messenger and WhatsApp (without the "seen" tag though).
In terms of file sharing, go ahead and drop files from your computer or use the available integrations with Google Drive and Dropbox, the preferred repositories for most businesses.
ClickUp doesn't have a designated files area for a project. This leaves you with no choice but to assign users or watchers to a task to have access to the attached documents.
Once all tasks have been added, it's quite easy to edit them later on. Just select the desired ones and a ribbon will show up, where you can set watchers, assignees, task statuses, tags, due dates, priorities, even dependencies in bulk. A well-thought implementation if you ask me, so make the most out of it when major changes are in full swing.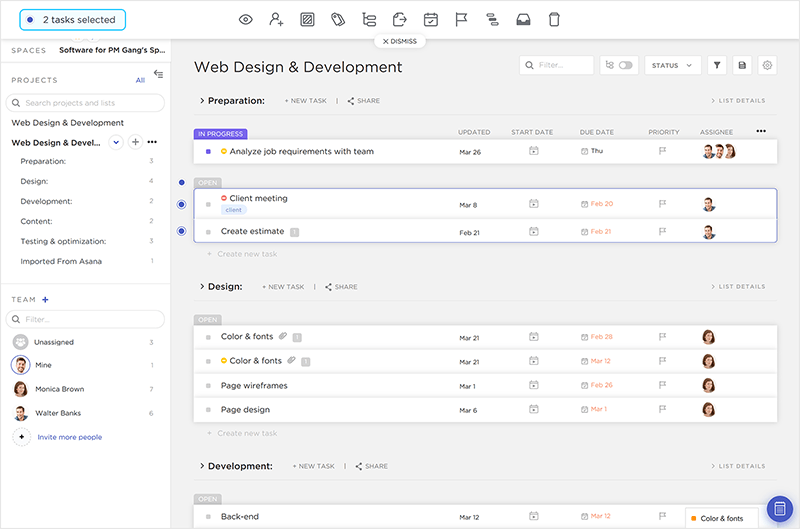 One last thing worth mentioning is the Notepad in the bottom left corner. This is the perfect place to keep notes that don't relate to any task or project, like your grocery list or your side project. You can then transform it into a task, once you're ready to share it with your team.
Project planning
Time to focus on the planning views we've mentioned at the beginning of this section.
A rather new addition to ClickUp, Gantt Charts are a great way to follow up on tasks and the order in which they unfold. They are space and project related, so you can see the big picture and zoom in on a specific project for further details.
But as much as I've enjoyed the task management part, Gantt Charts have given me a pretty rough time. Subtasks can have a longer date range than their parent tasks, which defeats the whole purpose behind planning and messes up the timeline. See for yourself.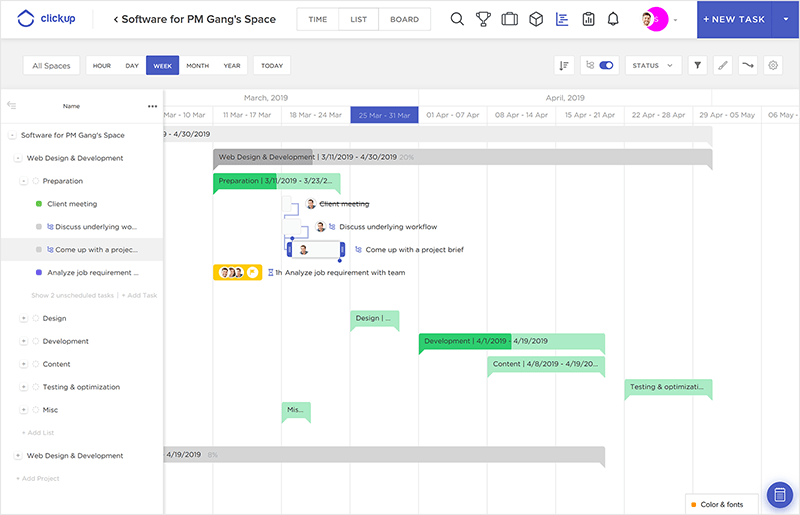 It's also not intuitive to follow dependencies, as the arrows have the same color for task-task, task-subtask, subtask- task, and subtask-subtask connection types. Plus the whole chart crashed after I changed dates and opened a few tasks in-line. Didn't expect this given that the project was only loaded with 20 tasks, so I'm a bit disappointed.
Allows you to see your team's tasks and their status grouped by, you guessed it, boxes. So it's easy to gain insight into your team's workflow without having to ask them about it.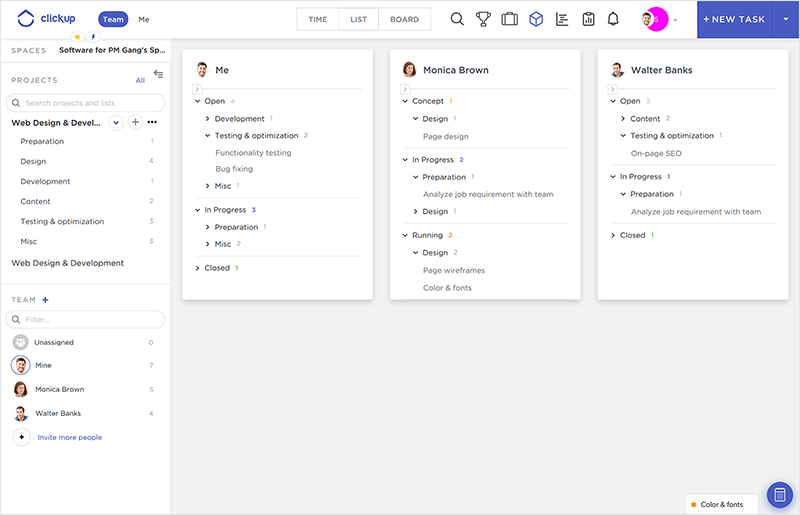 Or your own tasks for a given time like the past week, along with the open comments.
This is more of a progress, rather than a planning view, where you can upload lists one-by-one and follow the number of tasks completed from each of them. Flashy, but basic from a project management software standpoint. Reminds me a lot of Asana's portfolios, but with lists instead of projects.

ClickUp is the first tool of its kind to include goal and performance management under a single platform. A goal here represents the top level objective, which can be broken down into smaller targets:
1. Number - To increase/decrease output
2. True/False - For things that are either done or not done
3. Currency - For money-related goals
4. Tasks - That contribute to the goal completion
You'll recognize tasks that belong to a goal by the trophy icon from the task details.
The feature is great for monitoring company or team-wide KPIs that a regular project management app can't, like Annual Recurring Revenue (ARR) or Churn. I only wish I could be able to rearrange tasks within a goal, but so be it.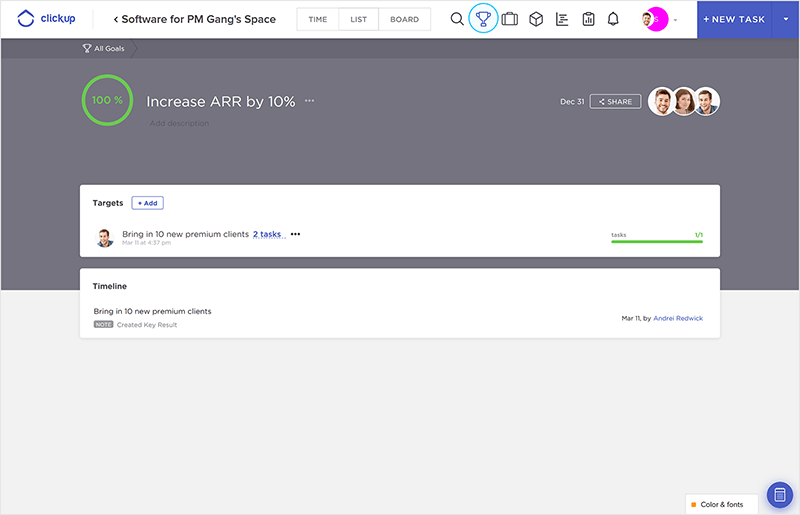 Resource scheduling
For scheduling tasks in ClickUp, use the Time view. There's a tray available to the right for the unscheduled ones, which allows you to drag and drop them on the calendar. What's neat is that once dropped, tasks with time estimates get automatically scheduled in the Day and Week views.
This is an incomplete scheduler though, as I can't see the remaining capacity for my colleagues. Not a big deal for a team of 3, but it can pose a serious problem to an organization with a headcount of more than 10 people.
Collaboration
I think we've pretty much covered collaboration from a team perspective, so let's turn our attention to external collaborators. Or guests, as ClickUp likes to call them.
Guests don't have access to Spaces or Goals, nor can they create projects, lists, or tasks. You can share with them a project, list, or task though. Click on the share button of each of those items and a pop-up will show up with a series of permissions to select from: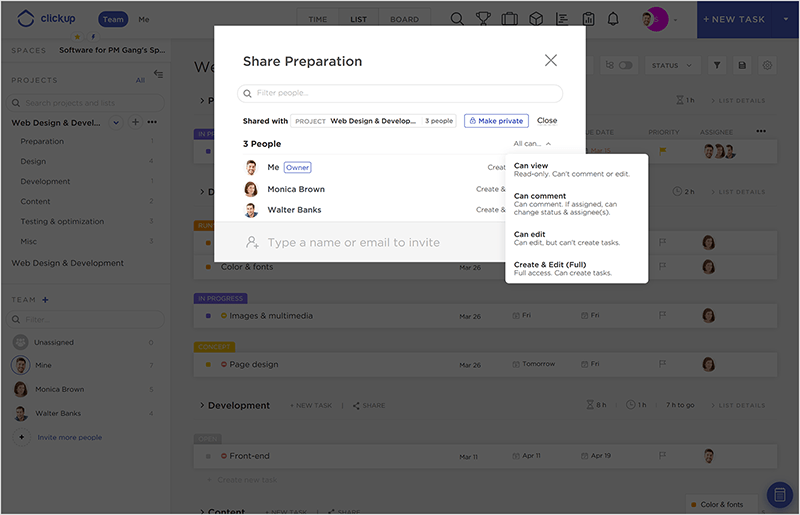 Notifications
To say they're robust is an understatement. Besides the email, mobile, in-app, and browser ones, there's a snooze function so you can cut them off for an extended period of time. A small, yet useful feature for when you need to get shit done, please excuse my frankness.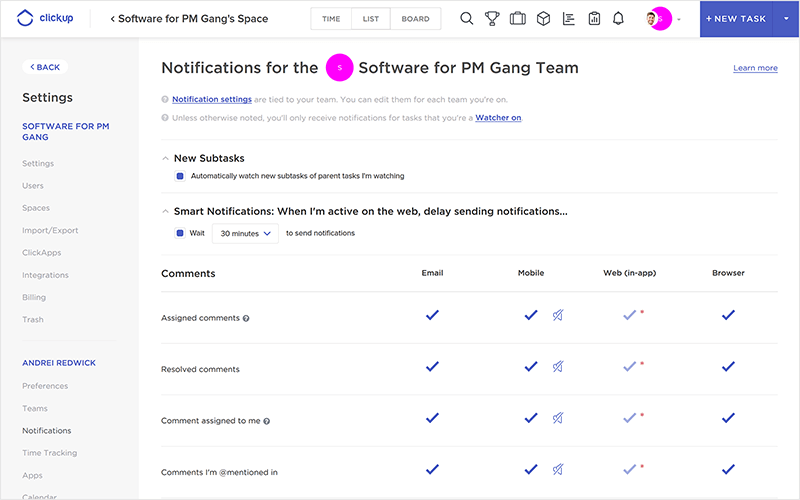 But where do they apply?
Notifications apply to the tasks that you're watching and their corresponding subtasks. You become a watcher if you're assigned to a task, create, or are mentioned in one. This is visible through the eye blinker in the top right corner of a task, which can be toggled off any time.
All that's left is to scroll down and turn on notifications for the desired items or create reminders for task dates.
The double check mark automatically checks all the notification options under a specific item.
Reports
ClickUp encompasses a wide range of reports, 7 to be exact. You can change the space and time frame for them from the two dropdown menus, which I find quite intuitive.
Enough talk, let's see what each report is capable of:
Completed - Self explanatory, it shows you the tasks completed by each team member and how long it took them (the proverbial lead time)
Worked On - To view the tasks someone's been active in, a.k.a. commented, added files, basically any action performed inside a task. Can also calculate the average tasks per user, but why would you need that in project management?
Team Points - Calculates a user's points based on a few parameters like the number of cleared notifications, comments added, comments resolved, and tasks completed. Have mixed feelings towards it, to be honest. Yes, I get it. This is an attempt to gamify project management, but also a way to make sure everyone is using ClickUp on a consistent basis. Wouldn't rely on it to evaluate team performance.
Who's Behind - A great way to keep your team accountable regards overdue tasks and deadlines they should be hitting.
Time Tracked - Works like a light timesheet, where you can see how much time has someone tracked on a project, list, or task. This includes the time tracked manually and automatically through the ClickUp extension or their other time tracking integrations.
Time Estimated - Useful to check the progress of each task, in terms of how much someone worked from the total task estimate. Would merge it with the Time Tracked one if I'd run the show.
Custom Fields - Displays all team members and tasks for the chosen custom field.
Besides the free completed reports, all the other ones are available under the Unlimited plan.
ClickUp promises other reports such as team workload, cumulative flow diagram, and burn down graph to come soon. Updates which would fix the resource scheduling part currently handled by the Time view. Overall I find them very useful, but perhaps too fragmented, which makes switching between them a tedious task.
Integrations
So far, I've touched upon the storage and calendar integrations that are so vital to organize your day-to-day work. Time to review the ones which address certain aspects that ClickUp doesn't fully cover, like time tracking, chat, and code.
If you want to track time, do it either through their Chrome Extension (which extends as a screen capture and email attachment widget, great plus) or the standalone time tracking tools like Harvest and Toggl.
For inside communication use the Slack integration, table stakes for almost every project management platform out there. A great addition though is the developer sync with Github, Bitbucket, and GitLab, in case you need to assign a ClickUp task ID inside your code.

Usability
I would normally cover the onboarding experience here. But since it went so smoothly, I'll focus on other small details that help team members and managers to get a better grip of what's on their plate.
Like the Team vs Me dashboards, which you've probably noticed already in some of the screenshots. Teams displays all your team's tasks for a given space, while Me only shows the tasks assigned to you, together with the ones that contain assigned comments, subtasks, or checklists. These dashboards keep up the pace with every task view (Time/List/Board), even with the Box view, so you can zoom out for perspective or focus only on the things that matter.
Another detail worth mentioning is the search bar. So granular that you can search after task names, descriptions, comments, and attachments that you've recently created, viewed, closed, or updated. The last one can prove useful for complex tasks, like a wireframe, where input is expected from a lot of team members.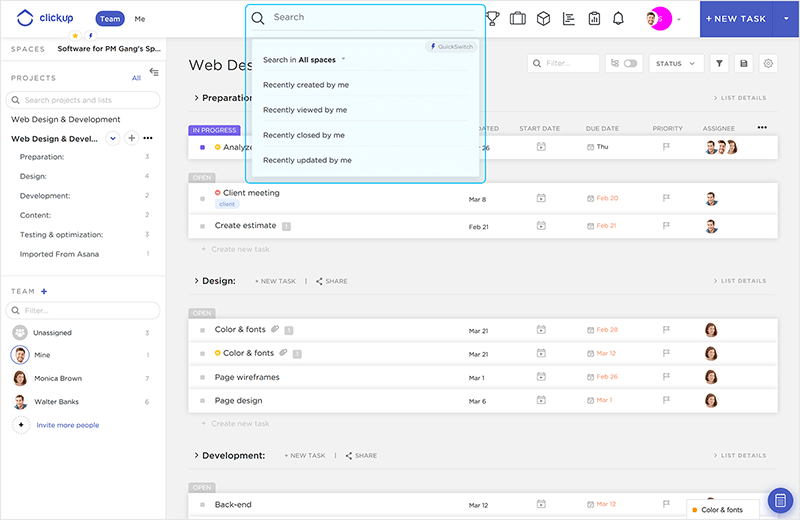 There's also a Quick Jump feature that allows you to, well, jump to a section. Although I didn't quite get it nor test it too much, to be honest.
Since we're talking about usability, let's not forget about the plethora of devices ClickUp is available on. Apart the web app, you can access it on desktop (Mac, Windows, Linux) for convenience or mobile (iOS, Android) when you're out and about. You can also use voice commands to create tasks or find out if they're overdue via Amazon Alexa and Google Assistant. Or install the Gmail and Outlook plug-ins to add tasks directly from your email.

Cost
Plans are rather simple and cheap for what they have to offer. There's a free forever one, ideal for organizing your team without too much input from clients or other external guests. For more advanced planning, goal tracking, reports, and extended client permissions, go for the paid ones. Be aware that prices are liable to change as they roll out new features. You are going to be grandfathered though according to their Docs' pricing page.
In terms of discounts, there's a one time 15% discount available as well as custom offers if you're part of a university or NGO. Just contact their team and they'll take care of it. No refunds are possible though according to their Terms of Use.
Free Forever
with 100MB storage
Unlimited tasks
Unlimited users
100 uses of Custom Fields
100 uses of Goals
100 uses of Portfolios
No guest permissions (only create and edit)
Unlimited
starting at $5/user/month
Free Forever features +
Unlimited storage
Unlimited custom fields
Advanced reporting
Gantt Charts
Unlimited Goals
Unlimited Portfolios
5 free guests by default. Each additional member added will grant 2 free guest seats.
Business
starting at $9/user/month
Unlimited features +
2FA
Goals Folders
Google SSO
Portfolio Permissions
10 free guests by default. Each additional member added will grant 5 free guest seats.
Enteprise
contact sales for price
Business features +
HIPAA compliance
SSO
Contract and legal review
Increased API limits
Support
ClickUp claims to have the highest rated client support in the project management industry, available even during holidays. All thanks to their 24/7 customer line and live chat.
I had my own doubts, so I wrote to them about my initial signup issue on the live chat. Only to get an answer 3 hours later, perhaps because of the timezone. The in-app chat was pretty hard to find (under the user profile), a bit more visibility would have been useful.
So when it comes to speed, I don't think they have the best client support. Basecamp is more fit for this title due to their 30 customer support reps spread around the globe.
Other than this, the team is proactive in terms of onboarding. They have a dedicated demo page with a registered tutorial, a comprehensive knowledge base (called Tutorials & Docs), as well as a YouTube channel with hands-on tutorials on how to ramp up adoption.

Security
ClickUp embodies its CEO libertarian views and thus works hard to have one of the most strict security and privacy policies rules in the industry. And this time they mean it.
The platform's data is hosted exclusively on Amazon Web Services (AWS) that provide end-to-end encryption, with the possibility to export and delete your data as per GDPR's compliance. Wonder if all these servers are located in the US, a thing which might raise question marks for some cautious Europeans.
They are part of the Privacy Shield Framework though and offer HIPAA compliance for the Enterprise plan too.
Final thoughts
It was a pleasure to test ClickUp. Mainly because of the ample client permissions and since it's so granular when it comes to dividing your team into separate spaces and projects. The interface is a bit too cluttered for my taste and some features don't integrate well with the others (Gantt Charts), but this is the price you pay to catch up with the other more popular project management tools.
When in doubt, check out their knowledge base or YouTube channel for tutorials that cover a lot of use case scenarios. The prices and the value you get make it a top choice if you're on a budget or just starting out. That's why I see it more suitable for startups that focus more on process optimization rather than cash generation and overall finances.
Pros
Smooth onboarding
Spaces that act as departments
Advanced task management
Goal tracking and OKRs
Rich learning materials
Affordable price
Cons
Cluttered interface
Buggy Gantt Charts
Too simple project (list) portfolios
Fragmented reports