Freedcamp
Best suited for
Freelancers / SMBs / Enterprise
Introduction
Noticed the similarity they hold with Basecamp's product name? That's because Freedcamp was created as a free alternative to Basecamp when the founder realized they needed a better collaboration system to plan a camping trip. Not a coincidence.
Today, this project management software counts 9+ years, serving small, medium, and large organizations across multiple industries like IT, design, or engineering. And it's a choice for several well-known companies such as Apple, PayPal, Airbnb, and even Google when it comes to managing projects and supporting team collaboration. Read on to see why this tool is suitable for all kinds of users.
Trial availability
A 14-day trial is available for you to test all features up to Feedcamp's Business plan (Enterprise is not included). No credit card required.
Support
Email for general info: help@freedcamp.com
How easy it is to get started
The first thing you're prompted to do is to set up your own project.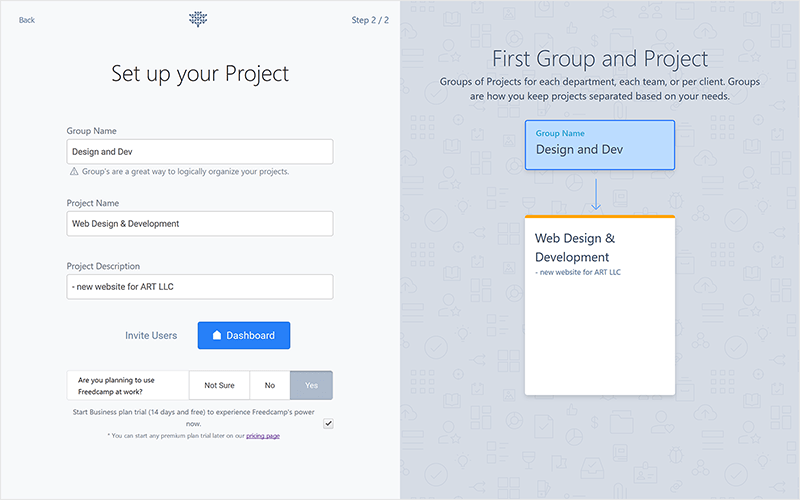 You'll also receive a welcome email and one to confirm your account, but these are not mandatory for you to start using Freedcamp.
While these initial steps are fairly easy, I was surprised by the lack of an onboarding process. No arrows or in-app prompts to tell you how things work, which makes going around the app a bit difficult. The only help available is their knowledge base, packed with advice on certain modules and features, and a YouTube channel for a more visual learning process.
This knowledge base is not up-to-date so information and supporting images might differ from the current app.
You can also create another project from the New Project button on your Home dashboard. Impossible to miss as Freedcamp uses a nice green-blue color distinction between all of its important action buttons. Unfortunately, you can't plug in a project template - only resort to the previously added projects to serve as default templates to pick from.
To further understand the hierarchy in Freedcamp, each project can belong to a project group. These help you sort projects according to their purpose or team for a better portfolio organization. Each one of them has its own administrator so you can divide your projects by owner or supervisor too.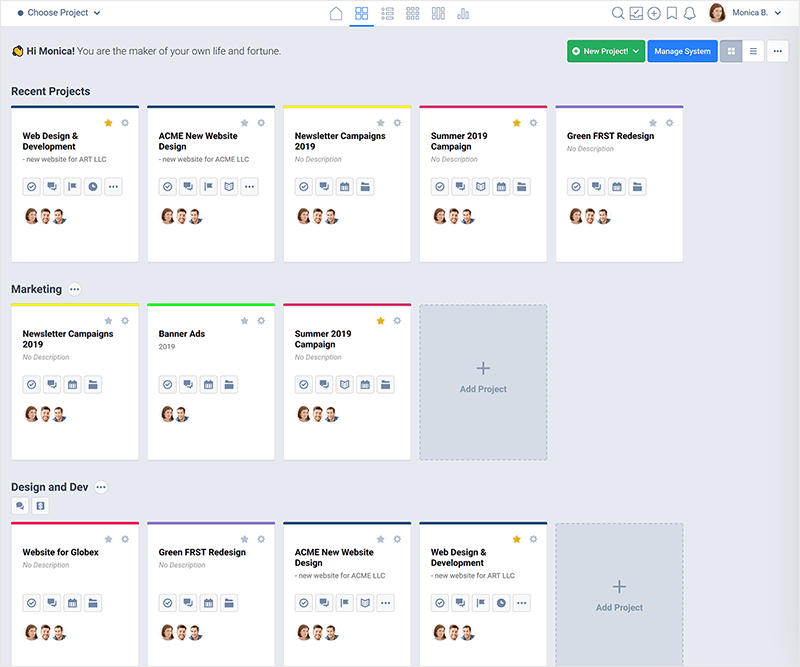 Email Frequency
The emails you'll get are only related to actions that happen within the web app. Alternatively, there's the possibility to opt in for their newsletter, a daily digest email, or regular daily recaps to remind you of the things that are going on in a project.

Freedcamp Features
The names and differences between Freedcamp's features can be confusing. Before discussing the core features in detail, here are some of the key terms you have to understand:
Group Applications - These features are not specific to a single project but instead can be accessed within all the different projects in a group. For instance, you could use the Password app for 5 distinct projects that belong to one group. These apps usually provide features that support collaboration and you will distinguish them from the others as they come in a different color. E.g.: Wall, CRM.
Project Applications - These are the features you're going to be using for one particular project. E.g.: Tasks, Milestones, Time, Files.
User Applications - Are not associated with any project and remain visible only to the user who choose to install this add-on. E.g.: Tasky.
Modules - Paid applications accessible to all invited users in all your projects: Subtasks Pro, Gantt Charts, Google Drive, OneDrive, Dropbox, Project Templates, White Label, Backups, Custom Fields, and File Edit.
Task management and project planning
Tasks in Freedcamp are organized into task lists. The interface is easy to use as all task statuses, priorities, and even assignees can be dragged and dropped on top of a task.
Larger tasks can be split into subtasks that will be displayed in your main list of tasks and not just within one task's details like it's the case for other project management tools. With its subtasks, recurrent tasks, and recently introduced tags, Freedcamp appears to offer advanced task management features.
You can also create any item by sending an email to Freedcamp through the Email In feature. Everyone, whether they're a Freedcamp user or not, can do this provided they know the unique workspace address.
Even more, they've got plenty of task views to choose from. The Kanban board view can be used to handle tasks through a visual workflow, while the Gantt Chart view offers a complete window into your tasks, dates, assignees, and task dependencies.
For your personal tasks, install the Tasky app which offers a private view of all your personal tasks that are not specifically related to a project: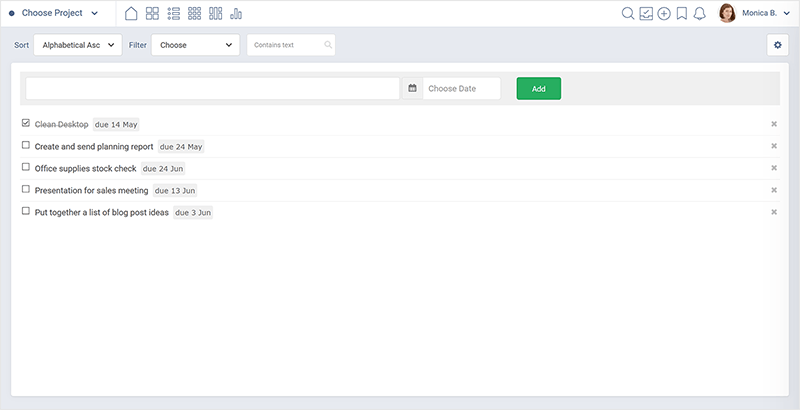 A Quick Add function is available on your top menu to add new items on the go such as tasks, milestones, or discussion - wherever you are in the app.
Managing team members
A Resource Scheduling feature that would allow you to see which users are overallocated or underallocated is missing. Their Gantt Charts have a resource view option though. Freedcamp has a Calendar app but it's really more of a tool for managing items like tasks or events and not team members. It can also be used for managing team members. There are filters that you can use to only see the items of a certain user. This Calendar gives you an overview of all the activities that happen within your organization so you can create tasks, edit milestones, or schedule events from a single place: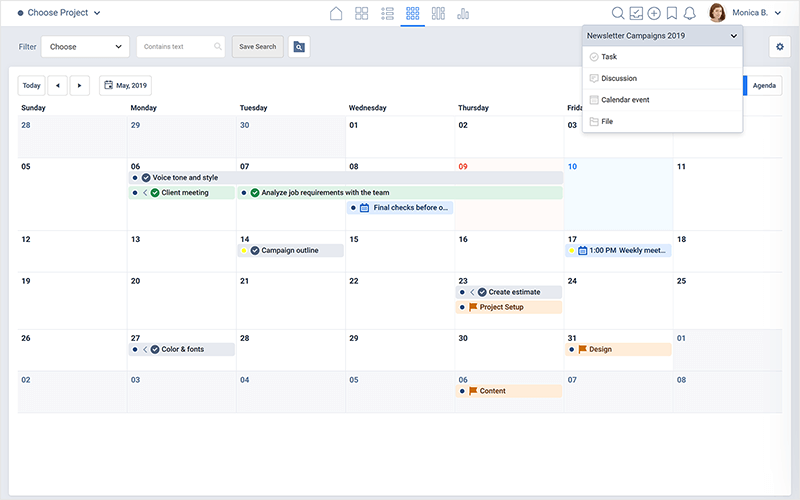 To compensate for a lack of team scheduling capabilities, Freedcamp offers highly customizable team settings. Like the Global team to add all your employees to, ideal for when you have a project that requires all of them to be involved, or additional teams for each project. This way you can have a separate one for your managers, developers, even clients who want to oversee the entire process. Each one will have a different type of access - 5 to be more exact - that regulates the viewing options to a project and the access of guests or external observers such as clients or other stakeholders who need insight into a project's status.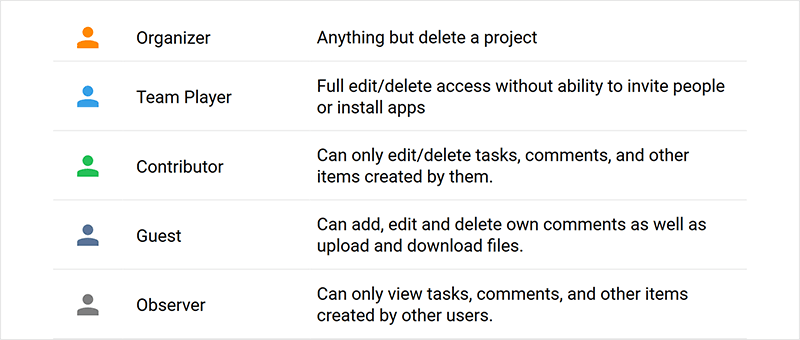 Monitoring project activity
Not so much control over who's overworking in the team, although there are plenty of other monitoring possibilities. The Widgets Board is one central area where you can view your activity across all projects or a chosen one. Widgets are summaries or snippets of the most important data you have in an application, like a user's activity, calendar, project milestones, and tasks. You can move these widgets with a simple drag-and-drop action so you get focus only on the aspects that make or break your project. They're are also highly customizable so you can filter them to display only the user, project, date range, or order you need.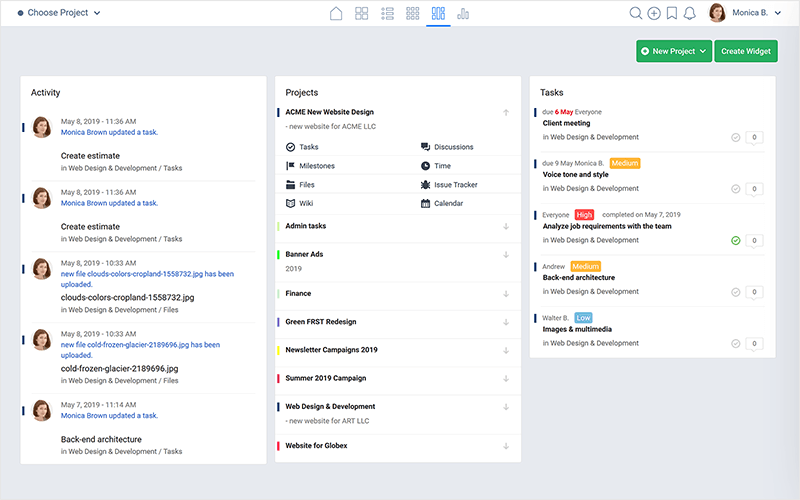 If you're looking for specific user or time reports, note that Freedcamp's reporting options are still limited. This is what a basic report looks like: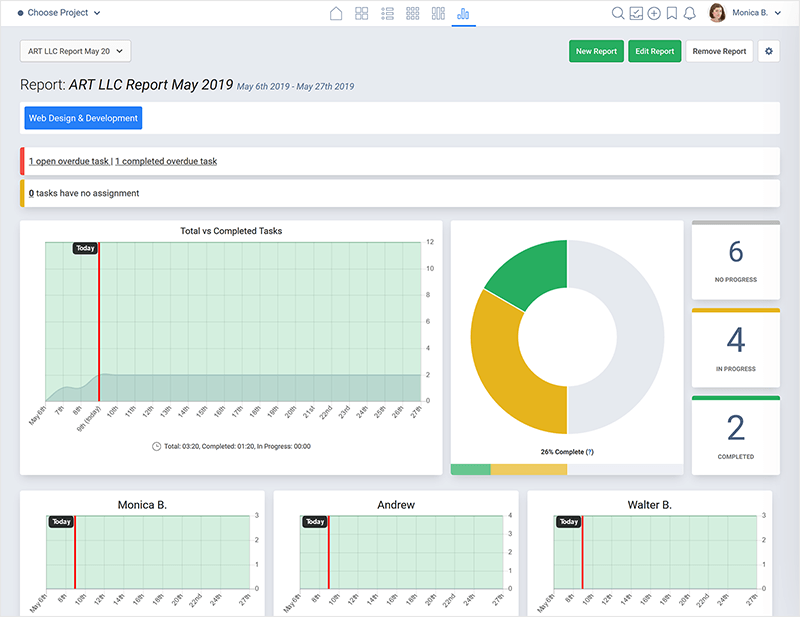 The looks are on point with colorful graphic charts to highlight your team's progress on a project but the information you get is kept at a minimum, with information in the form of potential problems related to a task due date and tracked time for each user. All reports are updated in real time so you've got the latest data to work with.
The Enterprise plan comes with an Overview feature that shows all vital project details and a brief recap of the tasks' status. It also allows managers to access a project's users and their profiles although it's nothing like a user report.
Moving on to specific issues, these can be monitored through their entire life cycle with the help of Freedcamp's issue tracker, a feature which not many project management software platforms offer. Use it to get a clear and centralized overview for all kinds of requests whether we're talking about bugs or customer support tickets: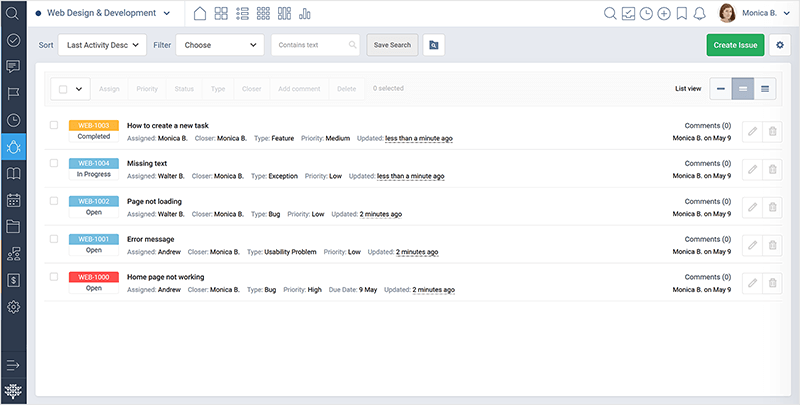 Finally, one largely influential feature when it comes to monitoring your team members' activity is time tracking. While it's present in only a few other project management tools such as Paymo or Scoro, Freedcamp also brings a basic timer feature into your work. Find it in the upper menu from the Timers section or next to each task. Alternatively, you can also enter time manually for each task in the Time app. The former option is more accurate as it's done in real time as you work. You can even have multiple timers open at the same time so you can switch between them while tracking your time whenever you're multitasking.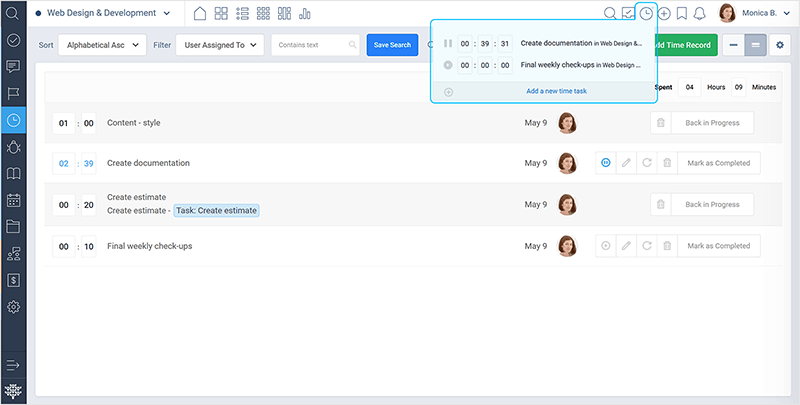 The best part is that you can further use these time entries to create estimates or invoice your clients based on accurate worked hours from the Invoices+ app. To create an invoice just add each time entry you want to bill to your draft and send it to your client directly from Freedcamp. You can even duplicate an invoice (if you regularly get paid for similar tasks) or use email reminders your client to make the payment on time.
Collaboration
Besides its solid task management features, Freedcamp also offers sufficient collaboration opportunities for team members. From the typical comments on tasks to a centralized project Wall that works just like a #general Slack channel for a project group. Even private discussions with other team members and guests. These will allow you to easily keep your employees connected whether you want to share some news to the entire team or have a one-on-one talk with someone.
Teamwork also involves sharing files between each other, that's Freedcamp adds the Files application to every project. This becomes a single place where you can access all images and documents and sort them into relevant folders and subfolders. Uploading files in bulk is fast and you can even keep track of multiple file versions so you're always working with the latest version.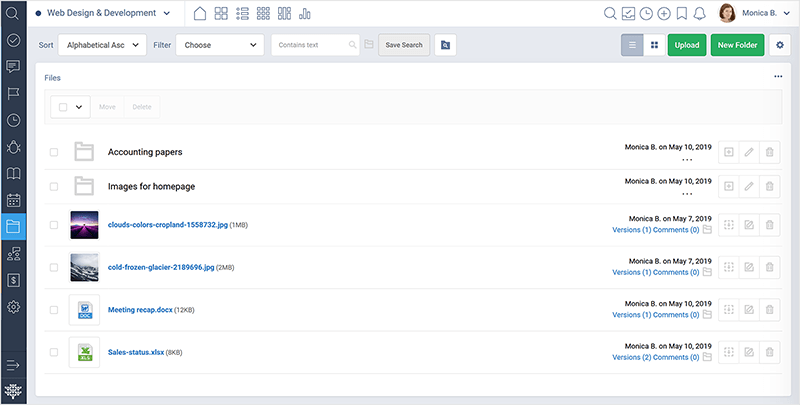 For documents in particular, there's a FileEdit app you need to install separately on your computer. This will save you from having to manually upload the new, edited version of the file every time.
Check out each subscription plan's file storage limits. While all plans offer unlimited storage space, the size of the file you can upload will be different from one pricing option to another.
To create internal or public documentation, turn to their Wiki app. This lets you manage and share important docs for your team like internal policies or updates you want everyone to read. Similarly to files, wikis also have versions to them so you're only sharing the latest news with the team. Again, these can be either private or public as this distinction seems to be present throughout the entire Freedcamp tool - whether we're talking about files or entire projects.
To notify you of any changes within a project, you'll receive in-app and email notifications by default. They have these nifty levels that allow you to choose exactly how many you want to get. Choose to get notifications only for the tasks you're assigned to or go for the Full option, best for project managers who don't want to miss out on a single thing going on within the organization. You can even opt out if none are of interest to you.
You can also set these type of notifications settings for every single project. This way you can get the basic info on a project where you've got just a couple of tasks to complete and receive full details for a project you're leading. Compared to other project management software, Freedcamp also offers SMS notifications so you'll surely get that alert if you're offline or just not on your laptop.
Integrations
Freedcamp's weakest point is definitely their lack of integration with other tools. There's really nothing besides a Zapier, Google Drive, OneDrive, and Dropbox which quite frankly are basic connections that all tools have. The Zapier integration can be used as a workaround to get Slack notifications for Freedcamp or maybe create tasks for Google Forms responses.
However, you can use their API to create your own integration with third-party tools.

Usability
What you'll notice in Freedcamp is that there are two different interfaces. If you haven't received any prior training you might actually think you've been sent to a different tool when working on a specific project.
The homepage works as your main dashboard and reunites information across the entire organization including your tasks, important updates that require immediate attention, projects you're involved in, and a weekly overview.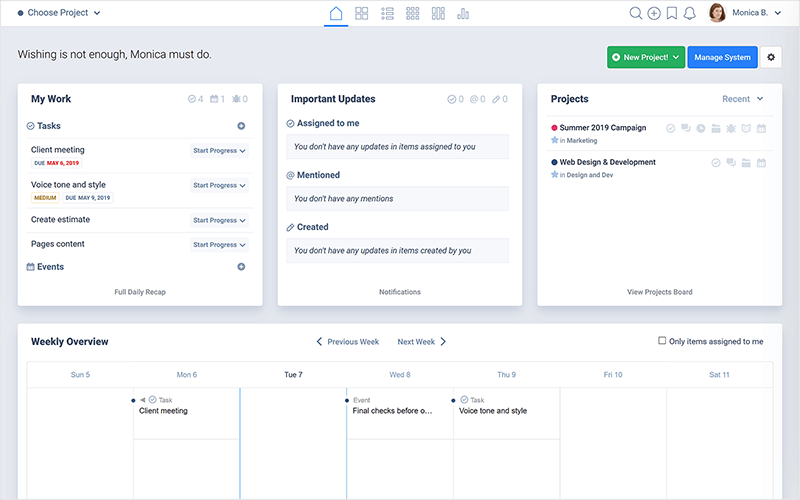 This is the default dashboard you'll get each time you open Freedcamp. Choose any of the other Projects, Tasks, Calendar, Widgets, or Reports dashboards (also known as Global Boards) as your main one so you can start your day by getting the information that matters the most to you. The Tasks board in particular will be fairly useful for any project manager looking to get insight into a specific user's daily duties.
Each project you create also has its own workspace with a slightly different UI displaying all apps and widgets you may need in a menu bar on the left-side of the screen.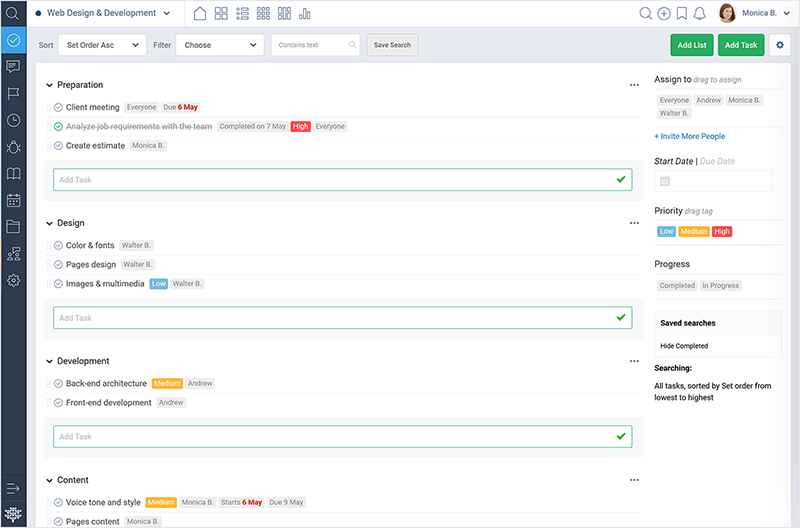 Any of these workspaces comes with its own features on either a general or project-specific level.
Despite these confusing switches between two slightly different workspaces, finding your way through the app should pose no problems. You can always create shortcuts (alternatively appear as bookmarks in the app) for the app areas you access the most or look for an item through the advanced search function.
The latter lets you search for an item so you can even look throughout the entire organization for all tasks that have a High priority and demand immediate attention. Useful both for regular users and project managers who need to actively supervise several projects simultaneously.
Just like the double interface, there are two different search options. The main one I've already talked about which lets you search throughout the entire Freedcamp account, and a separate Application Search feature. Despite its name, this is essentially a filter feature with an extra option that lets you save each search and its parameters. Take this example for the Milestones app: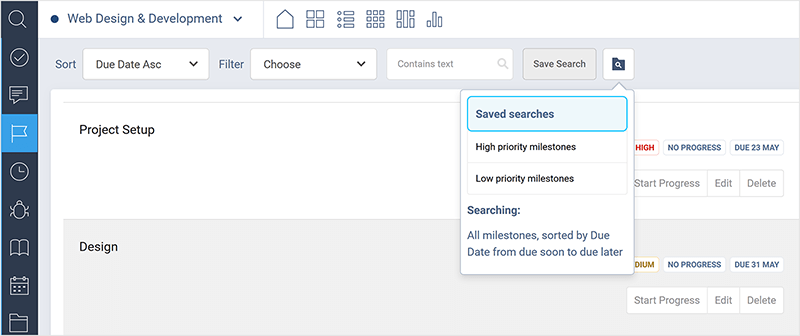 Years ago Freedcamp was strongly lacking when it came to customization. This is no longer a problem as they've made strong advancements to let you personalize your workspaces and even apps.
Now, each project, user, and group applications can be selected and edited from one single place. Plus, you'll be able to choose exactly which members get access to a specific app so they'll only use relevant tools that won't clutter their workspace. If you want to edit your apps, delete or edit a project, or just add a new team member, your best bet is to go to the Manage System command board available on your Home.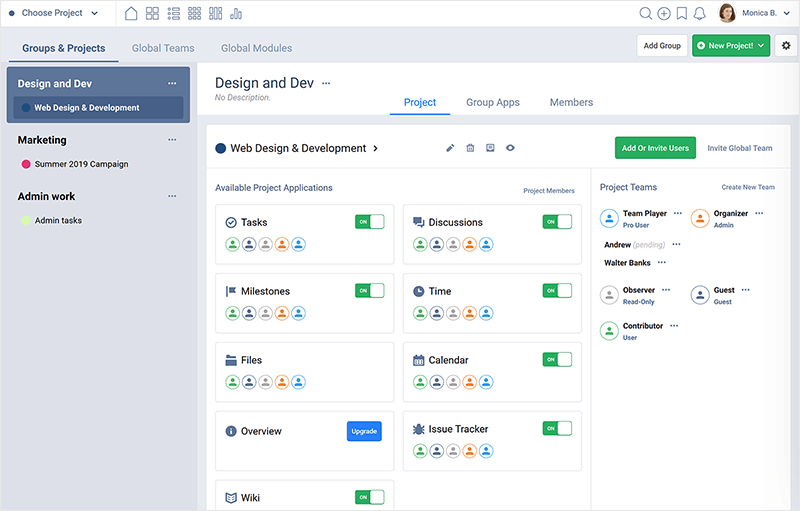 A variety of add-ons stay at your disposal for each project helping you extend the basic functionalities of Freedcamp. These can be either modules, project applications, or user applications depending on which area of the organization they target. The White Label add-on, for instance, lets you add branding to your workspace. There's also a Public Projects module to share your project publicly, a password management system, a CRM functionality to manage your leads and clients, and lots of other options.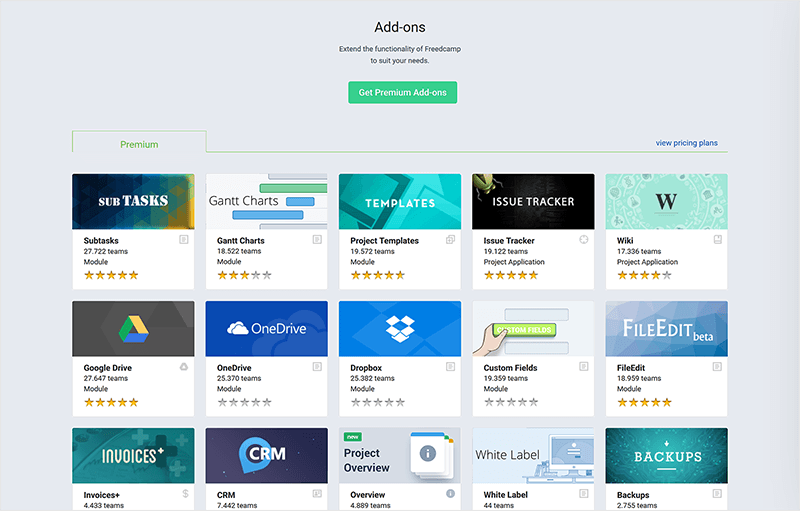 Then there are custom fields. These let you add extra information like text, drop-down list, date, number, and even checkboxes to a task so you can replace a small detail that might be missing from the default app. Maybe you want to mention additional information or briefly put down the budget for a task.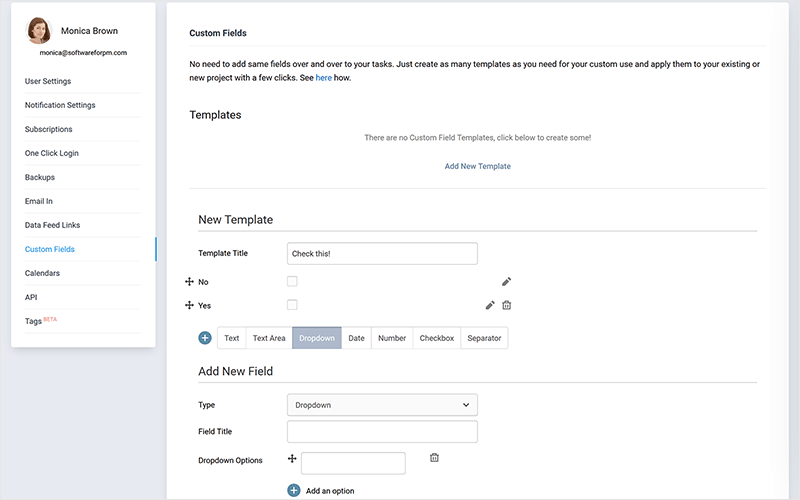 Greetings and quotes will welcome you (usually on the Home and Projects dashboards) to keep you motivated or make you laugh. Some of my favorites are Expect problems and eat them for breakfast, You are the maker of your own life and fortune, and An obstacle is often a stepping stone. They seem to have a nice selection to inspire you so I'm assuming Freedcamp cares about keeping users motivated even if it's through such small details.
Conveniently, Freedcamp is available on mobile devices both iOS and Android. There's also a desktop app (Windows and Mac) you can download.
To match the needs of international users, the tool is offered in the following languages besides English: German, French, Russian, Greek, Croatian, and Hebrew with a few extra incomplete translations and more new languages still being added.
Software Cost
Freedcamp's subscription plans are relatively cheaper compared to its competitors, particularly for the plans dedicated to individual users and freelancers. There's also a free plan that's all you need only if you want to use this tool for to-do lists.
Free
10MB file size limit*, standard support, no backups, unlimited collaborators
Core apps (Tasks, Discussions, Calendar, Time, Milestones, Files, Passwords, and Wall)
Public projects
API
Zapier integration
Copy and move tasks and lists
Calendar sharing
Minimalist
$1.49/user/month
25MB file size limit*, premium support, no backups, unlimited and free collaborators
Free features +
Email-In
Google Drive, OneDrive, Dropbox integration
Data Feed Links
Subtasks Pro
Start Date
Recurring Tasks
Recurring Events
Google Calendar Sync
Business
$7.49/user/month
100MB file size limit*, advanced support, weekly backups, unlimited and free collaborators
Freelancer features +
Project Templates
FileEdit
Reports
Gantt Chart View
Custom fields
Issue tracker
Enterprise
$16.99/user/month
250MB file size limit*, lightning fast support, daily backups, unlimited and free collaborators
Business features +
White label customization
Two-factor authentication
Overview
Inviting clients, guests, and even team members from different departments as guests is free as all plans allow you to bring collaborators to your workspace.
Nonprofits, schools, or teaching units can get special discounts for using Freedcamp and even free Minimalist plans if they have less than 30 monthly active users.
*Unlimited storage space is provided for all your projects but file sizes differ with each subscription plan.
Support
Support levels differ from plan to plan. Their support team can only be contacted via email either directly at help@freedcamp.com or using an in-app pop-up that will let you send an inquiry straight from Freedcamp.
You can also go to their YouTube channel if you need an introduction to a particular feature. There are no resource materials to help you get used to the Freedcamp features so you can only turn to their blog which works as a help page. An additional knowledge base is available only for existing users.
Security
While Freedcamp offers basic security features such as GDPR compliance and 256-bit encryption to all users, single Sign-On (SSO) with SAML ️and Two-factor authentication (2FA) are only available for enterprise users. It's fair to say you'll pay considerably more money for extra security.
Even if you're worried about losing your data, Freedcamp offers regular backups (for plans Freelancer and above), allowing you to restore data in case a team member accidentally deletes it.
Final thoughts
Testing out Freedcamp was really a challenge. A pleasant one. This particular project management software has a straightforward and clear enough interface to make it easy for all team members to use, but if you look closer into each existing feature you'll notice their functionalities are actually advanced. The learning curve is a bit slow though so you might need to take more time to onboard users than with other tools. Turn to their in-app knowledge base for help although its information is not really up-to-date.
I really see this project management tool as suitable for all categories of buyers. Freelancers, start-ups, enterprises. While individuals can use Freedcamp for free, small and medium businesses can enjoy its features at one of the lowest costs for such software. All with unlimited projects, users, tasks, and storage.
Pros
Flexible pricing structure
Easy to use
Advanced task management features
Customizable interface
Cons
No onboarding process
Few integrations with third-party apps
Slow learning curve and few support materials
No Resource Scheduler