Paymo
Best suited for
Freelancers / SMBs
Introduction
Every industry has its own underdog. Hollywood has Sylvester Stallone, music has Freddie Mercury, and the project management software market has Paymo.
I'm saying this because out of all the tested tools so far, this one has the most integrated workflow. Features that are usually found in separate apps (resource scheduling, time tracking, invoicing) fit nicely into each other like a puzzle and reunite under a simple UI. But this is not an overnight success. In fact, Paymo has been around since 2008, and is now trusted by more than 100,000 small businesses and freelancers worldwide.
Trial availability
Freelancer Free Plan (limited to 1 user)
15 days free trial on all paid plans, no credit card required
Support
Customer Success (9am-6pm GMT+2): +40 770 878 506
Email: support@paymoapp.com
In-app support
How easy it is to get started
Fairly smooth and fun at the same time. After confirming my email, a flying superhero cat asked me what was I going to use Paymo for: planning projects, managing tasks, tracking time, or just invoicing? I went with the first option, then had to choose between 9 different project templates, all revolving around marketing and web development (perhaps these are the clients they market to).
After the template loaded, an intuitive guide walked me through the basics, like what is a task list or how to change the different task views. Funny enough, the cat appeared again when the onboarding was over to congratulate me for this achievement. Still cute, even though I'm a dog lover.
Email frequency
The first email is from Paymo's CEO who prompts you to log into your account and reach out to the support team or knowledge base whenever you get stuck. This instills some level of reassurance, knowing that the product is managed by real people who care about your feedback.
Soon after this, a customer success rep will let you know they're going to send a series of tips over the next few days. Now, the emails were quite a few but irregular, so I'm not sure about the premise on which they're sent.
Functionality
Paymo is super easy to pick up and navigate, which is a big advantage when it comes to training newcomers. Even if they're not so familiar with project management in general.
The interface is well thought and entirely built around modules. These are separate apps with information regards clients, projects, users and so on. They can be enabled or disabled to declutter the sidebar menu in case you're a small team and don't want to use all the advanced project management features the platform has to offer.
Once you select a module (say Projects), a second column will open up with items from that module listed alphabetically (projects here). What's left is to click on an item for a working screen to make its appearance - the place where you'll do most of the admin work.
Besides modules, the sidebar menu also contains a search bar on top to swift freely through the desired projects, task lists, tasks, and documents. Followed by a web timer at the bottom to track time on a specific project and task. Handy when you need to do something right away.
If the menu or second column takes too much screen space, use the collapsing arrows near your profile to display more information.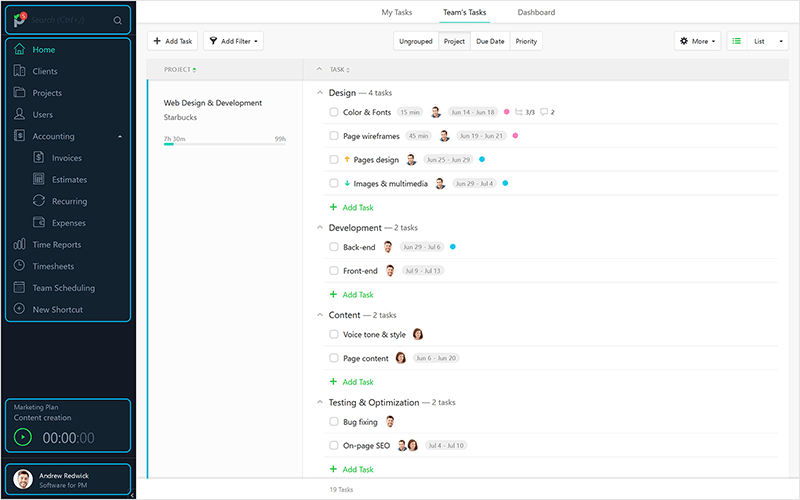 Paymo workflow
It looks like Paymo is more suited for agencies that do client-related work since every project belongs to a client. This doesn't mean that you can't use it for a production line or e-commerce store. Just set your own company as the main client and you should be all set.
What's neat is that each client can have multiple contacts with access to time reports and invoices. A practical client portal indeed, although I wish it had viewing and editing options as well.
With clients in check, time to move our attention on how to add a project. The process in itself is a breeze. All you need to do is assign it to a client, write a description, and choose who's a project manager or team member. For more depth, check the advanced settings that drill further down into the project type (Time & Materials/Flat Rate/Non-billable), billing priority, or budget - to name a few of the available options.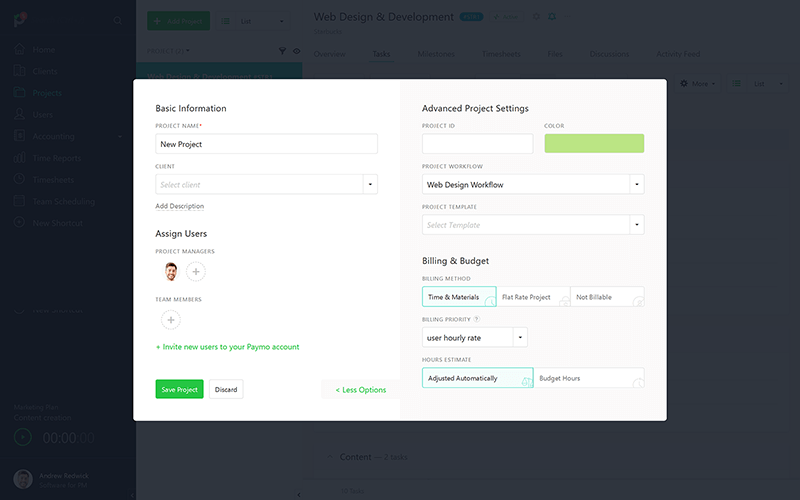 Now that we're done with the overall hierarchy, let's see how Paymo plays out in a typical project management workflow.
Quoting
Projects don't just start as an ad-hoc event. You usually meet with a client, talk about the basic requirements and budgets, then come up with a quote that reflects these initial agreements.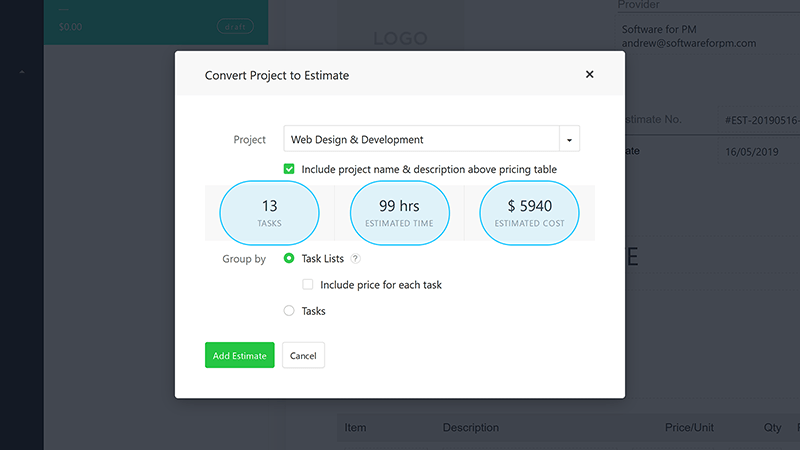 The guys at Paymo understood this, allowing users to create a realistic quote right on top of a project and send it directly to a client. A feature you don't see quite often in today's project management software.
The catch is that you need to draft a temporary project first, with individual task budgets and cost estimates as a baseline. Not too big of a hustle since there's a quick add task option and the possibility to change the task details in line form the project's Table View. Which brings us to...
Task management
Assuming the quote was accepted, it's time to update the project information as it comes in. You'll notice that each project has separate tabs serving different purposes: Overview for the overall project health, Milestones for the upcoming events, and so on.
The one where you're going to spend most of your time is the Tasks tab. And Paymo has made sure to design it in such a way as to reach to the essence of things in a matter of seconds.
There are three task levels, two visible - task lists and tasks - and one hidden - subtasks - to avoid cluttering the interface. As you've probably guessed, task lists nest tasks which are activities part of a project.
You can't add tasks without associating them with a project. The only workaround is to set up a separate project for them and name it, let's say, Miscellaneous tasks.
Hovering over a task will display further options like multiple user assign, task statuses, or priorities without opening the full task details. A real time saver when you need to make changes on the go.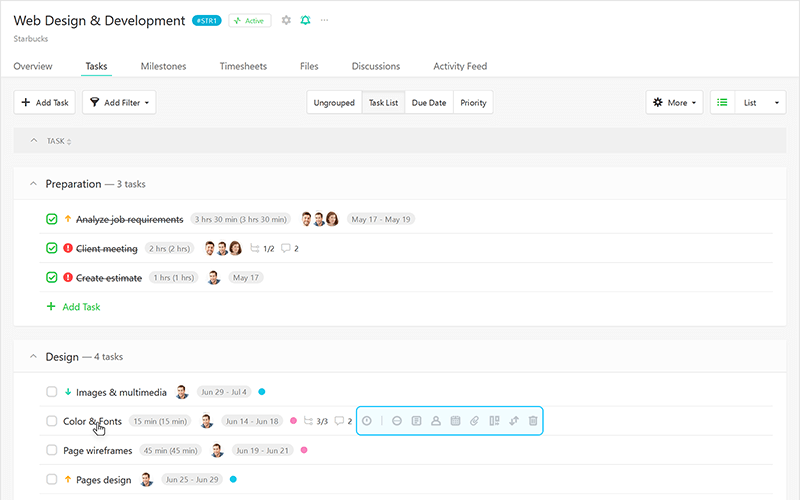 You still need to access the full task details to get to the hidden options. I'm talking about the subtasks that are either complete or not. A bit more functionality wouldn't hurt. But also about the due date and time budget alerts that can serve as proxies against your initial estimates. Chances are you'll have to readjust them at some point during the project.
There's also a recurring profile in the top left corner to grind through repetitive tasks every now and then.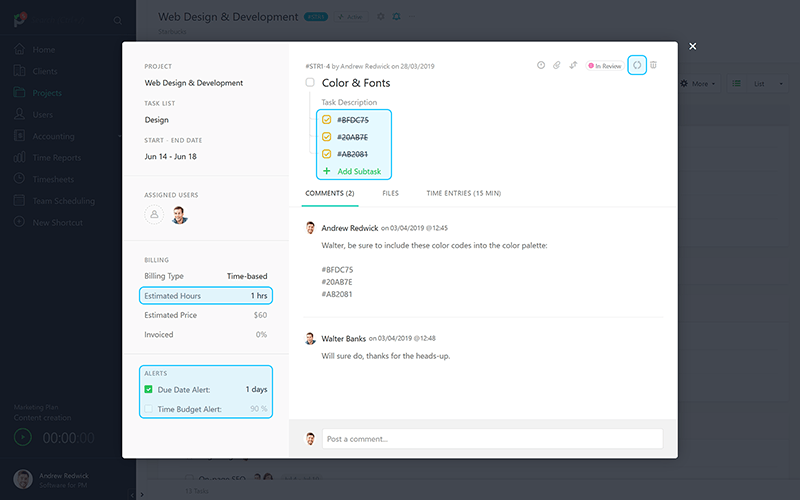 Paymo continues to make a good impression with a set of ready-available groupings that order tasks after their task list, due date, and priority. Plus the option to hide task descriptions and file thumbnails for when your task lists are way too cluttered to follow. Two features that will help project managers get a clear picture of how fast things are moving forward.
What's great about this platform is that you can view project data from different perspectives. Four views to be more precise:
List View - The default one we used so far. It displays each task in a list along with its description, due date, time spent, assigned users, priority, and remaining subtasks.
Table View - Renders tasks in a tabular format together with their hidden details too. This eliminates the need to open up the full task details as everything is inline editable, putting you in complete control of what information to display or not.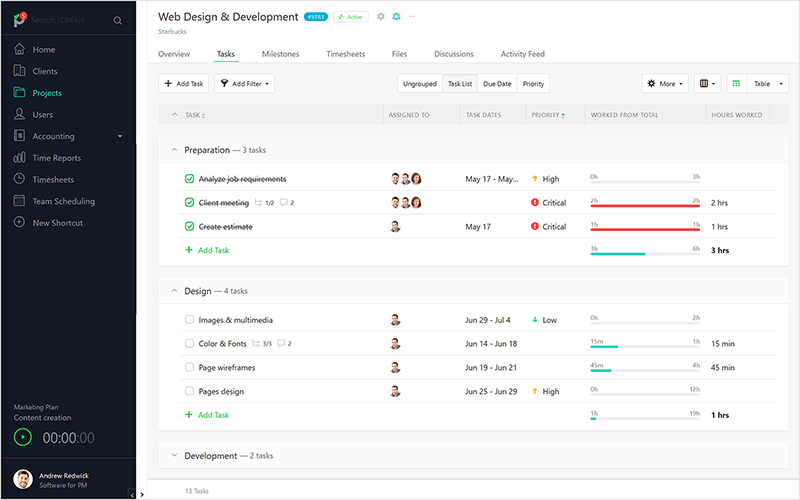 Board View - Works like a Kanban board with three default columns that signal the stages a task should move through. Paymo calls this a workflow, to which you can add several color-coded columns to better reflect your process and save it for later use. I find this view quirky, yet practical at the same time. Mainly because it lies at the intersection of two Agile frameworks (Kanban and Sprints), allowing you to focus on delivering tasks while also clocking-in time.
Project planning
The last view is reserved for the Gantt Chart, a way to view tasks durations on a visual timeline.
Apart from the basic functionality, export and the ability to determine the critical path, you can also set up Milestones for each task list to flag important events like the release of a new feature or the billing of a client. A powerful combo to start planning for the future, not just put out fires every day.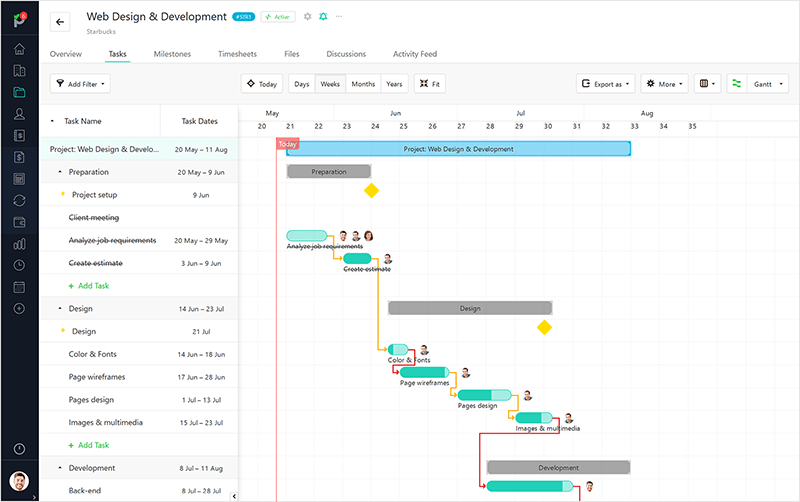 You'll have a hard time though with the automatic task scheduling that lacks an undo option.
Paymo compensates for this with a consolidated view of all projects on a single timeline: the Portfolio Gantt Chart. Similar to a project pipeline, I guess it's most beneficial for freelancers and agencies who deal with a large volume of projects and need to decide which ones to prioritize first.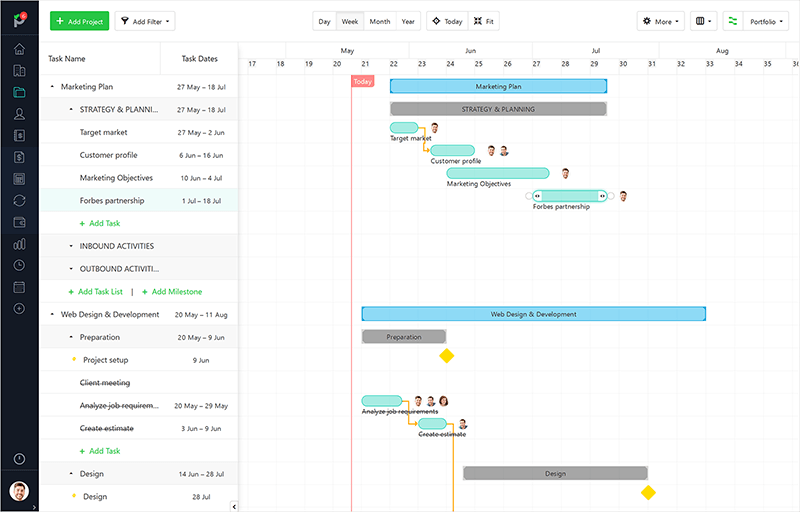 Resource scheduling
The planning part is over, yet it's still unclear who's working on what, when, and for how long.
Paymo answers this issue with their own resource scheduler that accounts for a team's work hours and days off. This makes it easy to understand everyone's time allocation or motivated absence without resorting to back and forth emails.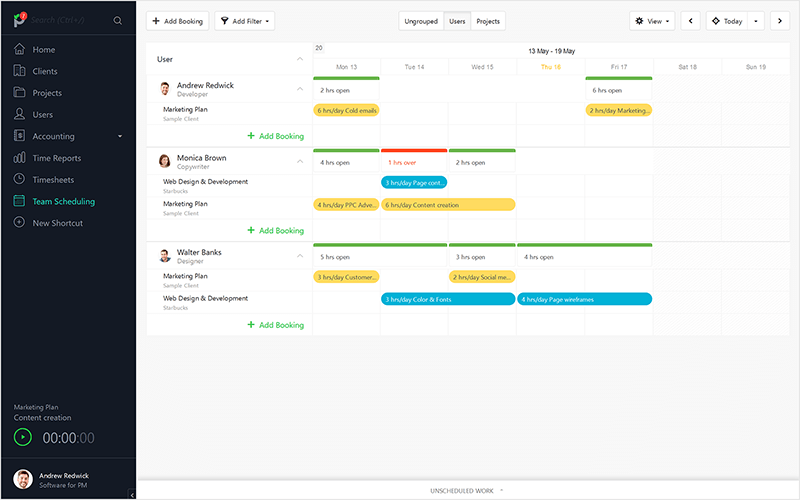 Project managers are in for a treat. Instead of manually scheduling out tasks, the system auto-generates ghost bookings based on the previously added task dates that can be converted into real ones with just a few clicks. They're also welcome to collaborate with other managers, as all updates occur in real time on a common resource timeline.
Speaking of it, you can group task bookings by user or project to compare how individual schedules stack up against each other at a project level. In terms of the display format, the shortest time frame is 1 day while the maximum one is 4 weeks. Don't worry, there's a right arrow to toggle into the future schedules for more perspective.
Actual work
With the planning part over, the actual work can begin. Paymo offers several ways to find out what's on your plate at any given point.
The fastest one is the My Tasks area under the Home module, which reunites all tasks assigned to you. You can also group them after their project, due date, or priority for an increased focus.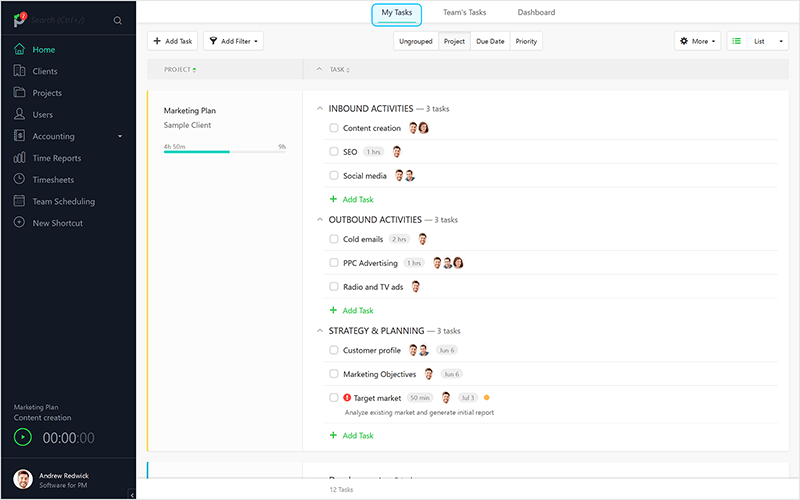 Another way would be to follow your schedule visible in the resource scheduler. This is more suited for time-sensitive work like appointments or meetings that are hourly dependent.
If none of these appeal to you, then rely on notifications for an extra nudge. Besides the email based ones that you can toggle on or off for each project in the project settings area, you will also receive in-app notifications in the bottom left corner.
It's still unclear if the latter are configurable or not, so I'll assume they replicate the email ones 1:1.
Team Collaboration
The team collaboration features are pretty straight forward with team members being able to comment on a task or start a separate discussion at a project level. I find it a bit hard to scroll through the comments inside a discussion thread, which is easy to outgrow once the conversations or debates are too lengthy (or heated).
Otherwise, use the Slack integration to add comments directly into a task without leaving the Slack channel.
In terms of file sharing, you can attach files either from your computer or Google Drive in a task, comment, or dedicated Files area of a project. There's no actual files concept to organize documents into certain categories, but you'll find them through the search function pretty fast.
Time Management
Time is such a huge factor in any project that you can't just ignore it. Paymo meets this need with perhaps one of its strongest modules: the time management one.
What I like about it is the flexibility. You can track time spent on a task either in the web timer or outside your own environment through one of the stand-alone apps:
Desktop widget (Mac, Windows, Linux) - A more robust version of the web timer, it allows you to add time in bulk or intervals and follow how you've spent your day with the help of a burndown graph. Creatives can even dock it into their Adobe products.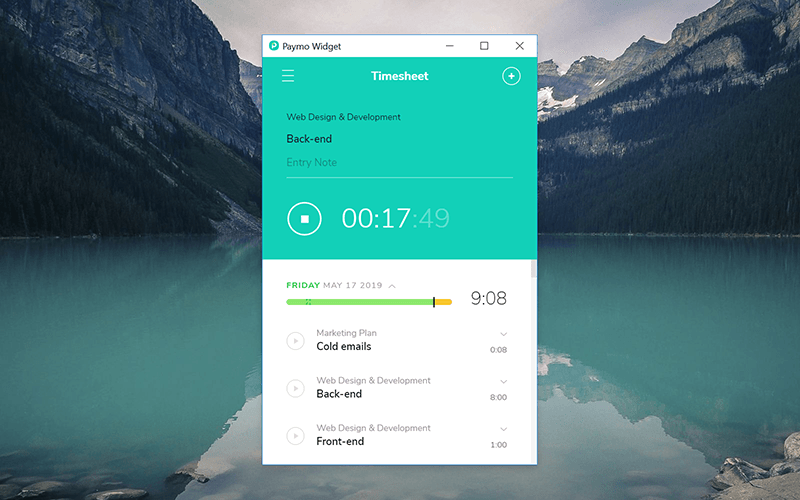 Paymo Plus (Mac, Windows) - Built for heavy multitaskers, this is an automatic time tracker that records every activity you do on your desktop, then pairs it up with its corresponding task and project.
Mobile app (iOS, Android) - Mainly designed for time tracking, they can be used offline as well for when you're on the go or in a client meeting.
All of these time entries then get recorded in Timesheets, where you can also manually add time in bulk for a week or at an hourly level for the Day and Week views.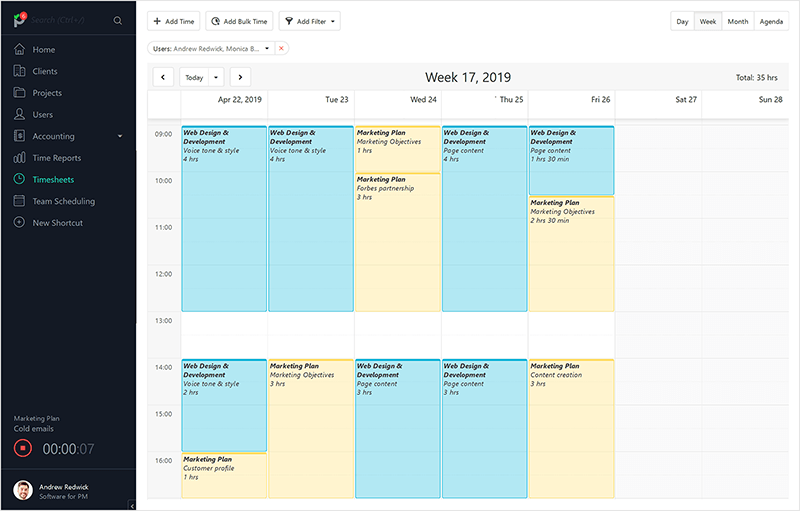 The true power of this module rests in Time Reports. They rely on the timesheet data and serve various purposes, like getting more accurate data for future project estimates or making sure that you stay within the budget limits.
You can also share them with your clients to signal the project progress, which makes me forgive them for not having a bespoke client portal. I'm talking here about live reports, which update automatically every time someone opens them. So you don't need to create endless status reports for each project update. Good job on this one, Paymo!
Reports & Monitoring
These are not the only reports that you'll find in Paymo, although they come under different names and forms.
The fastest way to have a bird's-eye view over the whole operations is to access the Team's Tasks area under the Home module. Similar to the My Tasks area, it reunites all tasks from all projects for the whole company this time, not just yourself.
What's neat is that you can export it into a Table View to monitor the time tracked on each task against their initial budgets, or in a Meta Kanban Board View for all tasks grouped after their corresponding workflow.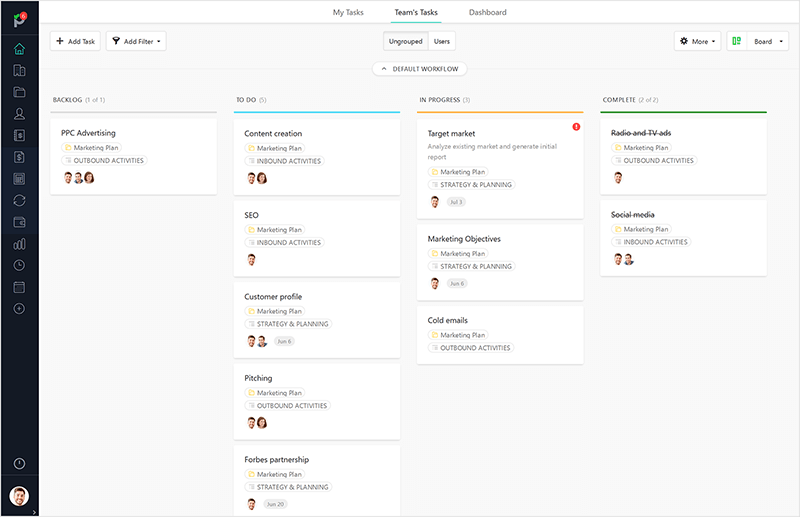 There's also a Dashboard which represents a live stream of all your data from all the projects, clients, invoices, and milestones in one place. Data is organized into different plug-ins that can be reordered according to your main company goals, but you can't configure it.
I found though a great plug-in, the Active Timers one, which is ideal for when you collaborate with remote workers and need to know what tasks they're working on in real time.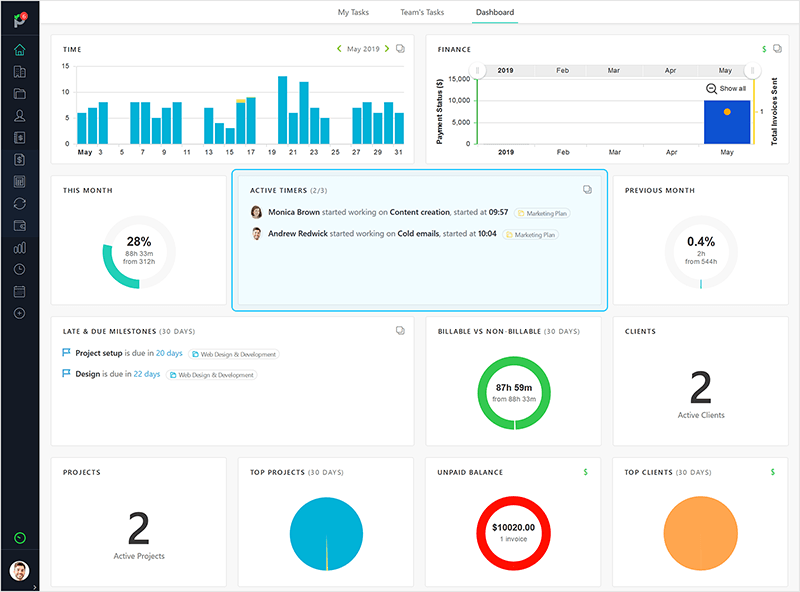 Moving down the hierarchy, the project health is visible under the Overview tab. Metrics like the time worked from the total project budget, the number of completed tasks, the estimated project price, and the unbilled time will give you a perspective about the direction your project should take.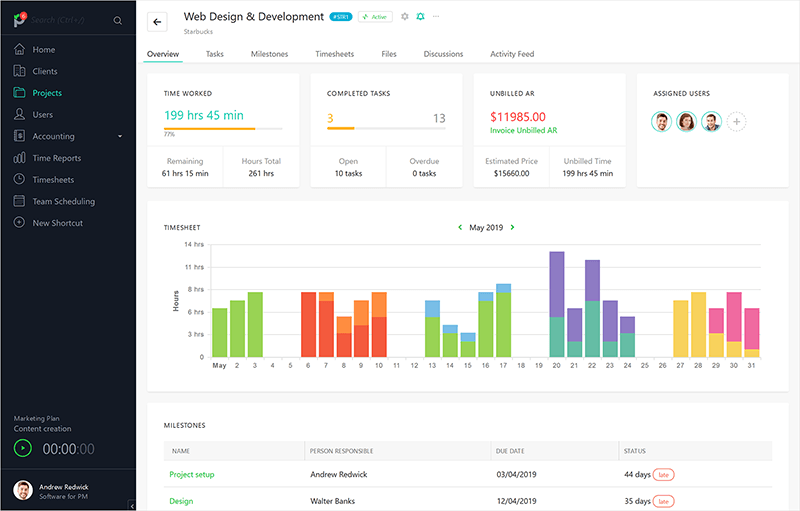 A feature that I enjoy is the Project Status, which can be added as soon as a project is under the radar and modified later on to reflect the actual stage of the current work. Like "Proposal" when you're still waiting for the final proposal, or "On-hold" when you depend on other external factors that you can't control. They are filterable as well in the second column, but more on this later.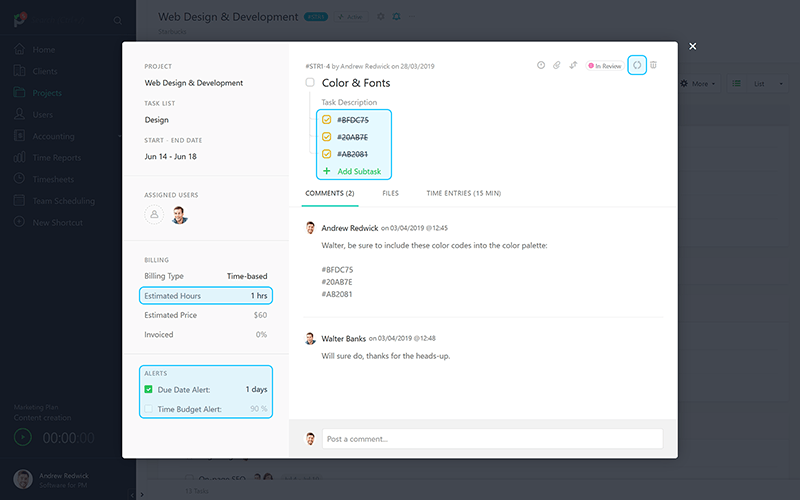 We're down to the task now, which also has task and time budget alerts. I see them more as an extra nudge to the already enough email and in-app notifications, so use them at your own will.
Paymo doesn't allow tracking the cost of each project until its completion since there's no clear distinction between internal and external costs. An addition that would make it a more complex solution for managing client-related work.
Invoicing
Besides the quoting mentioned in the beginning, Paymo allows for the creation of invoices straight out of your time entries, flat rate tasks or projects. Accounting becomes this way integrated into your projects, a thing which most project management software doesn't do.
Of course, you can create one from scratch and attach a time report to it as proof of your work.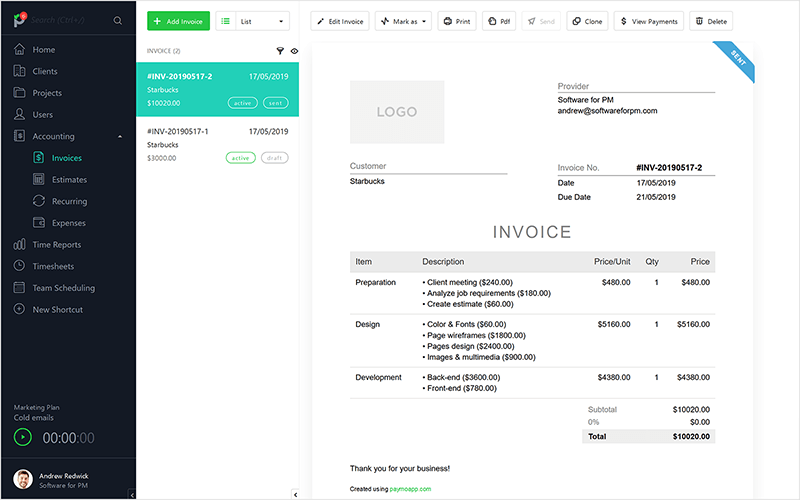 To further customize it, choose from 15 different invoice templates or access the code console to add your own personal touch and better reflect your brand. A small detail that can help with brand promotion with little to no effort. There's also the option to connect with popular payment gateways like PayPal, Stripe, and Payoneer, thus streamlining the payment process even more.
Speaking of automation, Paymo also enables recurring invoices to be sent automatically to your clients - a repetitive, yet vital task that ultimately helps a business stay afloat. Expenses are part of the accounting module too, visible at a project and client level for a better organization.
All-in-all, I wouldn't compare this module to the likes of standalone apps like QuickBooks or Xero that support more advanced features (purchase orders, stock availability, etc.). But it builds itself really well into the project management side of things, so I'd still use it for workflow automation.
Usability
We've already talked about Paymo's modules and how you can enable only the ones that make sense to your business.
What you probably don't know yet is that information inside these modules can be further managed through views. Yes, again views, this time only two:
List - To view the information in alphabetical order (clients, projects, users, invoices, etc.) and quickly filter after their status.
Table - To view this information in a tabular format along with their details, perfect for keeping a close eye on the big picture. At any moment you can export it in a CSV file in case you wish to share it with the upper management.
It takes some time to not mistake them for the project ones, but their very existence proves helpful in the end.
Another helpful feature I'd like to mention is shortcuts. You can save specific views with applied filters as shortcuts and add them inside the menu bar. Once accessed, they will redirect you to the custom views without having to apply the filters again or remember the order in which you first set them.
The app is also available in 20 different languages - including the not so sexy Japanese, Chinese, and Polish - proving handy when collaborating with team members overseas who prefer to work in their mother tongue.

Cost
Paymo offers a Free plan to freelancers and solopreneurs (limited to 1 user) who're in need of time tracking and light task management. Not sure if I should mention the accounting part, since only 3 invoices are included, but I'd say the offering is more than enough when you compare it with other project management tool free plans. The rubber meets the road with the two paid tiers that cater to teams who either focus on progress monitoring or planning and resource scheduling.
In terms of discounts, there's a 20% one for each annual subscription, a 50% one for NGOs, and free access for 1 year to everyone who's actively enrolled at a university, college or school and intend to use Paymo for academic purposes - according to their university page.
According to their Terms & Conditions, they don't offer refunds though.
Simple To-Do Lists
Kanban Boards
Meta Kanban
Time Tracking
Desktop & Mobile Apps
Adobe CC Extension
Reporting
3 invoices
1 GB Storage
File Sharing
Community Support
Small Office
starting at $11.95/user/month
Free features +
Unlimited Invoices, Estimates, and Expenses
Advanced Task Management
Project Templates
Dashboard
Advanced Reporting
Integrations
50GB Storage
API
Business
starting at $18.95/user/month
Small Office features +
Resource Scheduling
Gantt Charts
Portfolio Gantt Chart
Free Training
Online Remote Assistance
Unlimited Storage
Support
In-app support is available through a bubble chat only for the paid plans, with polite reps well rounded in their knowledge about the platform. This is not a live chat though, being only open from 9 am till 6 pm GMT+2.
They're pretty proactive when it comes to onboarding, having a team of dedicated customer success reps that offer 1:1 webinars and tutorials free of charge. So be sure to ask for them once you become a paying client.
The free users can resort to the community forum, a place where they can find the latest product updates, share new feature ideas, or simply interact with other Paymo users about in-app tips and tricks. For more compact information, they can also digest the help page packed with video tutorials and advice on each module. Would like to see more videos on certain use cases like in ClickUp's case, otherwise, it's clean and easy to understand.

Security
In terms of data security, Paymo hosts all of their data on Amazon Web Services (AWS) servers located in the US. This might raise some level of concern for Europeans reading this, but don't worry, the data is GDPR compliant according to their Privacy Policy.
Local backups are available as well as the opportunity to export all your data through their API.

Final thoughts
From the funny onboarding cat to the multiple views that replicate across several modules, Paymo amazes with how detail oriented it is when it comes to managing a project from start to finish. Yes, some features are still missing, but the existing ones work together in perfect sync to create a true project management workflow.
A lot of emphasis is put on personalization, with the possibility to choose the modules you'd like to enable and dedicated customer success reps to help you out when needed. Overall, I'd recommend Paymo to freelancers and small to medium teams who do client-related work and still want to keep an eye on their efforts and finances.
Pros
Free plan
Displayable modules
Visual resource scheduler
Robust time management
Invoicing and quoting
Cons
Limited guest access
Lacks a profitability function
No retainer system
No teams