Scoro
Best suited for
SMBs / Enterprise
Introduction
Scoro is not your typical project management software. It's more of a business management tool that lets you organize your everyday tasks in a single place. This way, it reunites CRM and billing besides the task and resource management features you'd normally use to manage your projects. They miss out on a couple of essential project management functionalities though. So let's see why Scoro is best suited for teams that need more focus on their clients and finances than just on projects.
Trial availability
A 14-day trial is available to test all Scoro features from the Business Hub Premium plan with a maximum of 5 users and 5 add-ons. No credit card required.
Support
Email at: help@scoro.com
By phone at: +44 20 3318 4599
How easy it is to get started
What pleasantly strikes you as soon as you sign up, Scoro populates your account with demo data to play around with. This way, you're able to see what your workspace would look like once you've added lots of new information - even if you don't have time to enter it during the trial. At any time, you can delete this data with one click from the Import section where you can also add your own contacts, products, images, invoices, and more.
The onboarding process is also one of their strong points. You'll be welcomed by a few pop-ups that walk you through the app's interface. Every view in Scoro has their own brief tour, while the help center is organized in such a way that it will first show topics related to the view you're in. Pretty neat, as it's impossible not to find what you need.
After you're done with setting up an account, it's time to create your first project. Six default projects await you, but creating a new one besides these is just as simple either from scratch or from a template you need to create beforehand yourself.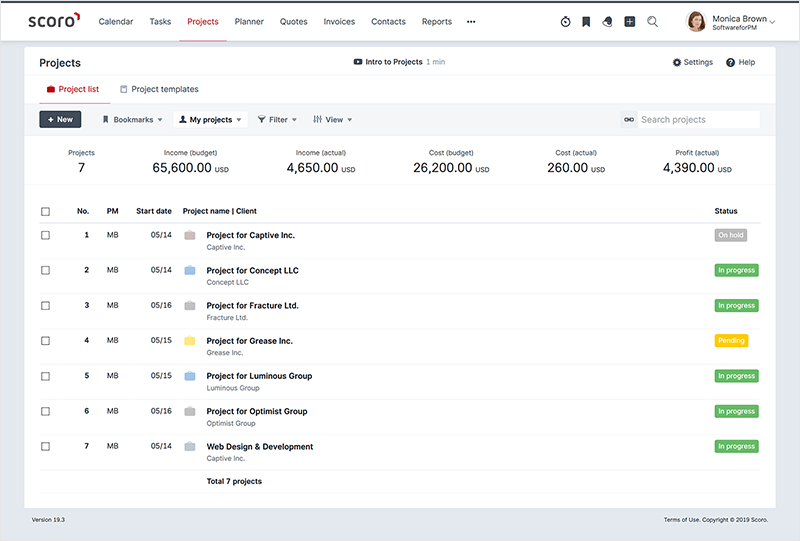 Email Frequency
Apart from your welcome email, you'll get daily email tips on how to use Scoro, messages related to your in-app actions, a weekly summary of the tasks you need to take care of, and opt-in due date alerts.

Scoro Features
Task management and project planning
From the first moment, you'll notice Scoro's advanced task management features and settings. By default, each task list can be viewed as a to-do list. A detailed one that is. There's just so much information everywhere: deadlines, assignees, task description and statuses, and so much more. You shouldn't expect this to be your typical short list with a box to tick when you're done.
If you'd rather work with a visual method of organizing your tasks, there's the Task board view. This works similarly to a Kanban board through which you can manage tasks as a pipeline and drag-and-drop them through distinct columns that can be priorities, companies, statuses, even users. A rather convenient way for project managers to keep track of their employees and assign work in no time: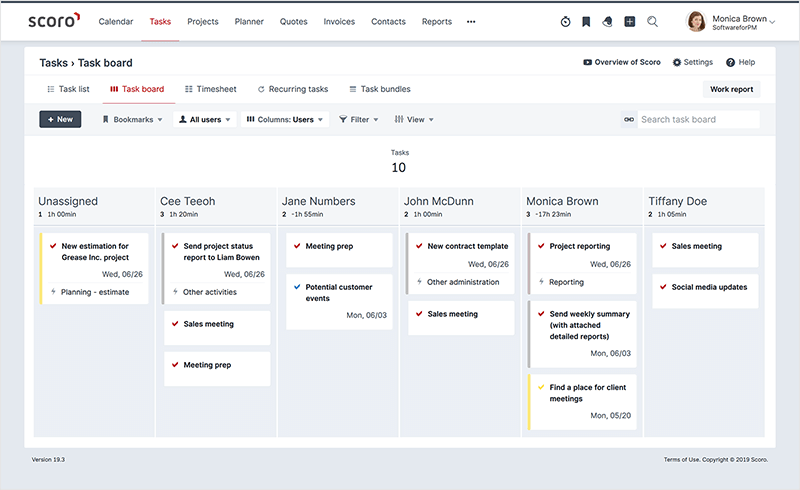 Along with other project management software like Paymo or ClickUp, Scoro is one of the few that offer multi-user assigning in its real sense. This means you can assign more team members to one task and even create separate tasks for each one of them so they can track time and monitor progress at their own pace. And since Scoro is so strong on CRM, you can add a client as a contact person for all tasks: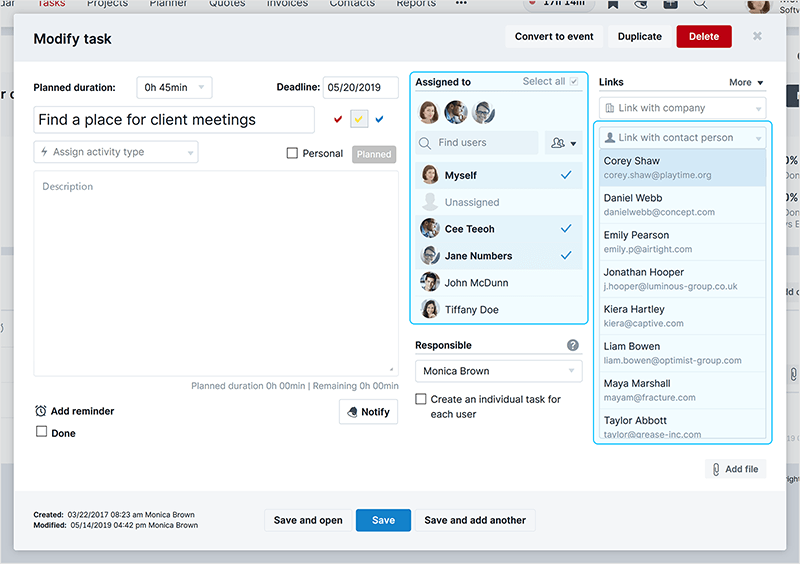 Pair this with task priorities, duration estimates, and a separate view for your recurring tasks to ensure every detail of your task gets marked and executed in the appropriate order: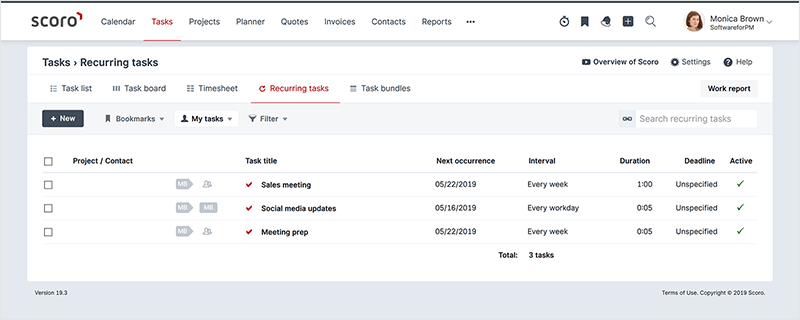 Just like projects can be created from a template, you have the option to build task bundles to reuse for each project. These act as task templates for your contacts and projects so you won't have to create your most common tasks from scratch each time. For instance, if you use a similar set of tasks for the software development activities on each one of your projects, you can create a bundle and just add it to the new projects that involve software development.
The existence of subtasks remains debatable. While you can't create subtasks in your task lists and the word "subtask" is nowhere to be seen, you can split your activity on a task into smaller sections when manually adding your time entries. Not your regular subtask but it's still one way of dividing the work.
The only advanced project management features that are missing from this tool are Gantt Charts, which implicitly means there's no way for you to set dependencies between tasks.
Moving on to a more global level, the Projects view is there to offer insights into your projects. Creating a task is not possible. However, you can add any other item from there, be it a quote, invoice, file, or milestone. A nice touch if you've got dozens of projects to juggle with and don't want to filter through these items each time. Meanwhile, with so much detail paid to admin items, it's actually surprising to see that such a business software doesn't offer project portfolios, a feature so vital for larger companies.
Managing team members and monitoring their activity
With a lot of things to take care of on a single task, it can only mean there are just as many possibilities when it comes to users. And really, there are endless roles and permissions you can set, each with their own modules and actions you'd like to give access to. Even the degree of access they have to the Calendar and task list. From a Finance role in charge of anything related to budgeting and accounting, to an account for guests who can view reports or the full task structure.
Similarly to Microsoft Project, you can set hourly rates for all users, which will automatically be calculated together with worked hours when invoicing your clients.
Scoro is one of the few project management software options that offer time tracking. And even fewer business management tools have this feature that helps you keep track of employees' activity. The default timer helps you keep track of multiple tasks at the same time so you can switch between them whenever you're multitasking. With all the time entries being automatically recorded into the Timesheets area: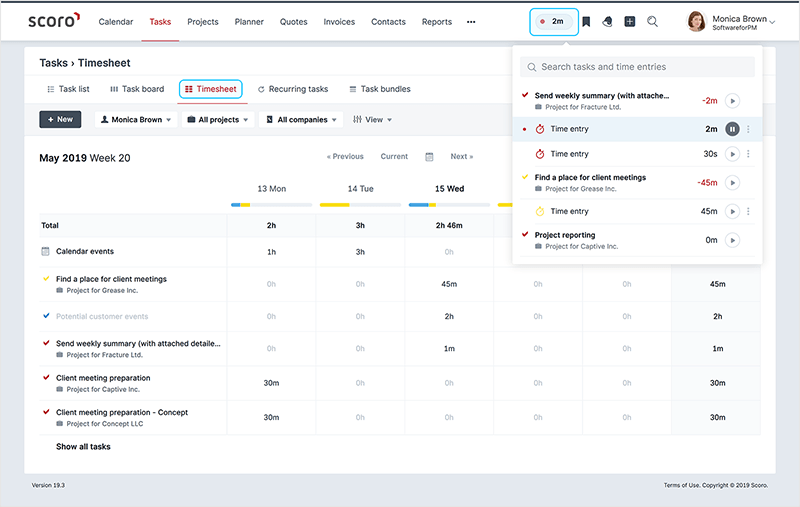 From here you can also log time manually in case you ever forget to start your timer and also edit the time entries that have already been submitted. The same way, worked hours can be added and edited from each task in particular.
A user's timesheets even shows you if a user is working overtime, has been overscheduled, or is just spending too much time on a task by highlighting a particular day in red so you don't have to look at each day or add all hours up.
These same stats can be seen in the Planner too. This feature works much like a resource scheduler, allowing you to assign and organize your team's work according to unassigned tasks and their remaining capacity.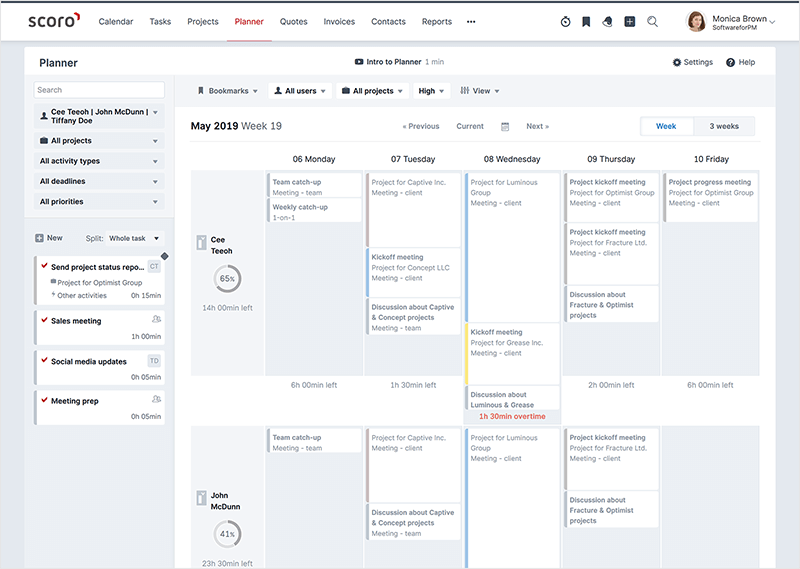 No leave planner here, but the Planner's editing and filtering capabilities are decent enough to help project managers oversee and plan projects from this view. There's even a Domino-mode button you can click next to each user's name that, when activated, automatically prioritizes a high-priority task and postpones everything else in a user's schedule (except calendar events), so you won't have to waste time changing the due dates for all other activities.
The Calendar works in a similar way, displaying events like meetings or conferences your team has to attend on a single board. In fact, Scoro's Calendar is really a meeting scheduler with an intuitive and straightforward UI, so you can schedule events with just two clicks.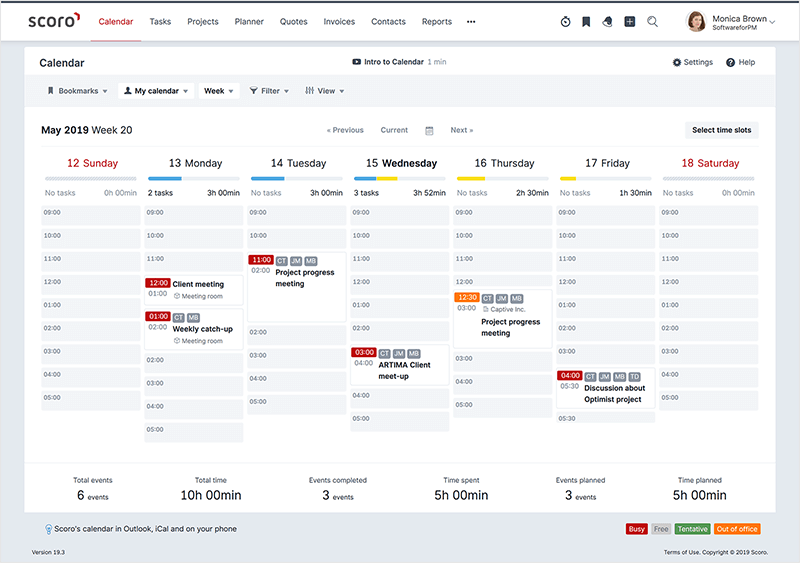 You can even send event invites straight from here similar to how Google Calendar works. If you're used to working with Microsoft Project you might want to add all your resources into the system. A feature few in-cloud project management tools have. This includes rooms, vehicles, tech, and more, not just your employees. When setting up an event you can select an available meeting room or even your company's car if you need to pay a visit to your client.
Scoro's great level of detail also means you've got lots of aspects to keep an eye on. That is when you get to reporting. There's really a report for all your needs. Sales, activity, budgets, suppliers, you name it. Here's an example of a detailed one: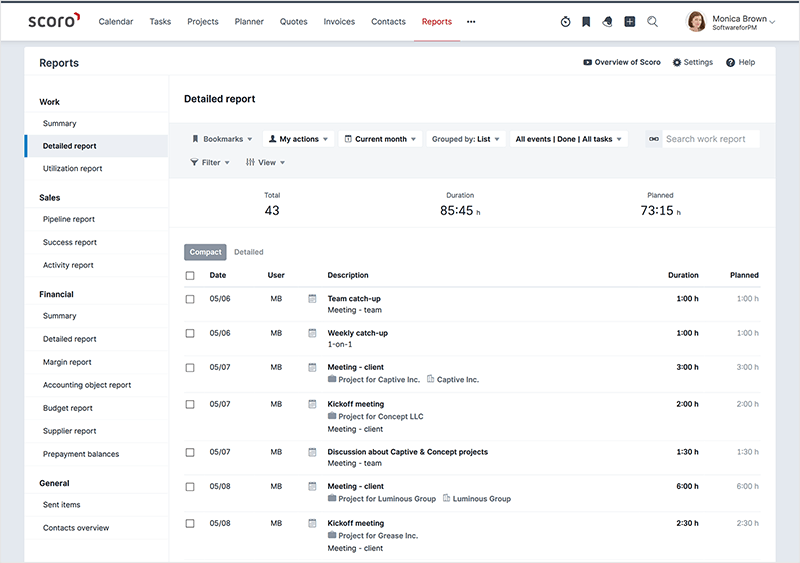 Collaboration
The collaboration process in Scoro is not exactly what you'd expect. While easy on the collaboration side, the communication one falls short. You've got the typical comments on tasks and projects, but really that's about all. No discussion boards, no chats, nothing to keep you in the app while communicating with your colleagues. And may I mention you need to refresh your page every time in order to get the latest messages?
A Teams feature let you divide your complete team into separate groups. This lets you write the name of the department next to a person's name so you can then filter after it when you're looking to assign somebody with a specific set of skills. Not too much and far from Basecamp's separate workspace for each team to communicate in. Instead, in Scoro, your entire organization is part of a single Our team workspace where useful links and sales materials can be shared.
File organization is Scoro's second weakest point. Besides being able to attach files and select their type, there's really not much to this feature. Strong filters, like for any other Scoro feature, but no way to organize your files into folders. Keep in mind each plan comes with its own storage limits (between 2 and 10 GB). When you exceed the storage limit, an extra 1GB is instantly added to your site at a cost of €2/month.
In terms of notifications, Scoro makes sure you won't be spammed. You'll only get alerts when someone mentions you directly or if you choose to get notified via the Notify button on each task or event. You can also add a reminder that you'll only receive through email and not in your in-app inbox. So make sure to select both Notify and set a reminder if you want to ensure you don't miss out an important event. Finding the notification settings can be a bit tricky (Rules and alerts in My settings), but they are highly customizable as you can set different rules based on user activity: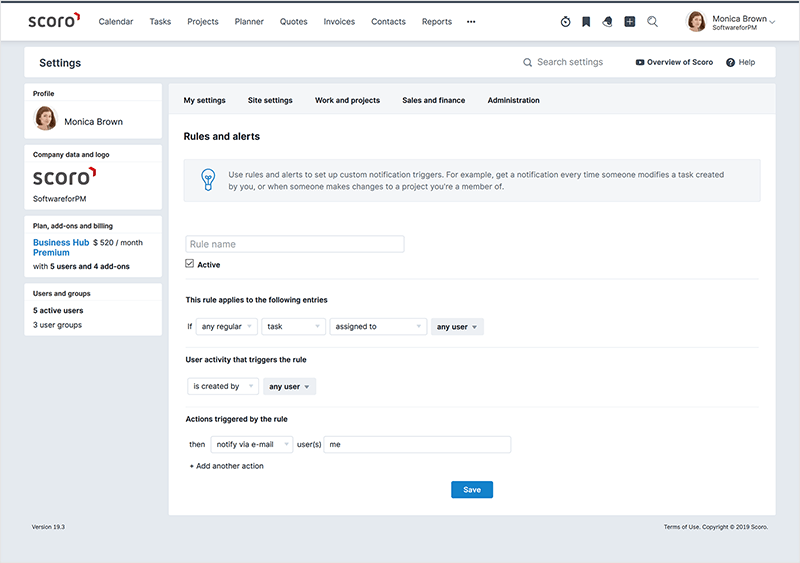 What else can Scoro do?
As I've already mentioned, Scoro is not just about the project. Roughly 50% of the tool's features are dedicated to managing projects while the remainder half goes into CRM and accounting capabilities.
Its CRM functions are straight to the point, providing a solid database for you to keep track of your leads, manage your customers, oversee sales, and build a company-wide rolodex.
Scoro is also strong on accounting. From creating quotes and invoicing your clients, to tracking revenue and costs, and setting budgets at a project level or for a specific interval of time. Budgeting is an integral, yet often overlooked, part of the project management process. And Scoro has made sure to include it in their portfolio too. The feature is it allows you to compare budgets with your actual invoices, quotes, and bills, as well as see if your sales team is hitting their targets as a project progresses.
Budgeting is an extra add-on in Scoro and it costs $120 if you want to add it on top of your current plan.
The data is correlated with real-time results so you can have a clear overview of your budget at all times. A budget report for instance automatically highlights surplus and deficit in a visual form so you won't have to resort to dreaded spreadsheets anymore: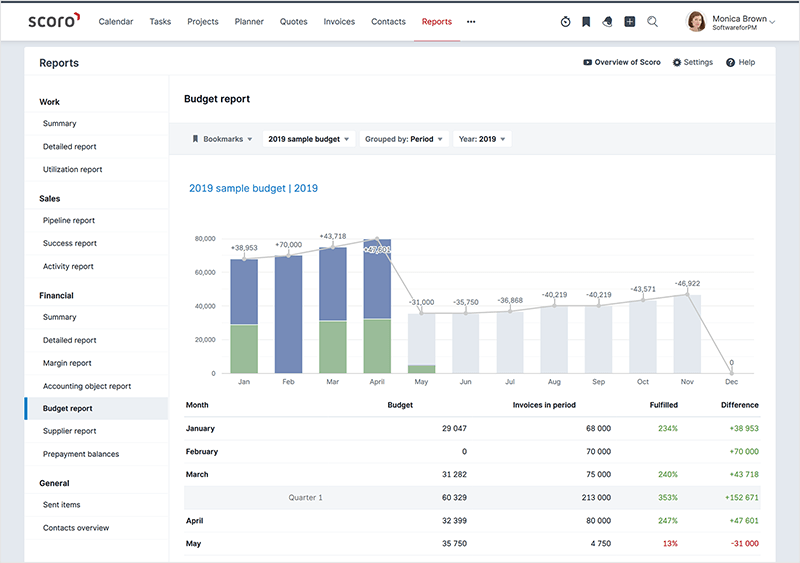 Integrations
The Scoro Marketplace provides a variety of tools you might already be working with. To name a few, Mailchimp, HubSpot, PayPal, Zapier, GitHub, Calendly, Xero, Intercom, and Dropbox are just the most popular platforms you can connect to Scoro.
To create your own apps and integrations, turn to the Scoro API which offers you all the documentation, info, and resources developers will need.
Usability
I wouldn't really say Scoro is easy to use. There are always so many settings and filters you have to pay attention to. While these can help project managers better organize their work, the regular user is sure to find it all overwhelming. Just look at all of the settings you can choose from in your task list: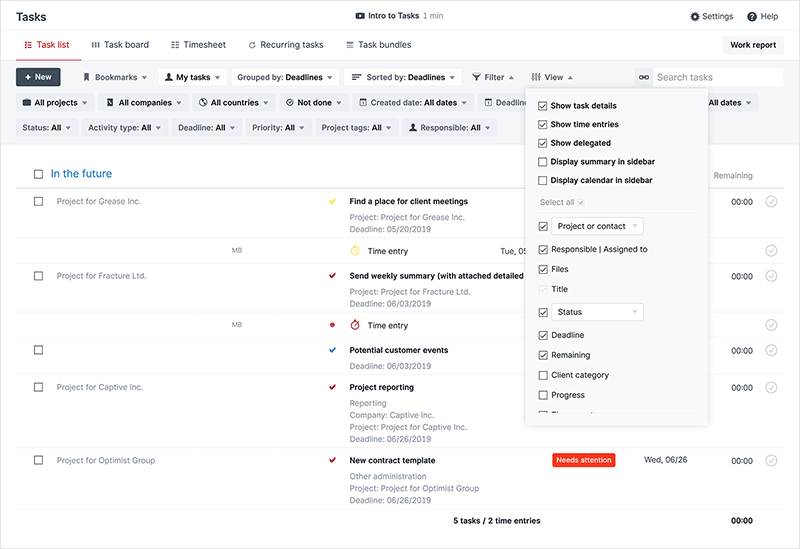 You really won't find anything close to this with any other tool. Whether this is a good thing or not, it's up to you to judge based on your own workflow. Lots of administrative time needs to be spent in Scoro. The results though might just be worth it as you'll have plenty of data to work with and use thorough reporting.
Branding is limited to adding your logo in the workspace and to all PDF files. But it's not all just about the looks of the workspace. From editing the order of the features in the menu, so the ones you use often appear first, to displaying your most common activity types before all of the other activities, Scoro helps you prioritize your entire work, not just tasks.
I can truly say everything is customizable in Scoro, without having to know code to perform changes. There are custom fields you can set for information you need to add but can't really find a suitable existing field. And even these standard fields can be edited. They can be set as mandatory for information that must be filled in so you can move on to the next steps (like your client's name or a tax rate code) or as unique for data that must be unique in the system (such as the number of an invoice or quote).
Despite its apparently cluttered interface, Scoro is surprisingly easy to use once you get the hang of it. The Quick actions button in your top menu lets you create new items (tasks, contacts, projects, quotes, events, etc.) no matter where you are in the app to save time when switching between features.
As if the dozens of pre-made reports weren't enough, you've also got the Presentation mode option which temporarily hides your menu so you can focus only on what you need during meetings - whether you want to share reports, projects, tasks, or just your main Dashboard stats: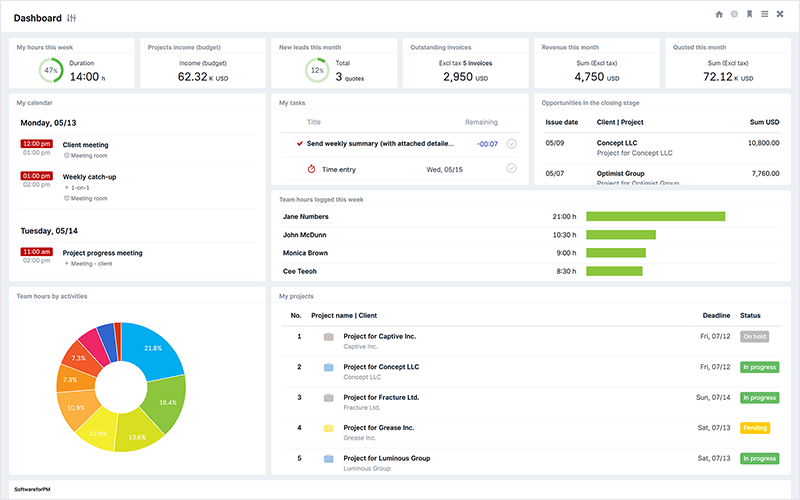 Despite Scoro's hundreds of small settings and features, finding the items you need won't take too much time. There's a search function and a bookmarking functionality that lets you save tasks, projects, contacts, quotes, reports, and more, as well as view them from anywhere without having to look through endless data.
For those of you who often work outside of the office, Scoro is available on mobile devices (iOS and Android) besides their web tool.
If you want to use Scoro in another language, choose from other ones like Russian or Finnish besides English. Plus, you can translate invoices, contracts, quotes, and more. Keep in mind the trial is only available in English.
Software Cost
Scoro's mix of project management, CRM, and billing features also means its costs are going to be much higher. While the trial will be enough for you to test out its functionalities, keep in mind there's no free version of this project management software, so if you've added important data into the system during your trial, you'll have to get a paid plan to continue working with them.
Scoro doesn't have the clearest pricing of them all. Essentially, there are three plans starting at $28/user/month: Essential, Pro, and Ultimate. The latter two are then divided into Work Hubs and Sales Hubs which you can either buy separately or together as part of a complete Business Hub that contains all the tools you might need to both do your work and take care of sales.
Also, note there are specific features that are not included in a plan's costs. For instance, if you need a budgets & forecasts feature, you'll need to pay an extra $120 even if you're already using the highest plan. All these are specified on their pricing page if you click on Compare plans.
Refer to their
pricing page
to see which plan has the features you might need. Make sure you check both the monthly and annual costs to see which plan works best for you in the long run. Discounts are applied when plans are purchased on an annual contract but you'll have to pay for an entire year.
Besides the price you pay for each plan, you need to consider any extra costs that you might have if you need a Scoro expert to do the onboarding for you. Onboarding starts at $899 and offers help with setting up the site and integrations, business process mapping, data import analysis, configuration of PDF templates, and admin and team trainings.
You can choose from 4 different currencies to pay so make sure the exchange rates work for you. They may vary as prices on the website are not updated regularly.
Support
To get in touch with their customer support team, you can write them at help@scoro.com or call +44 20 3318 4599. When I reached out, I got a response in roughly one day but they answered in great detail with highlighted screenshots.
For smaller issues or if you just want to learn how to use the tool, there's a help center to check out for access to their knowledge base, a brief introductory path to Scoro, and video tutorials. The latter are highly recommended if you're just getting used to the Scoro interface. They've also got a YouTube channel if you prefer that, or you can schedule a demo with them before purchasing one of their plans.
Security
To keep your data and personal info secure, there are a couple security features Scoro offers:
HTTPS encryption protocol for every transaction.
Passwords are encrypted with an aes-256-cbc cipher.
Data centers are provided by Scoro's partner Linx Telecommunications BV and are certified with ISO 9001 and ISO 27001.
For users In Australia and Canada, data is stored via the Amazon Web Services.
Set your own IP restrictions to prevent access to your account and workspace.
Final thoughts
Although managers will love Scoro's reporting tools and accounting capabilities, team members are bound to find the workspace a bit too cluttered for their needs. The communication features are not exactly the most welcoming ones as well. The onboarding sequence and help materials definitely make the process of learning how to use the tool a smoother one to cover for the hundreds of settings and filters that can confuse a first-time user.
But above all, Scoro is really more of a business management software. Think of it as a central place for you to mainly manage your finances and clients with some extra features like resource scheduling and budgeting for handling projects through their entire life cycle.
Pros
Strong help center and learning materials
Advanced extra features like CRM and budgeting for business management
Advanced filtering and general settings
Strong reporting capabilities
Cons
Light collaboration features
Super costly onboarding
Cluttered interface